Mustard yellow is a powerful color to decorate with. In many ways, it's a color of contradictions; it's both bold and muted, it's warm yet cocooning, it's energising and cosy. But one thing's for certain when it comes to mustard yellow, and that is the positive vibes it brings.
Decorating a yellow room is no easy feat. You need just the right amount, and the exact specific shade to suit your room. But when it works, mustard yellow decor can keep you feeling happy and uplifted.
But don't just take our word for it, we've spoken to some of the best color experts – from color psychologists to trend forecasters and well-known paint companies, to share exactly why mustard yellow brings us joy.
1. Mustard yellow is mood boosting
Colors found in nature are commonly said to make us feel good, and with the obvious link to sunlight, mustard yellow is no exception.
Just as many of us feel happier when the sun is shining, a whole wall painted in mustard yellow can trick the brain into feeling uplifted and positive.
'Yellow is an energy color, meaning it's cheerful and optimistic,' says Patrick O'Donnell, brand ambassador at Farrow & Ball.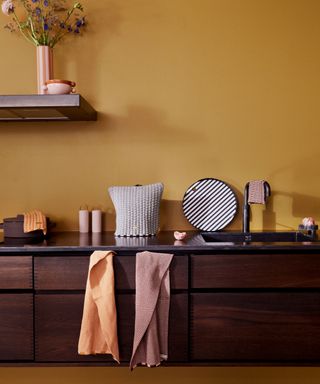 2. Mustard yellow decor is warming
There's nothing worse than a room that feels cold and clinical, and a splash of mustard yellow is a great way to combat this.
'Mustard yellow gives a warm glowing feeling, like the warmth in the late afternoon on a warm autumnal day,' say color expert Karen Haller.
'So it's best suited to rooms where you want to feel warm and cosy with that sun kissed glow. That could be where you eat breakfast to bask in some morning 'warmth' or it's a great way to warm up a cold dark hallway,' says Karen.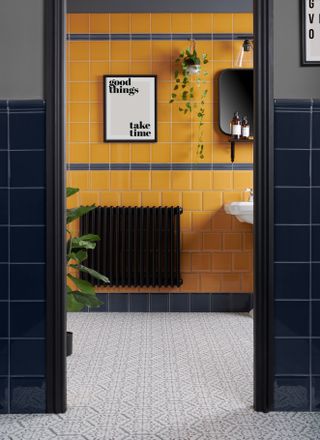 3. It's cocooning
Often, colors that are cocooning tend to be moody blues, forest greens or dark greys – they give the feeling that you're snuggled up in a cave, protected from the elements, and safe.
'Mustard yellow is a rich and complicated shade with just a hint of brown - that stops it from becoming too bright or too sharp,' says Patrick. This hint of brown gives the shade a muddy, earthy and grounded undertone, which give it its cocooning and protecting quality.
Unlike citrus yellow or bright orange, this energising hue is blended with muddy tones to become a hybrid, a shade that is uplifting while also allowing you to hunker down.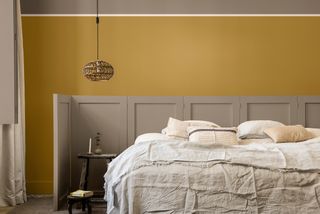 4. Mustard yellow is versatile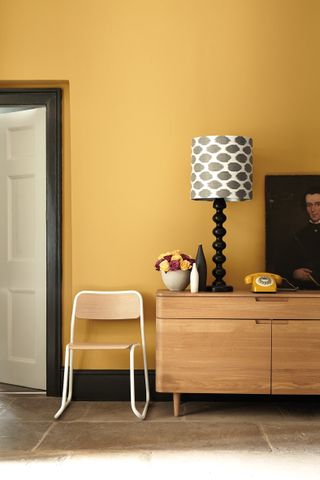 'The versatility of mustard yellow is mainly thanks to its earthy undertone, which is really flattering in cool lights, so it works well regardless of which way your room is facing,' says Punam Chada, buyer at Carpetright.
'Mustard is in the autumnal color family so it's best friends with olive green, teal blue, aubergine, terracotta and other autumnal colors. Colors in nature have a natural affinity with each other,' says Karen.
'Because mustard does have a visual sharpness it needs to be balanced with softer naturally colored elements that you can enjoy touching and snuggling into. Warm dark natural woods look amazing with mustard yellow too,' says Marianne Shillingford, Creative Director of Dulux.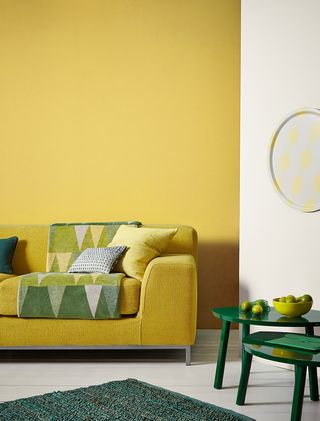 5. It's great for darker rooms
Whether your room is north or south facing has a huge impact on how paint colors appear. It's often a good idea to balance out a cool, north facing room with warm colors, and a warm, south facing room with cooler colors.
'Mustard yellow can work wonders to inject a sense of warmth and cheerfulness to a room, especially if you have a north facing room or a room where the visual temperature and energy levels need turning up a notch or two,' says Marianne.
'Mustard yellow is a lovely option for a hallway, an area often starved of light. This color will deliver warmth and a welcoming overture to guests arriving,' says Patrick.