Tori, Graham & Brown Wallpaper of the Year 2019
Giving a room a fresh new look with wallpaper or paint can be as small or as big a project as you're willing to take on. Simply papering an alcove can change the focus of a room by adding pattern and colour without too much disruption, whereas painting or papering every wall can completely transform your space.
If you want to make a feature with colour and pattern, don't just go with your initial idea; think carefully about the different options. Painting or wallpapering a chimney breast, for instance, will create an instant focal point, but will also make that part of the room more dominant, which might mean it feels smaller – sometimes painting or papering either side has a more cohesive effect.
Do your research on the colours you're going to use in your scheme. If you want to stick with heritage colour and pattern, you'll find a wealth of wallpaper collections created from and inspired by archives of long-standing paint and wallpaper companies, who can also offer advice.
Click to jump to section:
The Lonn wallpaper by Duro is non-woven and can be applied simply by pasting the wall. available from Wallpaper Direct
Making your choice of wallpaper
If you're looking to create a scheme that is sympathetic to the period of your home, companies such as Cole & Son, Little Greene, Sanderson and Zoffany have faithfully reproduced archive patterns from different historical periods to help you emulate the past with your choice of wallpaper.
L'Envol wallpaper in Multicolore from Manuel Canovas
If you're wallpapering a Victorian property, there are a variety of styles that are traditional, from realistic floral prints, Arts & Crafts to Gothic glamour. It is a versatile era that lends itself to a variety of different schemes, so use your own style as a base and then research the colourways and patterns that fit with what you have in mind.
Alternatively, if you are seeking the wow factor, some companies also offer contemporary coloured versions of their archive patterns, altering the scale to create amazing wallpaper designs for a more contemporary look, while retaining a feel for the historical setting of the building.
Lewis & Wood Berry Brothers wallpaper in Coca Cola from the Voysey collection
Trends in wallpaper seem to be drifting away from the feature wall, with homeowners choosing softer colours, prints and textures that can extend further around the room. If you're used to white walls, choosing these muted shades is far less daunting.
If you're less worried about sticking to the heritage of your property and more concerned about making small spaces feel larger, stripes are a good option. Vertical stripes emphasise the height of a room, while horizontal ones will make it feel wider and bigger.
Trailing designs help walls to appear higher, while larger prints visually expand a surface. Some companies can alter the scale of a print to complement the proportions of a room. The latest digitally printed papers can be used to create unique statement murals and trompe l'oeil finishes taken from personal imagery.
To create a cosier feel in a larger room, try putting up a dado rail, with a patterned wallpaper below it and plain above. Paint can often come across quite cool and hard, but wallpaper gives you the opportunity to bring texture into a room. Soft textures can make even the coldest north-facing room appear warmer.
In Georgian and Victorian times, people were fascinated with exotic places and animals.
Colour consideration
The important thing with colour is to be a shade more daring than you think – don't shy away from choosing deep colours to reflect your Victorian-style property. Very few of us live in homes with enormous blank walls; most have rooms filled with furniture, artwork, photographs and soft furnishings. With much of the wall obscured, this means a stunning red or rich blue wallpaper is likely to only be glimpsed in small doses and shouldn't dominate the room.
Hand screen-printed wallpaper
Daniel Heath produces intricate and beautiful hand-screen printed wallpapers from his studio in London. Watch this video to see how he creates his designs, inspired by Art Deco architecture to Victorian circuses:
Wallpaper cost and choice
Hand-blocked and screen-printed papers remain an expensive choice due to their labor-intensive production, but the designs are often more complex, with a unique depth and texture. Their handmade nature also makes them ideal bespoke options. Meanwhile, machine-printed papers offer a far wider range of finishes and prices. The latest washable and vinyl papers can also provide a practical, wipe-clean surface for busy areas, kitchens and bathrooms.
Priming walls for wallpapering
One of the best modern innovations in wallpaper is 'paste the wall', also known as non-woven wallpaper. Created using manmade fibres in the paper pulp, so it does not need to be soaked, the wallpaper can go up immediately after the paste is applied to the wall. This eliminates the need for a pasting table, making it a fuss-free, quick and easy option.
The physical flexibility of paste-the-wall wallcovering makes it perfect for unusual spaces, allowing you to navigate sharp corners and ornate mouldings or get into the small nooks and tiny crevices that are so common in older properties.
Using a paste-the-wall paper takes the worry out of getting it right – with its non-woven technology, it will come down as easily as it went up, so if you change your mind, replacing it is not the huge task that it once was.
Dealing with uneven walls
A very common challenge in period homes is uneven walls. To disguise any imperfections, choose textured wallpaper with large patterns depicting striking blooms or damask prints. These will draw attention away from any uneven lumps and bumps that can be common in older properties.
It's important to sand the walls, both before you fill in any holes as well as after, otherwise you run the risk of ending up with lots of imperfections underneath. However, if walls are very lumpy it's best to call a plasterer, as sanding a large section of wall usually results in it becoming uneven – which is what you're trying to avoid.
Priming the walls following plastering will also ensure the paste doesn't absorb into the new plaster too much. Once smooth, use a damp cloth to remove any dust and dirt, so your wall is clean before hanging the wallpaper. There is also the option to pre-line problem walls with lining paper – paste-the-wall varieties are the easiest to use.
The Georgians and Victorians were captivated by chinoiserie, and today these exotic designs are experiencing a renaissance. Arthouse's Mystical Forest wallpaper, from the Enchantment range
Paint effects
When we talk about heritage paint colours, we're usually referring to those that would be used to decorate a house in the last three centuries. The majority of heritage colours were chosen for cost and availability. The greatest number would have been made with simple binders, such as lime or chalk, and inexpensive pigments, such as earths, hence the use of myriad tinted whites ranging from creams, through stoney shades, to greys and earthy yellows.
If you aren't sure what type of paint to use, take a look at our guide on how to choose a paint type.
Azurite is a shade from the eco-friendly Edward Bulmer Pots of Paint collection, made using natural earth pigments
Higher status interiors is where colours such as blues, carmine reds, bright yellows and greens would have been used – more often than not in linseed oil, the most expensive binder. In the 19th century, industrial chemistry started to make the rich pigment more widely available, hence Victorian schemes were able to be more colourful.
This wide range of colours and shades has translated well into today's trends, and they are still popular. Another way to give historical colours a modern twist is to use one colour all over, on woodwork as well as walls which, in fact, was an early Georgian practice.
While it pays to give a nod to authenticity, there is no rule that says you have to match the original colours of your property. What is more important is to consider the architectural space and available light – Victorian homes with high ceilings and large bay windows, for example, can carry off a darker colour than a cosy cottage with small windows.
If you can't decide how adventurous you want to be about your colour choices, see some top tips from expert interior designers on how to use colour
If you want to include strong colours in a small space, use two or three shades of the same hue, with perhaps an overall tint, with a feature wall in a mid tone accented by elements of a darker shade.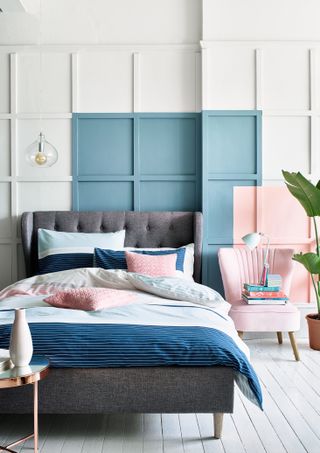 Building up layers
Soft blues, greys and greens work beautifully with simple white mouldings and timber flooring, while the most successful neutral schemes tend to layer different creams, beiges and whites, adding depth and interest by picking out details in darker or lighter shades. Take care to ensure that the tones are well balanced – true creams have a little red, blue and yellow in them, making them easier to mix with other colours, as opposed to many, which are simply a tint of yellow or orange.
Make sure you choose neutrals that contain the same notes as your feature colour. For example, if you choose a shade of blue, also select a neutral with elements of blue, green and grey for a more seamless finish.
Follow the light
Natural lighting will have a significant effect on how a colour will look in a room, and the shade you choose could end up looking vastly different to how it appeared in the shop. For this reason, it is best to view the paint outdoors and always take home a tester pot to view it in your planned room.
It is not just the amount of light you need to think about, but also the direction of natural light. For example, northern light has a cooling effect on most colours, so if your room is north facing, cream and neutral shades are better than pure white to avoid a cold, clinical look. Again, any mid-darker hues will help to warm an otherwise cool room.
Bold and punchy blues often suit period homes, such as Annie Sloan's Napoleonic Blue
Trouble with trims
If you're not sure how to tackle trims, go back to your home's routes. Historically, trim colours were often off-white as the white could obliterate better than other pigments when suspended in oil, and in the later 18th century the dado often followed this rule, leaving the 'colour' on the wall only.
A much fuller palette was adopted in the 19th century as commercial pigment-making brought down the price of colours. If you have panelling, it is best to stick to one colour from floor to cornice for a really smart look, as using different colours can have an overall confusing effect.
Types of paint
Different types of paint are used for different surfaces and to create different finishes. Traditionally, linseed oil paints have been used for woodwork, as they both decorate and protect it. Water-based paints, such as limewash and distemper, are well suited to binding with plaster and papered surfaces and have been widely used as they are cheaper and easier to obtain.
This is still a basic distinction, continuing to be the way rooms are decorated today – oil-based paints on wood and water-based on walls. The more oil in a paint, the shinier it is – thus the paint needed for outside is the glossiest because the high oil content gives the best weather protection. To some extent, therefore, form should follow function – a paint that needs to be protective, on floorboards for instance, is likely to be an oil and so will have a sheen.
Preparation and using the correct tools is key to achieving a good, professional paint finish:
Carefully strip away any old wallpaper and make sure newly plastered walls are surface dry before painting.
First use a one-inch fibrillated brush (these are particularly useful when painting with a gloss finish) to "cut in" around the edges and for hard-to-reach or tricky corners.
Always consult the paint manufacturer's instructions to see if a particular brush or roller is recommended for the main body of paintwork. If none is stipulated, a medium-pile roller is the best choice to give even coverage on walls and ceilings.
Start adjacent to the window or other light source and work outwards. Paint from top to bottom, working in half-metre strokes. Make sure you wait at least one hour before painting a second coat.
To maintain most modern paints, simply wash down lightly with warm water and a gentle detergent on occasion.
For a comprehensive step-by-step guide on how to prepare your walls for painting, along with a video tutorial, take a look at this guide to painting a wall from Real Homes.
Advice provided by: Melanie Adams, design expert and founder of Wallpaper Direct; Nicky Jepson, brand manager at Superfresco Easy; Edward Bulmer, founder of Pots of Paint; Ian West, manager of Lakeland Paints; David Mottershead, managing director of Little Greene