Do you love to swoon over pretty Scandi-style interiors? Or are you looking for inspiring ways to decorate your walls? You'll find plenty of ideas to get your creative juices flowing in this home featured in Period Living magazine. Now a riot of colour and pattern, this was far from the case when it was bought by its current owners...
Find out how the couple found their dream home, then browse the rest of our real home transformations. Read our guide on renovating a house, too, for more guidance, and don't miss these cosy Scandi style design ideas, too.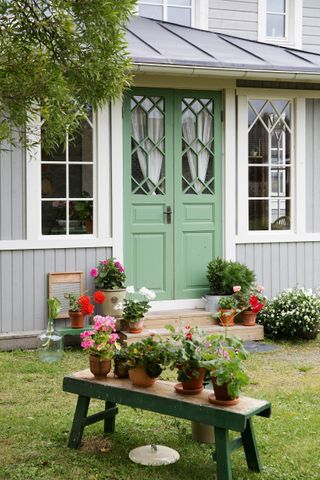 In fact Sarah and Mattias' rural home looked very different on first viewing to the colourful floral rhapsody that greets visitors today. The couple have worked their magic in every room, painting floors, stairs, panelling and furniture, and adding the finishing touches with a series of pretty chintzy wallpapers that provide a busy backdrop to a mix of antique and fleamarket furniture finds.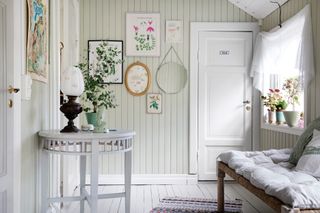 THE STORY
Owners Sarah Hedman and Mattias Holmlund live here with their three-yearold daughter, Stella, and a new baby on the way. Sarah works as a personal assistant and is a keen interiors instagrammer (@villaloftet), and Mattias is a machine operator.
Property The three-bedroom house was built in 1929 in Nordmaling, near Umeå in north-east Sweden.
What they did The couple have updated the décor throughout, painting the kitchen floor, replacing a damaged floor in the living room and rebuilding the front porch
The dream of buying their own home brought Sarah and Mattias to the village of Nordmaling, near Umeå in northern Sweden, where they found Villa Loftet, a weatherboarded house in the heart of the countryside. The little home had lots to recommend it – not least the quiet setting, vast garden and practical interior layout – but the décor wasn't to the couple's taste and the house felt cold and unloved.
However, Sarah had fallen in love with it. 'It sounds strange, but it was the upstairs landing that made me want to buy the house. It has an old charm and it is so light and beautiful up there,' says Sarah. To make the most of the soft light, Sarah painted the stairs and the tongue-and-groove panelling on the landing pale green.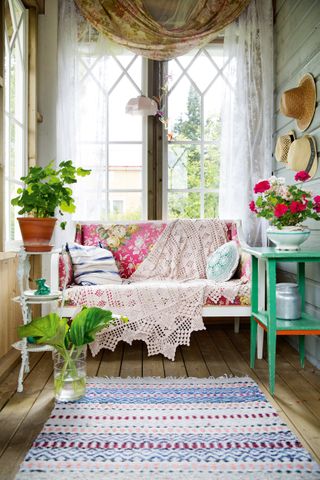 At one time there was a balcony outside the landing window, but the wood had rotted and it had to be pulled down, along with the front porch below it, which had also become unsafe. front porch below it, which had also become unsafe. Sarah and Mattias soon decided to rebuild the porch, however, feeling it was essential to the character of their new home. 'It was as if something was missing from the house. The new porch is the entrance hall, but also an extra room where I can sit and relax,' says Sarah.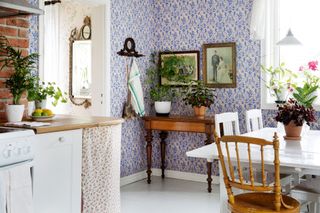 The pair struck lucky with some reclaimed 1920s hand-blown glass windows and doors, an online auction buy from a man in Gothenburg. They arranged to meet him in Stockholm and then drove back home with the doors, which became the starting point for the new porch design. The inside of the doors are still coated with the original apricot paint – a colourful reminder of their old life.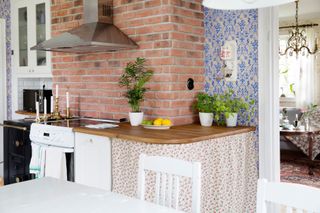 The next area for attention was the kitchen, which had been renovated some years before by the previous owners. The floor had been covered with terracotta-coloured tiles, which Sarah and Mattias decided to paint white to brighten the space. 'The people at the paint shop said it would not work, but it did.
First, we primed the floor and then added two coats of concrete paint.' The newly lightened floor gave Sarah scope to be bolder with the kitchen wallcovering: trellis wallpaper, an unusual choice for a kitchen but one that works well.
Did you inherit an Ikea kitchen? For more ideas check out these easy ways to customise an ikea kitchen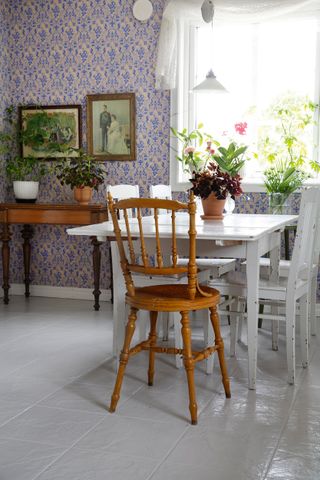 Wallpaper is one of Sarah's great passions and she has added colour and pattern to almost every wall in the house since she and Mattias moved in in 2013. Some rooms have already been wallpapered several times. Next on the list is the main bedroom where the floor will be sanded, wardrobes built and the existing Josef Frank wallpaper will make way for a design from Boråstapeter's latest collection.
To buy Boråstapeter's beautiful wallpapers head to UK stockist wallpaperdirect.com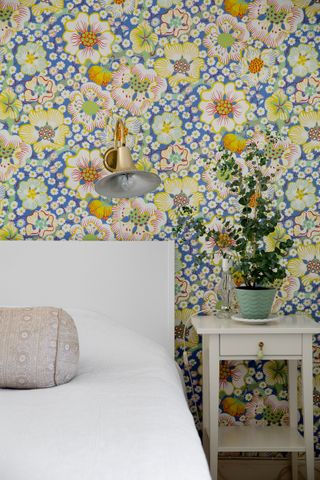 Old furniture, patterns and bric-a-brac are everywhere in Villa Loftet. Sarah is an expert at discovering secondhand and vintage gems at fleamarkets, and she regularly visits her favourite haunts to find them. 'I have a thing about old cupboards and wardrobes, but they are difficult to find and so if you see one you like, you have to act very quickly,' she says.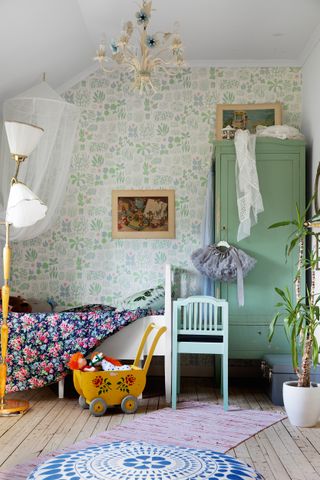 Daughter Stella's room contains a grey wardrobe built by Sarah's great-uncle from old sugar crates. It is not the only family treasure in the house – an ornately decorated Mora clock inherited from Mattias' grandfather is another cherished piece.
Looking to decorate a children's bedroom? Check out these 16 wallpapers for children's rooms.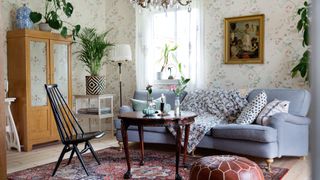 In the living room, a creaking parquet floor was replaced with simple wooden floorboards, which were sanded and oiled. The TV is hidden away in a tall cabinet, a good solution for this cosy family space. 'It is great that the TV is not always on show. Before, it was the focus of the room and the centre of attention. Now the living room is more like a den where we can enjoy spending time with each other and our friends. We have a cupboard for Stella's toys, which is easy to move out when needed.'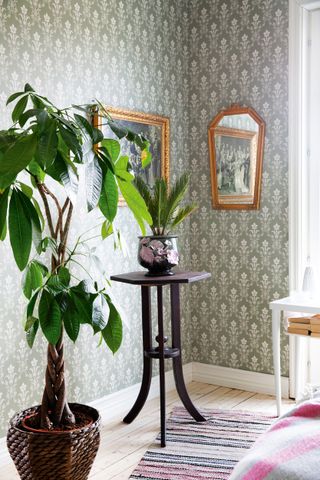 With a new baby on the way, the couple also have plans to extend the house. They plan to build out over the patio outside the living room to create a bedroom and dining room, and Sarah's dream is to source more old windows for the extension, too. No doubt she'll also be browsing wallpaper books for inspiration to add to the patchwork of patterns elsewhere in this charming home.
More wallpaper inspiration: