When avid clock collectors Daphne and Roger Sperring bought this elegant former rectory, there was an every-minute-counts, time-is-running-out quality to the move. 'We'd been planning to downsize, but when we saw this place we felt it was our last chance to live somewhere so beautiful and grand,' explains Daphne.
Read on to find out what they did to transform their beautiful home. Looking for more inspiration? Browse our real home transformations. Read our guide on renovating a house, too, for more guidance.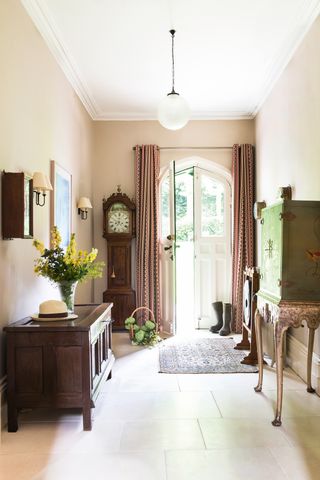 THE STORY
Owners Roger and Daphne Sperring live here. They are both retired.
Property A three-bedroom Grade II-listed former rectory in a small Devon village. There is also a coach house and stables in the property's grounds.
What they did The couple replaced the roof, rewired, installed new flooring and redecorated throughout. They also redirected some pipes from the cellar, which had been causing flooding.
'We knew it would need a fair bit of work but we saw its Gothic features and stained-glass windows and just fell in love with it.' says Daphne. 'It may not have seemed the right time of life to take on such a project, but we felt it was an opportunity we just couldn't pass up.'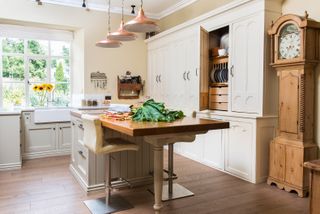 Five years on, they have no regrets. Not only have they created a beautiful home for themselves and their extended family to enjoy (their children and grandchildren are regular visitors), they've restored the house in a way that respects its heritage, while also making it fit for generations to come.
'Our goal was to return the house to the way it would have looked, with wooden and marble floors, and rugs rather than wall-to-wall carpets, but not to make it too fuddy-duddy,' says Daphne.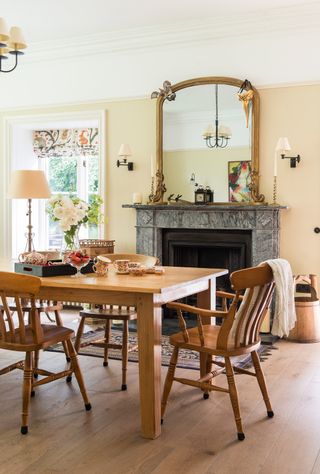 'The kitchen is probably the most modern room, but we've made some decisions that don't follow contemporary trends – for instance, deciding not to fit en suite bathrooms in all the bedrooms. We just felt it wasn't necessary and would change the character of the property too much. Instead, we replaced two bedrooms with new bathrooms that are shared by everyone.'
If you're considering updating your bathrooms, take a look at these traditional bathroom design ideas for more ideas and inspiration.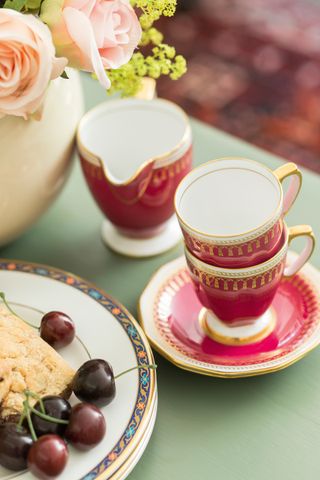 The house was built in 1834 as a rectory for the church next door, but was sold by the parish in the 1960s. By the time Daphne and Roger moved in, the roof needed to be replaced and the cellar, which was linked by old pipework to a well in the grounds, was flooded and damp.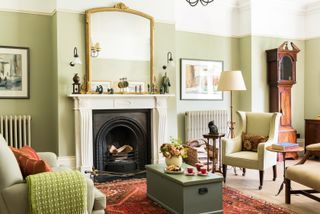 They engaged property development experts Mike Martin Associates to complete a top-to-toe renovation, liaising with National Heritage and local planners to ensure the building's historic integrity was kept intact. The couple moved into the adjacent coach house for six months while the work was carried out.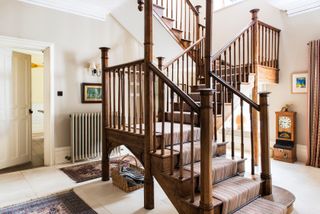 'It was all about bringing back the character of the house. We reused as many of the original roof slates as we could. We restored period details, taking out the modern narrow radiators and skinny skirting boards, and replacing them with chunky cast-iron radiators and deep woodwork in keeping with the original architecture,' says Daphne.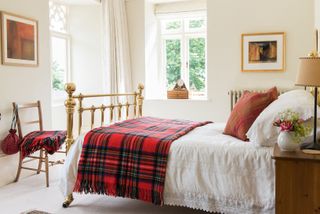 The standout feature is the staircase, which is rumoured to have been designed by the architect of nearby Hazelwood House, a former country manor turned hotel. 'When we first saw it, the staircase was a dark treacle colour,' Daphne recalls. 'Mike employed a retired carpenter who sanded away years of grime, revealing the beautiful oak beneath.'
MORE FROM PERIOD LIVING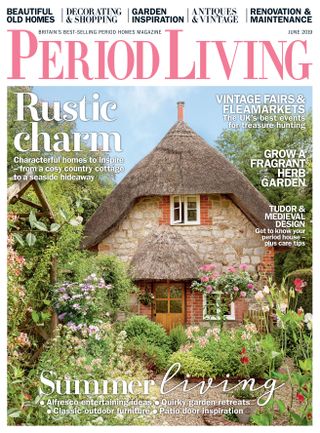 Period Living is the UK's best-selling period homes magazine. Get inspiration, ideas and advice straight to your door every month with a subscription.
When it came to decorating, Daphne and Roger again called on expert help, commissioning Gavin Woodford and Sarah Watson of Woodford Architecture and Interior Design to help with colour schemes and furnishings.
'I felt it was too big a job to tackle ourselves, and Sarah and Gavin were recommended by our estate agents, who told us: "We've seen hundreds of properties in this area and those Woodford have designed are by far the best." It seemed like a good tip!' says Daphne.
Gavin and Sarah helped to resolve an issue with the couple's bedroom and its integral bathroom.
'On first viewing, I loved everything about the house – except for the combined bedroom and bathroom,' says Daphne. The room has a stunning vaulted ceiling, so splitting it in two was out of the question.
Instead, Gavin and Sarah designed a half wall dividing the bathroom area from the bedroom. It is now cleverly concealed behind Gothic-style cabinetry that reflects the style of the house and was made by a local carpenter.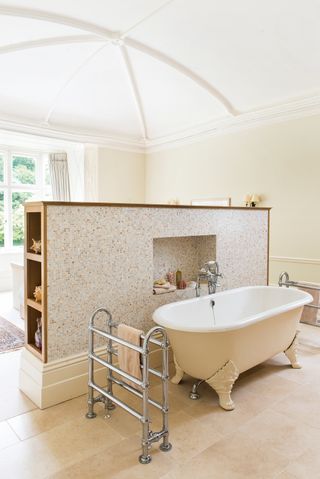 Sarah Watson also designed the decorating and furnishing scheme, creating a calm backdrop for the couple's eclectic collection of antique furniture, vintage clocks and contemporary artworks.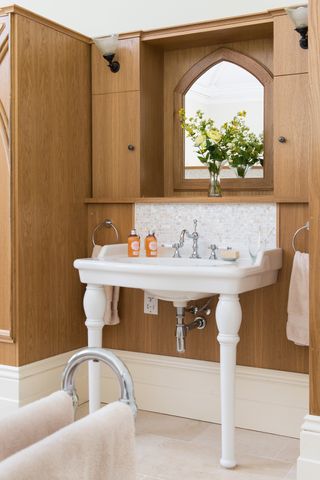 'I'm a huge fan of history but I don't want our home to look stuck in the past,' says Daphne. Not turning back time but living in the moment.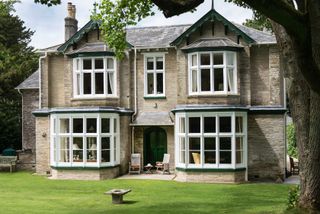 MORE PERIOD HOME INSPIRATION: