Pauline Simpkin's cosy Kent home is a testament to the cocoon-like powers of dark interiors. Each room is a mix of handmade furniture, second-hand buys and industrial touches, but the common theme throughout is a cosiness that permeates the space even in the summer months. That's been Pauline's key motivation all along. 'Having a cosy and atmospheric home is the most important thing to me,' she says.
Her house, which she shares with her husband Mick, is a prime example of how a nondescript new-build can be transformed into a family home. 'We haven't changed the footprint of the house but when we moved in, the first thing we wanted to do was change the blank magnolia walls,' Pauline laughs. 'We've never had a planned budget, so it's been a gradual process.'
Read on to find out how they transformed it, then browse the rest of our real home transformations. Read our guide on renovating a house, too, for more guidance.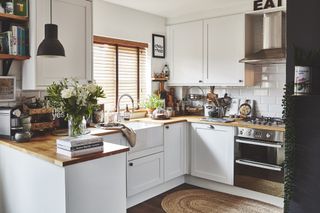 Project notes
The owners Pauline Simpkin, a business manager at a PR agency, lives with her husband, Mick, an employment advisor for a trade union. They have two grown-up children, Rebecca, 27, and Sean, 25.
The property A four-bedroom new-build townhouse in West Mailing, Kent.
Project cost £13,000 for structural work, kitchen installation and appliances.
The couple's biggest project was their kitchen-diner, which they completed with a relatively modest budget of £13,000. 'The kitchen was more expensive than anything else in the house,' she says. 'I wanted a sociable space where we could eat as a family, and where I could cook and talk at the same time, so we took the wall down between the kitchen and the dining room to make it more entertaining-friendly.'
Today, it's the most-used room in the house. 'We're always having a chat around the table – it's a massive thing for us,' Pauline says. 'We always ate together as a family when the children were younger, and even now they'll come home with their partners most weekends and we'll have a meal.'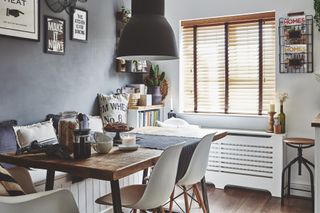 As well as creating an open-plan space, Pauline and Mick replaced the existing kitchen with a sleek and simple Howdens model. It makes cooking a joy for Pauline. 'I'm a real foodie,' she says. 'When I come home, I go straight to the kitchen to prep and cook. I like the space to be bright and light, so we decided to keep the kitchen itself neutral. You can change a coloured wall, but you can't change a kitchen as cost effectively.'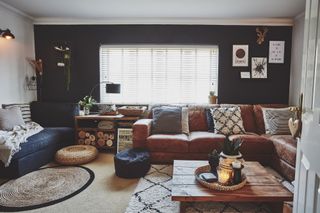 Pauline describes her style as 'modern rustic', but the house has come together purely by accident. 'I buy items that flow from room to room and don't really think about what I'm doing. I just make a split decision and go for it,' she says. 'For example, we used to have fitted wardrobes in our bedroom, but one day I woke up and decided I didn't like them. Mick had to unscrew them and take them out! I've never regretted what I've done, though. I've only really ever made mistakes with wall colours, but you can always paint over that.'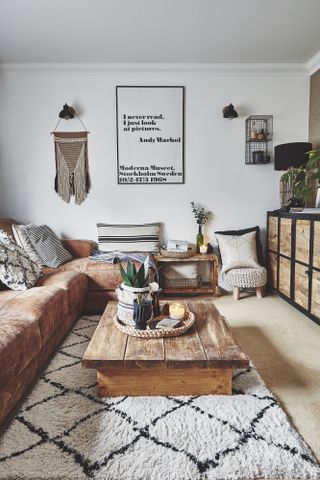 More from Real Homes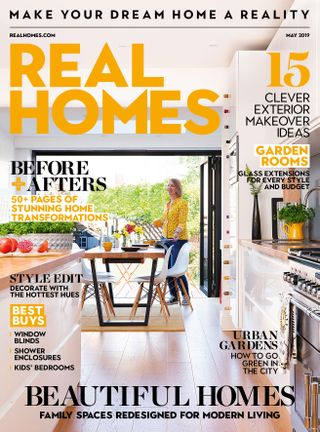 Get more ideas, inspiration and expert advice delivered every month, and a fantastic welcome offer, with a subscription to Real Homes magazine
Future-proofing their home with neutral foundations is one of Pauline's top tips for budget-friendly interior makeovers. 'I love natural wood,' she says. 'It goes so well with light and dark interiors, and you can easily paint it to change it up.'
She's a big believer in making the most of what she's got and subscribes to the idea that easy updates can make a major difference to a room. 'I'm always thinking: How can I change this room around without it costing much?' she says. 'It doesn't cost a lot to add a coat of paint, so it's easy to turn a room around for very little money. I constantly have a paint brush in my hand – over the years, I've been through quite a few different looks.'
Pauline is also a big fan of Ebay. Along with made-to-measure furniture from Etsy and handmade pieces created by Mick – like the bedside shelves built from floorboards and the bar shelves crafted with scaffold boards – a lot of the items in the couple's home are secondhand. 'I buy and sell on Ebay,' Pauline says. 'If I want to change something, I'll sell it online and use the money to buy something new. That way, I don't have to pay out massive amounts for anything.'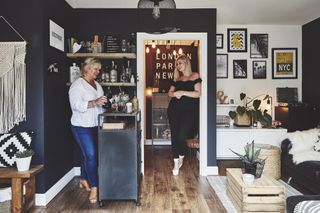 As Pauline and Mick's children have grown up and moved out, it's allowed the couple to reimagine the spaces in their house. 'The second living room on the ground floor used to be a study, but as the kids got older and we started having parties, we changed it into a bar,' Pauline says. 'It's our Friday night room. We start there and head up to the dining room on the first floor when dinner's ready.'
Their daughter Rebecca's former bedroom has been repurposed as a guest room – though Rebecca still claims it as her own. 'She loves it, although we have different styles – her home is beautiful, with a marble-effect table and beautiful highback chairs,' Pauline says. 'She almost definitely gets her love of interiors from me.'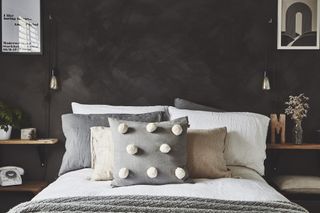 Rebecca and her brother Sean may have flown the nest, but Pauline's house remains a family home. Every room is carefully crafted to invoke a certain feeling – whether it's the haven-like quality of the master bedroom or the party-ready atmosphere of the gin bar – and Pauline says her most treasured moments are at home with her children. 'My favourite part of the weekend is sitting around the table on a Saturday morning and seeing what's been going on with my family,' she says.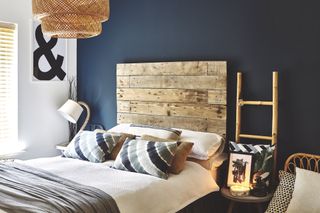 Next, she's branching out into outdoor living. 'I'd love to add a pergola on the back of the house – they're lovely and cosy on a summer evening,' she adds. 'It's my next project for 2019 – although Mick and Sean might not have realised this yet!'
Contacts
More lovely homes to browse: