Christmas is a family affair in the Seidler household. With the big day spent with loved ones, the lead-up is full of cosy nights in for Katie and her husband, Russell, with a glass of red wine and a mince pie or two in front of the woodburner. However, Katie, whose Victorian house is in the busy market town of St Albans, will admit that she likes to keep the decorations simple and minimal, with lots of natural elements that fit in with their home's pared-back Scandi style.
Having bought the three-bedroom property back in 2017, after many years of renting, the couple were keen to make their mark on the place and fill it with their love of Scandinavian design.
Want to makeover your home so it reflects your personal style, just like Katie has? We have lots of ideas and advice on what to do and where to start in our feature on house renovation. For more real home transformations, head to our hub page.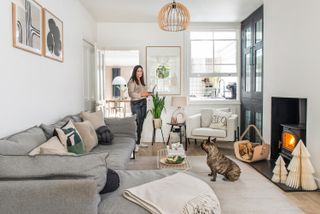 Profile
The owners Katie Seidler, an interior designer at @hello_haus, her husband, Russell, a marketing director, and their French bulldog, Henry
The property A three-bedroom Victorian detached house in St Albans
Project cost £17,800
'Although the house didn't need any structural work, the interior was very plain and hadn't been used to its full potential at all,' says Katie. 'I could instantly see how we could transform it to make it work for us. Not only was it in the ideal location for us, being close to all our friends and family, but the large kitchen and original sash windows really sold it to me – along with the internal window from the living room to the kitchen and all the bolt-ons, like the loft extension.
'We call this house the Tardis as you really can't tell how big it is from the outside! I loved the size of all of the rooms and could see that, with some clever space planning and the right furniture, it could become our perfect home.'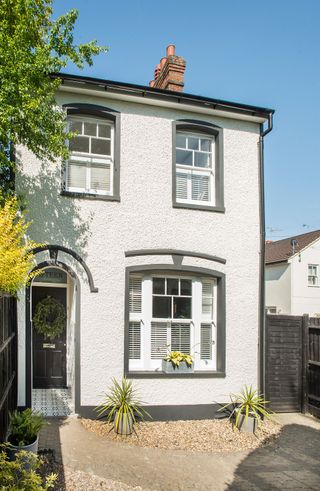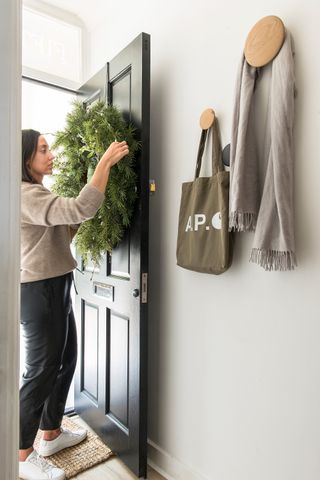 With no major works to be done, painting was carried out and a new wood floor installed. Katie wanted to ensure the house was cohesive, light and serene, and describes her vision as a mix of 'Japanese style and Scandi design'. Her love of Danish furniture, clean lines and lots of texture were the focus when designing each room, with her eye for detail ensuring every corner and nook has been well planned.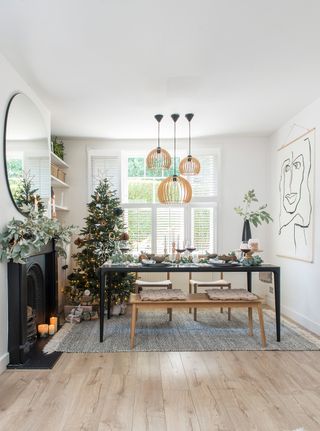 The Seidlers' living and dining space was previously used as one large living area, but Katie quickly turned it into a more functional room where they could entertain as well as relax. 'Zoning is key,' she says, 'I look at a space and work out how to make the best of the light and furniture placement. I've used rugs to turn the two areas into distinct spaces. Everyone needs their home to work for them and I think we need to ensure it's how we want to live right now and not necessarily worry about future owners.'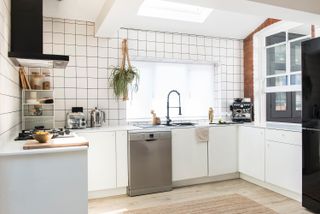 The biggest job the couple had to contend with was the kitchen, where they ripped out the old grey granite worktops and took off redundant wall cabinets to open up the space. The worktops were replaced, the walls were tiled and a new sink, hob, extractor and wall shelves added.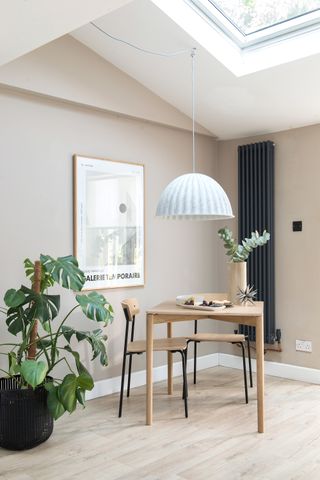 Originally, Katie went for a much starker monochrome scheme, but she soon realised it wasn't for her. 'The dark walls felt oppressive in my home and wasn't the vibe I wanted,' she says. 'Beige and natural is "me" and that's how I love to live. I changed the dark walls for more muted tones and a neutral palette, including lots of natural materials. We also ran the same flooring throughout, top to bottom, to bring the rooms together.'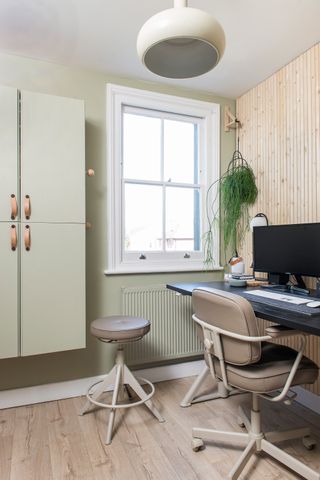 Nowhere does Katie's love of natural materials and wood come into play more than in the home office, where Russell has recently installed wooden batons onto the wall for a slatted effect. It adds a warmth to the room that's calm and subtle, while adding impact, albeit in a more natural form.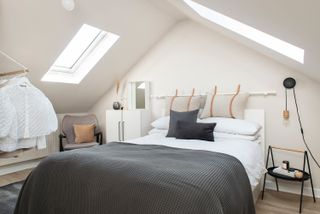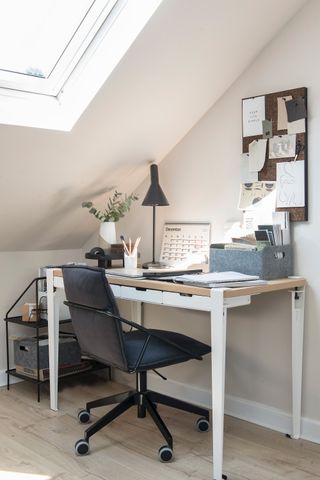 Keeping to the same colours in each room also means they flow from one to the other seamlessly and enables Katie to move furniture and accessories around easily, as they work in every space. 'Danish brands are my go-to when it comes to furniture and accessories; Ferm Living, Hay, Normann and Takt, for example,' she says. 'I love buying from independents that I find on Instagram, too, especially when it comes to ceramics and prints. My favourites are Map Stores, Nest, Earl of East and Studio Paradisi.'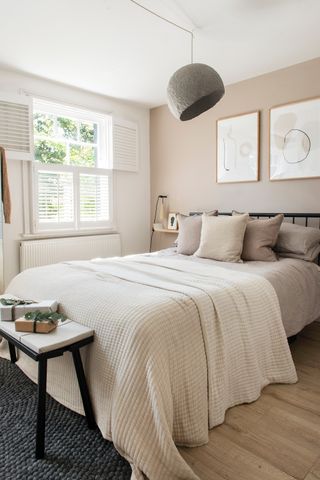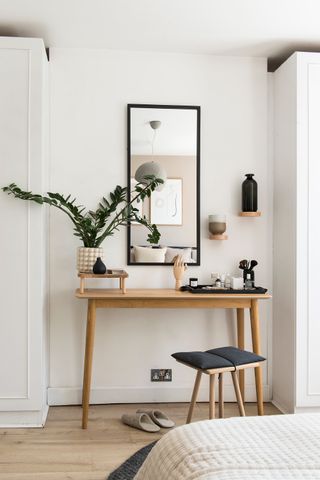 With the interior complete, the Seidlers were able to turn their attention to the exterior, where they gave their compact garden a neat refresh. They employed the help of a local company, who landscaped it and built planters around the edge, which took around a month. 'I'd love a bigger garden so I could build my dream garden office, but we've made the best use of the small space,' she says.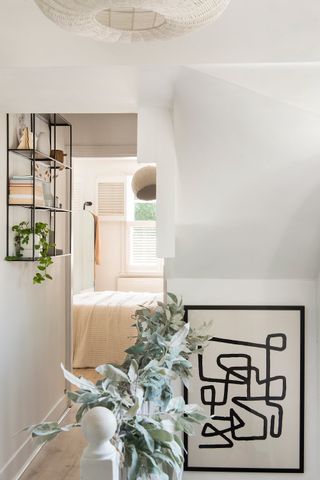 Asked about her finishing touches, Katie confirms that she still has a huge list to go. She's constantly tweaking the small things and helping the house evolve. 'I'm not the most patient person and there's been so much I've wanted to change in the house, but it takes time,' she says. 'It can't all be done at once – creating a home you love can be a slow process. I'm so pleased with what we've achieved, though, and I'm looking forward to showing off our hard work at Christmas.'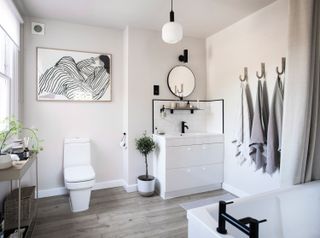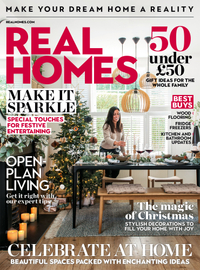 Subscribe to Real Homes magazine
Want even more great ideas for your home from the expert team at Real Homes magazine? Subscribe to Real Homes magazine and get great content delivered straight to your door. From inspiring completed projects to the latest decorating trends and expert advice, you'll find everything you need to create your dream home inside each issue.
More reading: