After moving into their 1950s home, Ade and Becky spent the next 12 years extending and renovating it. However, the garden wasn't lavished with the same attention. It had narrow, unkempt borders of shrubs and weeds, with a weathered grass lawn and a large tree in the middle. 'It was the same as when we first moved in – apart from the life-sized plastic animals on the lawn that the previous owners tried to sell to us,' laughs Ade.
Profile
THE OWNERS Becky, a photographer, her husband, Ade, a web designer, and their son, Henry, plus cats George and Charlie
THE PROPERTY A three-bedroom 1950s home in Stamford
PROJECT COST £27,290
The couple had plenty of ideas, with a garden room at the top of their wish list. 'I imagined our ideal garden as a meadow with wildflowers and grasses,' Ade adds. 'Becky wanted it stripped back with white trees and rocks.'
Before
Instead, they added a trampoline and football so Henry could play on the lawn, 'He outgrew both, so we mostly stopped using the garden as a family,' says Ade. Post-lockdown, they wanted outdoor space with a view and to be able to use the whole garden. Becky also needed her own office.
Over four months, the couple reinvented the garden. Local building firm Sanctuary Timber Builds built the outdoor office, and Ade and Becky landscaped, with guidance from their friend, Fiona, who was experienced in garden design. The builders found old cement posts buried in the ground, and the couple had to hire a boring machine to dig holes deep enough for the trees – but the low-maintenance, cat-friendly garden is exactly how they imagined it. The only thing left is to wait for the trees and grasses to grow and the lawn to become wilder to get the rural seascape they envisaged walking in.
After
Formal seating arrangements are perfect in gardens where you need defined areas. Ade and Becky wanted lightweight seating that can be moved around with the light throughout the day. By night, solar lighting creates a gentle ambiance for watching the sun set. Adding colour to your table setting creates a modern alfresco dining experience.
'As part of the previous extension works, we had planters built into the walls that separated the house from the garden,' says Becky. 'They hadn't been done properly so all the render broke off. They'd been an eyesore for years, so we finally had the chance to explore ways to fix them. Re-rendering the walls wasn't an option: they can still hold moisture so we could have the same issue again. Our builders came up with a solution to reclad the planters in timber, then paint them grey and black.'
'After lockdown we yearned to escape to somewhere outdoors and wild,' says
Becky. 'We walked through fields and along coastlines whenever we had chance. Our garden combines both our loves.' Cotswold buff chippings recreate the sound of beach shingles, while weathered grey fencing gives an aged driftwood aesthetic. 'Fiona helped with planting,' adds Becky. 'We took the Acer as the starting point, adding greens and white to keep it simple and graphic.'
Positioned in a shaded area, the garden office has patio doors and windows to capture as much natural light as possible. The exterior also had to be low maintenance, so Ade and Becky clad the outside in a hard-wearing cement weatherboard. 'We looked at other options, but we just don't have time to maintain and treat wood cladding,' says Ade. 'This gives us a natural wood grain finish without the long-term maintenance issues.'
'I love colour, but it can dominate small spaces,' says Becky. 'I wanted a simple, calming palette in my office, so I used white paint on the walls and a light oak laminate on the floor. We've installed underfloor heating and laminate works better to retain heat – plus it won't get bleached by the sun. I used black and white for the rug and chairs and added pops of colour with my wall art. These prints had been leaning in my hallway for years as I ran out of space to hang them in the house.'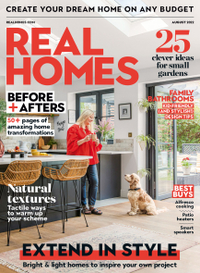 Subscribe to Real Homes magazine Want even more great ideas for your home from the expert team at Real Homes magazine? Subscribe to Real Homes magazine and get great content delivered straight to your door. From inspiring completed projects to the latest decorating trends and expert advice, you'll find everything you need to create your dream home inside each issue.