If you're renovating a period property like a Victorian or Edwardian home, you're probably struggling to strike a balance between creating a practical modern family home and preserving all those gorgeous period features. It can be hard to know how to design a space that works with your tastes and the era of the house, too. If this sounds like you, fear not: we've got a house tour that will inspire you to make a statement and bring your old home to life.
Aysha Rahman and her husband, Ali, were keen to do something different when it came to extending their home – a gorgeous Edwardian build. After living there for 13 years, focusing on getting the house up to a 'liveable' standard for them and their three kids, they wanted to make some bigger changes. 'The kitchen was in a galley layout, with steps leading up to a morning room,' says Aysha. 'The space was really awkward, and cold. We lived with it for some time, but we're a big family, and when we're all together everyone wants to hang out in the kitchen. We wanted a space where we could all socialise together.'
The couple worked with James from architectural design and renovation company Model Projects to bring their ambitious plan for a sociable new space to life. Read on for the top five things we've learned from them to ensure home renovation success.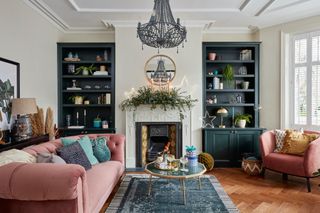 1. Big plans come with compromises
Profile
The owners Aysha Rahman, a full-time mum (@aysha_interiors), her husband, Ali, VP at an IT firm, and their children Taseen, Ilyas and Zahir
The property A three-bed Victorian terrace in north London
Project cost £150,000
Top of the wishlist for Aysha and Ali were height and plenty of glazing, as well as practical additions like a utility and a dining space towards the middle of the house. However, it took a few attempts before arriving at this design, thanks in part to planning issues.
'We wanted to have the extension at an angle, but the council wanted something more traditional,' says Aysha. 'We also had to be mindful of neighbours, as that could affect planning, too. We ended up designing a L-shaped addition to make sure it didn't go up to the neighbouring wall, rather than squaring the whole space off. We lost a bit of space, but it actually defines the zones of the room much better this way.'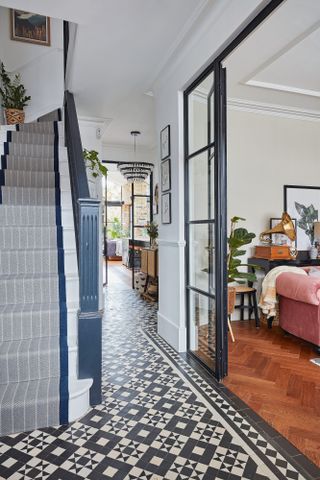 2. Living in can be relatively pain-free
Thanks to great builders, Aysha and Ali found living in during the build relatively drama-free. 'We didn't have the budget to move out and rent – and anyway, we'd rather put the money into the house,' says Aysha. 'As a terrace with no side access, it could have been a nightmare, but the builders boarded the staircase and gave us a new front door so we could live above the mess.'
The builders also even plumbed in a dishwasher in the bathroom. 'They made us feel really comfortable,' Aysha adds. 'It was all smooth-sailing, even though the project went on for longer than expected – 10 months rather than the original five or six.'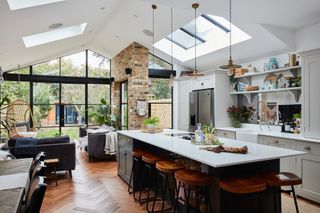 3. Keep a constant eye on your wishlist
The design of the house evolved as Aysha saw new things she liked, but a certain theme was always at the forefront of her mind. 'I love the Parisian feel – courtyard gardens, black steel balconies,' she says. 'We didn't want bi-fold doors as we were going for impact with full-height glazing. I stumbled across Fabco Sanctuary and loved the Crittal-style doors – they're French doors on a more modern scale. The doors were one of the more expensive parts of the build, but they have such an impact on the space.'
For the kitchen, the couple opted for a Shaker style to complement the period of the property. 'It adds character and provides a nice contrast with the industrial doors,' says Aysha. 'I didn't want the style to be overpowering, so kept the units neutral so that they almost disappear into the wall. The island is blue for contrast – it's the most dominant part of the space.'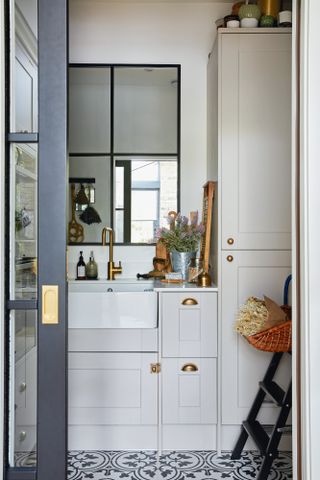 4. Learn from other people's mistakes
Aysha had seen other renovations on the road and noticed that the front of the house rarely flowed with the back – a design mistake she was keen to avoid. 'There had to be a continuation from front to back,' she says. 'I was following someone on Instagram who were having French Crittal-style doors in their living room, and it gave me the idea.'
The couple originally planned to install double doors into the living room, but opted to replace the entire wall between it and the hallway with glass instead to maximise light and create a link with the back. 'We checked it would all be structurally sound, then took the plunge,' Aysha adds. 'When the doors are shut, they block out more sound than you think, so it feels like a private space, but it's still visually connected.'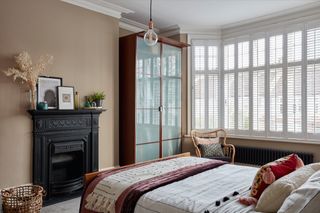 5. Small adjustments make a huge difference
While the kitchen was the couple's biggest project, the rest of the house has been transformed with small steps. The hallway gained an extra square metre of space during the renovation, so the couple had to source reclaimed tiles to match the originals. A utility room off the kitchen is separated from the main space by a clever pocket door, which lets in light to an otherwise dark pocket of the house.
The family bathroom, previously two spaces with the toilet separate to the sink and bath, was knocked into one, with a double sink, contemporary freestanding bath and walk-in shower adding a feeling of luxury. The master bedroom features soft, earthy colours – though it's 'not at all finished,' Aysha is keen to add.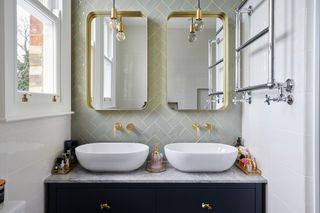 After a subdued Christmas last year, Aysha is looking forward to hosting properly this time. 'We fitted one family party in before lockdown last year, but I'm looking forward to lots of Christmas dinners,' she says. 'We open up all the doors and the entire downstairs space becomes one. It makes a huge difference to how we live now.'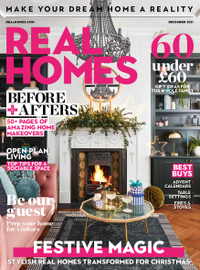 Subscribe to Real Homes magazine
Want even more great ideas for your home from the expert team at Real Homes magazine? Subscribe to Real Homes magazine and get great content delivered straight to your door. From inspiring completed projects to the latest decorating trends and expert advice, you'll find everything you need to create your dream home inside each issue.