With their first baby on the way, Elise and Michael Dodds felt it was time to leave their small rented flat in North London and buy a more affordable property further north near their families. 'Although we'd met in London, our families only lived a mile away from each other in the North East, so it was the perfect time to move back,' says Elise. They bought a new-build house off-plan in Whitley Bay. 'We loved the old terraces in nearby Tynemouth but they weren't as practical with a young family,' she says. 'They lacked parking and we didn't think we'd have time for a renovation. This was just so much easier.'
The couple had daughter Elodie and, a year later, son Huxley before they started renovation work on the house. Once the children started to walk, Elise and Michael's priorities were converting the garage into a playroom and landscaping the garden with raised beds and lots of grasses to draw the eye away from the walls and fence. Two years later, the corridor-like utility room was knocked through to create a bigger dining area with four-metre wide bi-fold doors replacing the double patio doors. 'We'd spent all that money on the garden but couldn't really see it,' says Elise.
However, with family life taking precedence, decorating was on the back-burner. 'We always felt like it was a temporary home, so it stayed in its white basic state for nearly five years,' admits Elise. 'One day I said to Michael, "I can't live with it like this any more." It wasn't joyful to come home as it didn't feel cosy or reflect our personalities.'
Having read a tip from Mad About the House author Kate Watson-Smyth about taking cues from your clothes, Elise opened her wardrobe to reveal an array of pinks, greens, yellows, blues and lots of prints. 'It was full of colour but my house wasn't. I was determined to add personality to our home and smash the stereotype of the new-build white box.'
The kitchen
Profile
The owners Elise Dodds (@makemynewbuildpretty), who works in HR, her husband, Michael, a management consultant, and their children, Elodie and Huxley
The property A four-bedroom detached new-build property in Whitley Bay, Tyne & Wear
Project cost £36,600
To make up for losing the utility room during the initial renovation, the couple installed floor-to-ceiling kitchen cabinets in the dining area to conceal a washing machine and dryer alongside additional storage. At the same time, the white gloss kitchen was given an overhaul. 'It felt criminal to pull out something out that had only been in five years,' says Elise. 'So we replaced the base unit doors, added an island and changed the handles, lighting, sink, tap and worktops.'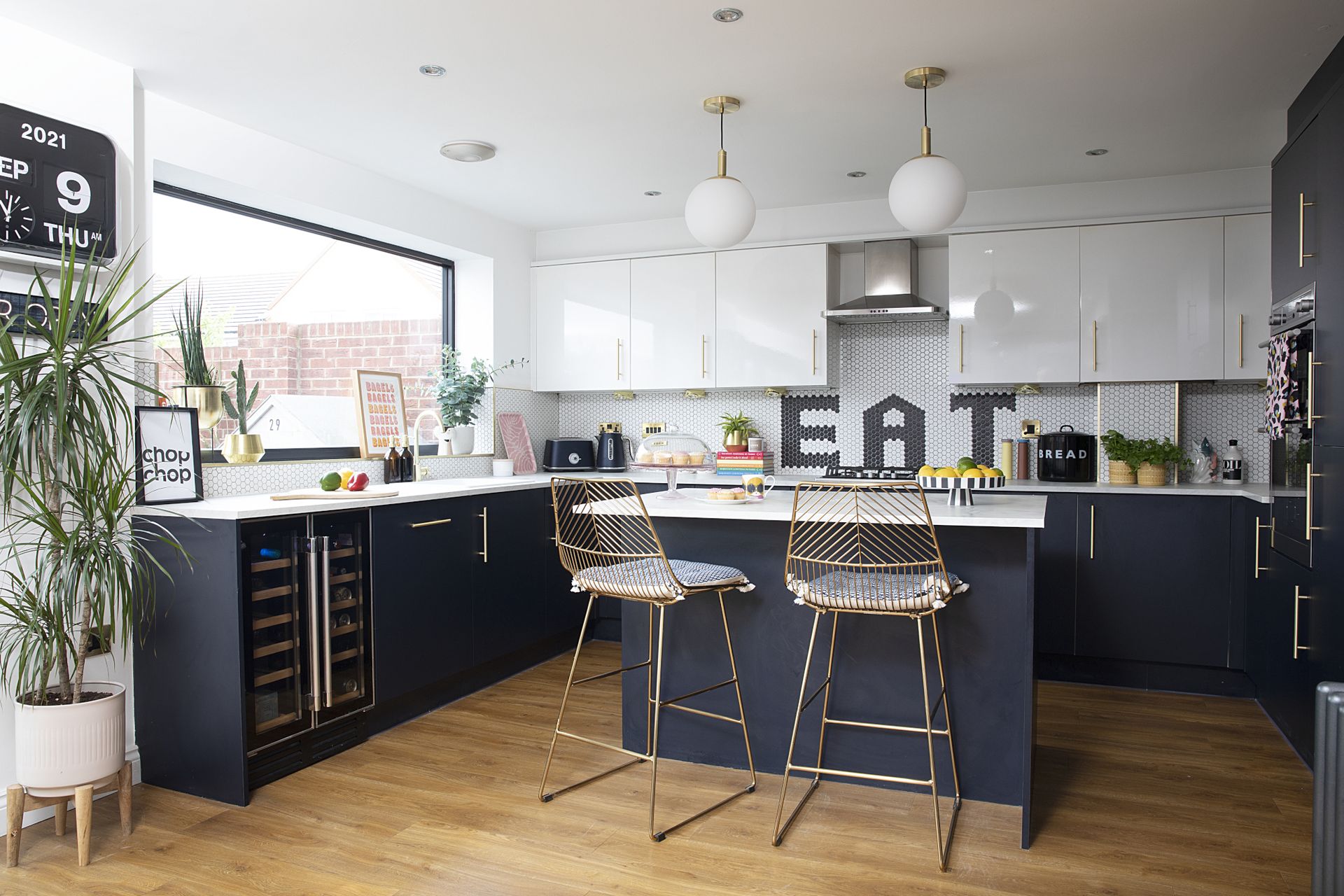 New matt navy base cabinets with gold handles have added depth to the kitchen, while the existing gloss wall cabinets have remained in place and blend into the wall. 'We would've probably just painted the existing doors if they hadn't been gloss,' says Elise.
'The neon light was on my Pinterest board for four or five years,' says Elise. 'It was quite a splurge and felt like buying a piece of art. We treated ourselves when we knocked out the utility, and it meant we could hide the wires in the wall. It'll come with us from house to house as I can't imagine not living by the sea now.'
'It was only when we created this space that we could get all our prints down from the loft and make a gallery wall,' says Elise. 'I particularly love the picture of the Rendez-Vous Cafe on Whitley Bay seafront, which means a lot – I used to go there with my mum and dad. The opening hours picture is actually a framed tea towel.'
The garden
'This is a great little spot for having friends round for drinks and was a lifesaver in lockdown,' says Elise. 'We turned the shed around so the door leads onto the lawn to create more space.'
The living room
The living room was one of the last rooms to be transformed. 'There was too much furniture, including a massive grey settee that made the room feel small. I replaced it with a neater yellow velvet design; by that time, I felt there was a thread running around the house and knew what colours would work.'
'I loved Farrow & Ball's Hague Blue,' says Elise. 'Because it's not a massive room, I painted the bottom two-thirds and it immediately felt cosier. I'd always wanted a yellow sofa and this fits much better, stands out against the dark blue walls and ties in with other pops of yellow throughout the house. The coffee table was bought when I was living in New York.'
'I've seen this Ikea unit styled in lots of different ways on Instagram and it looks different in everyone's house,' says Elise. 'I've taken my time to fill it with things that mean a lot to me.'
Home office
Elise managed to fit an office onto the landing when both were working from home during lockdown. 'I used the colours from the striped wallpaper to colour match the yellow and pink in the striped wallpaper. The photograph was from New York where I lived for two years.'
Elodie's room
Formerly a nursery with grey stars, Eloise's bedroom was upgraded as she got older. 'She really wanted rainbows so when I saw this wallpaper on @eli_at_home's Instagram account, it was perfect,' says Elise. 'I painted the scalloped edge by using a dinner plate to cut out a cardboard template.'
The bathroom
When the couple moved in, the rooms, including the bathrooms, had basic fittings from the developer's limited options. The family bathroom was white and soulless, so Elise set about transforming it by adding colour, though kept the layout the same.
Elise gave the space a new lease of life with new tiles and a shower. 'This was going to be a fun bright kids' bathroom, but I fell in love with these green and pink tiles so it didn't quite end up that way!' she says.
Elise and Michael's bedroom
During lockdown, the couple started by painting their bedroom walls green. 'It felt much warmer,' says Elise. Before long, she was experimenting with wallpaper and adding neon lights. 'I painted two opposite walls to begin with, but after decorating the rest of the house I came back and did the whole room,' says Elise. 'The rustic shelf above looks much better against the green than the previous white one, and I can change up the display.'
Now Elise is glad she took her time with the transformation and would love a new project in the next few years. 'You have to live in the house for a while, otherwise you'll make mistakes by buying things too quickly,' she says. 'I've loved making the best of what we've got and adding unique touches that reflect us as a family and where we live. As much as we love it now, we haven't lost our passion for period properties, so it's a case of waiting for a house we can turn into our forever home.'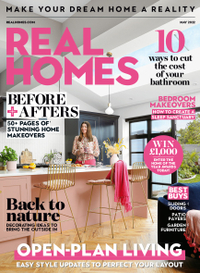 Subscribe to Real Homes magazine
Want even more great ideas for your home from the expert team at Real Homes magazine? Subscribe to Real Homes magazine and get great content delivered straight to your door. From inspiring completed projects to the latest decorating trends and expert advice, you'll find everything you need to create your dream home inside each issue.