Daphne and Gordon Dunn's 1840s west London home is an emporium of antiques and curiosities. Period elegance unfolds on all four floors, heightened at Christmas and New Year when sparkling fairy lights, and sprigs of eucalyptus and fresh greenery turn the Victorian townhouse into the quintessential festive home.
PROJECT NOTES
Owners: Daphne Dunn, who runs an interior design business, her husband, Gordon, a corporate executive, and their two children, Chloe, 21 and Finn, 17
Property: A four-bedroom Victorian terrace in west London, built in 1848, with a small rear extension that the couple added in 1999
What they did: The couple demolished an old conservatory, built a wrap-around brick kitchen-diner extension, turned a bedroom into a dressing room and en suite, and reinstated the wall between the kitchen and dining room
The setting is a world away from Daphne and Gordon's American roots, yet is exactly where Daphne dreamed she might live one day. 'I've yearned to live in England since I was seven as I loved all the classic English stories like The Secret Garden and A Little Princess,' she explains. 'Then I came to London as a student, and being where my favourite writers had lived was magical.' Daphne and Gordon made the move to London in the 1990s and bought this house in 1999.
They immediately extended the basement kitchen, and turned a tiny bathroom and spare bedroom on the first floor into a master bedroom en suite and dressing room. They also added reproduction Victorian cornicing – using original moulds – to the living room and bedrooms, and tongue and groove panelling up the stairs and along the hallways.
The Smallbone of Devizes Shaker kitchen, topped with dark green granite, was fitted 18 years ago but looks just as fresh today after a repaint in Slate II from Paint & Paper Library.
The riven slate tiles are equally timeless; for similar, riven slate oyster at Stone Direct
A faux limestone column, another of decorator Chris McClure's paint effects, cleverly disguises an ugly downpipe.
Daphne scours antiques fairs here and abroad for quirky and unusual pieces. A pair of 19th-century church shutters are now cupboard doors, expertly replicated in MDF for the cupboard opposite, by artisan decorator Chris McClure. He also copied the carved wood panelling in the dining room after Daphne closed the room off from the kitchen.
In the kitchen, even the goose – an antique working decoy – gets a touch of glamour with its own tiny crown. With a rustic 19th-century table from M Charpentier, the room has a Provençal feel.
The 'painting' is a French armoire door from an antique shop on Lillie Road, the sconce was from Spencer Swaffer Antiques and the chandelier from a French antiques shop.
On top of the larder are a collection of 19th-century Staffordshire relief-moulded stone jugs: 'The best were made by the Ridgway brothers and are date-stamped,' says Daphne. The Nordic Star is from The White Company.
The dining room is Daphne's most indulgent room. She reinstated the dividing wall between here and the kitchen, then papered it with Ananbo Chestnut wallpaper to create a trompe l'oeil effect.
A pair of ornate antique carved panels from M Charpentier Antiques have been repurposed as doors for the cupboards in the dining room. The simpler doors were made by Linden-Bauer in MDF, with an aged finish by artisan decorator Chris McClure that echoes the antique panels.
The French reproduction Louis XIV table and cane chairs were made in the 1920s and came from the USA. Daphne made the slip covers from a fabric embroidered with regal emblems, which she bought from 1stdibs.
The pricket candlesticks on the table came from fleamarkets in France and Amsterdam but would originally have been used in churches.
In the corner is a Balsam Hill candlelit European silver fir Christmas tree, its decorations and the rose gold tealight holders from The Contemporary Home.
Daphne loves to collect crockery and antique cutlery when browsing antique shops.
For special occasions Daphne brings out a Havilland Limoges set with a festive gold trim; this Empire pattern knife and fork set is from Buccellati.
The Nutcracker tree ornament is from Fortnum & Mason and the Lingonberry Champagne coupes, crackers, and pink glass tumblers, used as tealights, are from Sophie Conran. The pink berries are from Bloom & Wild.
Back on the ground floor, in the double-ended living room that spans the length of the house, Daphne has used a combination of yellow, green and faded pink tones contrasted with jewelled gold and fuchsia to capture the glamour and ambience of Venice.
'This is Venice by day and Venice by night,' she explains. Venetian elegance is evoked with blown glass lamps, angels poised among Baroque sculptures, and Italian Colony and Fortuny fabrics for upholstery and cushions.
The italian silk velvet cushions are from Colony Fabrics, and modern glass lamps, from Porta Romana, are in jewel colours that nod to the Venetian art of glassmaking. The sofa is from George Smith and the armchairs are antique.
A pair of coffee tables, one at each end of the room, came from 1Hundred and were made from reclaimed French iron balconies topped with glass.
The furniture in both rooms – and elsewhere – is largely antique, but Continental rather than traditional English Victorian. 'I imagined an Italian or French person moving to London in the Victorian times and bringing their furniture and belongings with them,' says Daphne. 'Most of what I own is from the same era but is a much lighter and more feminine Continental style.'
To the left, above a 19th-century French chest of drawers from Seventeen-Twenty One, are two panels of a painted silk chinoiserie room screen that Daphne bought from Bonhams Auctions.
The George Smith chair was reupholstered by Ian Sargent in Mulberry's mohair velvet, and the antique crowns are part of a collection Daphne has amassed over the years
It has taken Daphne years to get her home to a point of satisfaction, and it's a quest that never ceases. She holidays in Europe around antiques fairs and seeks out at least one antique shop wherever she goes.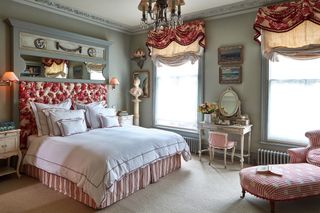 The opulent wood and mirror bed frame was made by Linden-Bauer, with painted motifs by Chris McClure. The French look continues with a 19th-century dressing table from Paris's Clignancourt fleamarket.
The bouquet on the dressing table is by Bloom & Wild.
Daphne found the oil paintings in a charity shop and had them restored. She since discovered they are by an artist that has sold at Christie's. The red fabrics complement the Farrow & Ball shades chosen for the walls – Mizzle – and woodwork – Pigeon.
The antique urn in the fireplace was from Bonhams Auctions, along with the 18th-century German portrait of Frau Fifi, which Daphne bought at Christie's.
The wall sconces are from Lots Road Auctions, and the French 1920s chair, from Marchand Antiques, is a copy of a Louis XVI chair. The chaise longue is from Pierre Frey