There are few things more satisfying than a rummage around a second-hand stop or salvage yard – especially when you end up with a truly unique home full of vintage treasures. That's something that Claire and Nick Harvey know well, after spending months sourcing coving, fireplaces and furniture to bring their Southsea home up to scratch.
The couple embarked on a lengthy house renovation after moving from their old house, literally across the road, to here. After urgent updates including the electrics and central heating – as well as replacing all 20 sash windows with uPVC slider windows – the biggest part of the project was the kitchen-diner. 'We had three specifics: to create a big family-friendly space, open up the back to maximise the views of the garden and add a glass roof to allow as much light into the east-facing kitchen as possible,' says Claire.
The build took just over 10 weeks, finishing at 2pm on Christmas Eve. 'It was everything we had envisaged!' says Claire. Then the country went into lockdown and everything stopped. 'At first it was hard to navigate around the restrictions, but luckily the DIY stores remained open and the time we had at home presented an opportunity to get a feel for the house and work our way through the finishing touches,' she adds.
Now the work is finished, we had a nosy around Claire and Nick's beautiful new home – and here are our top design lessons we've learned from them.
1. Paint the living room ceiling for a surprise splash of colour
Profile
The owners Claire Harvey, head of partnerships for Future Talent Group (@harvey_home_eclectic), her husband Nick, a telecoms account manager, and their two children, Clover, nine, and Gray, five
The property A five-bed Victorian terrace in Southsea, Hampshire
Project cost £71,065
Keeping the walls white with contrasting woodwork, in Railings from Farrow & Ball, meant Claire could have some fun with the colour on the ceiling. 'The green was a last-minute decision,' she says. 'I wanted to introduce colour but didn't want it to clash with our existing velvet sofas.' The couple opted for black PVC-U sliding sash windows instead of white, adding a sense of drama to the room. 'I felt the dark frames were more in keeping with the property and personally think they work better with both light and dark décor.'
Claire also sourced two original marble fireplaces from Original Fires to reinstate in
the front room. 'They were salvaged from different parts of the country but, amazingly, matched!' she says.
2. Combine high and low-end for the kitchen of your dreams
Claire and Nick bought the kitchen units from Ikea on a budget but splashed out on a quartz effect concrete worktop to give the kitchen a luxury feel. 'I really don't believe you need to spend a fortune on a kitchen to create a beautiful and unique space,' says Claire. 'I love hunting for bargains and creating things that don't blow the budget, so along with the units and worktops, we have salvaged warehouse flooring as a work surface on the large kitchen island.'
Opting for a long shelf made from reclaimed timber, instead of closed-in cabinetry, gives a relaxed open feel to the room. 'It's lovely to see all my curios and pretty ceramics I have collected over the years, rather than them hidden away in cupboards,' says Claire.
3. Mix materials to add warmth to an open-plan space
Claire's love of mixing different textures works well in the kitchen, with white tiles, wooden panelling, a white-washed exposed brick wall and sleek fronted kitchen doors. The bespoke kitchen island, built by the couple's builder using Bodarp units from Ikea and a salvaged warehouse floor, creates a natural division between the cooking and eating areas. Jamie also fitted the Scandinavian Douglas fir wood flooring, unifying the whole space.
The glass panelled ceiling of the new extension not only looks great but also allows the light to flood in. 'The kitchen is east facing and felt quite dark, so we wanted to capture as much natural light as possible,' says Claire.
4. Invest in statement doors to create that indoor-outdoor link
The doors, windows and glass roof cost £17,100 – by far the priciest part of the project outside the building work itself – but the expense is worth it for the impact. 'Our previous home had a south-facing kitchen and had sunshine for most of the day, so a light-filled room was important to us,' says Claire. 'We decided not to extend the whole length of the side return, with the aim of creating a layout that had naturally defined areas with their own character and function, rather than one large box. By opening up the back of the house and fitting steel windows and doors, we created a wonderful line of vision. When you first walk through the front door, you can see right through into the back garden.'
5. Choose second-hand and salvaged for a one-off room
The master bedroom has been given a fresh new look with white-washed floors and pink painted panelling, which provide a beautiful backdrop to Claire's antique Ebay finds and modern pops of art – an eclectic mix that can be seen through the rest of the house.
She salvaged a fireplace locally and found the marble surround on Ebay to give the space a focal point, before having the cornicing and ceiling rose skilfully reinstated by Alan Bailey from Alba Plastercraft – the rose from a mould in a stately home in Staffordshire that was falling down.
6. Freshen up a good-enough bathroom with personal touches
Claire couldn't justify changing the bathroom – 'It had only just been updated before we bought the house and although not quite what we would have chosen, it's fine for now' – but has added small touches like a statement piece of art to put her own stamp on the space.
The window has been replaced, along with all the windows in the house, with a dark slider window – the dark frames of which look striking against the white of the heritage sink.
'I love mixing up new pieces with classic styles that won't date and am an avid collector of art, interesting charity shop finds and trinkets for my shelves – all the things that put your heart and soul into a home and make it unique to you.'
7. Give tired floors a new life with a lick of white paint
The woodwork in our homes is often overlooked and instantly painted white, but giving your skirting boards, cornicing, doors, fireplaces and built-in wardrobes a splash of colour is a great way to add depth to any space.
The couple were keen to create a comfortable space for their young children away from the renovation work, so focused on their bedrooms first. 'We wanted the children to have relaxing rooms to escape to when it got too much in the rest of the house,' says Claire. 'We replaced the ceilings, ceiling roses, skirting and the flooring and Clover chose her own décor – dark walls and pink woodwork, which looks great!'.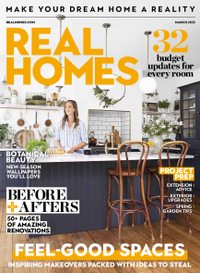 Subscribe to Real Homes magazine
Want even more great ideas for your home from the expert team at Real Homes magazine? Subscribe to Real Homes magazine and get great content delivered straight to your door. From inspiring completed projects to the latest decorating trends and expert advice, you'll find everything you need to create your dream home inside each issue.