Fact file
The owners: Gary Dalton, a graphic designer, and partner Zelda Gould Loftus, who works in marketing for Universal Pictures, live here with their seven-month-old daughter, Ottoline
The property: A three-bedroom Victorian terraced home in Homerton, Hackney, London
Project costs: £118,500
Gary and Zelda knew they'd found a gem when they viewed their Victorian terraced house in Hackney, in 2012. 'What sold it to us was that it backs onto a park that then backs onto Hackney Marshes. It's such a lovely location,' says Gary. 'The house also hadn't been touched for a long time, so we knew we could make it our own.'
The couple had a clear idea of what they wanted to achieve: an open plan, light-filled, sociable kitchen-diner, with links to the garden and space to display their collection of salvaged pieces and personal mementoes. After selling their old flat nearby, they moved in and began imagining a new design.
In 2014, the couple hired Joanna Coleman, of Mustard Architects, who lives just down the road, to help realise their vision. 'The kitchen was separate so we planned to open up the room to fit in a dining table. We also wanted two ovens, a large prep area, and plenty of worktop space and storage,' says Gary. 'We'd collected lots of ideas, and knew we liked bleached plywood, concrete and some graphic Italian tiles that I'd spotted in a magazine. We gave Joanna our box of cuttings and said "we like these things".'
Joanna suggested converting the space into the side return extension, adding eight square metres, and knocking down the walls between the old kitchen, dining and front living rooms, which could be achieved under permitted development.
After gaining party wall consent from both neighbours, work began in September 2014. The project was scheduled to take six months, and with a tight budget of around £100,000, there was little room for manoeuvre. 'The new space is designed with us in mind, and the house truly feels like a family home. We've put our stamp on it and increased the value by £200,000,' says Gary.
Find out how they did it, then browse through more real home transformations and find out more about extending a house.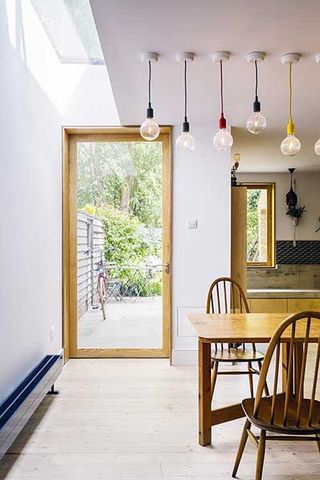 Mustard Architects designed the windows and doors, which were then made by Cardonwood. The couple uncovered original wood floorboards beneath laminate flooring and oiled them.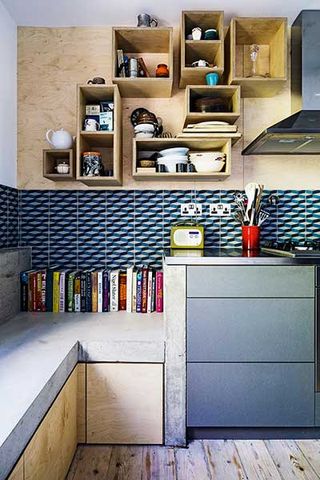 Gary and Zelda saw the tiles in a magazine and tracked down the design to Domus. The made-to-measure storage features personal mementoes.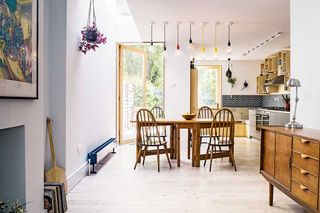 'We decided not to extend all the way out to the existing rear wall, which saved money, but also created an L shape that gives us more wall space for storage,' says Gary. The couple love to salvage Mid-century-style furniture. The dining table was made by Zelda's grandfather and the sideboard is from Ebay.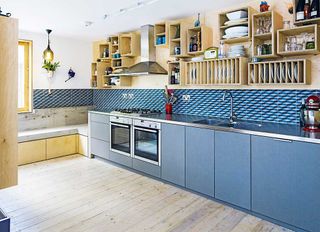 A rear extension was added, filling part of the side return, with a door to the garden. A chimney breast was removed to make way for the kitchen units, and walls between the two reception rooms knocked through.
More real home transformations: