Spending time in friends' kitchens made Melanie and Brett that their old kitchen never felt right. It was long and thin, the pine units looked dated and a conservatory to the side was hot in summer and leaked in winter.
Project notes
The owners: Melanie Sweetland, an antenatal teacher, lives here with her husband Brett, a photographer, and their children Florrie, 10, Joe, nine, and Kit, six
The property: A five-bedroom Victorian terraced house in Bristol
Total project cost: £106,000
'It ended up filled with children's toys and cardboard boxes – wherever you were in the kitchen all you looked out on was our increasing pile of junk,' says Melanie.
The couple contacted Moon, a Bristol-based building firm, who added a side-return extension. Because it was on the footprint of the conservatory, there was no need for planning permission.
Find our what they did next, then explore more real home transformations. Find out more about extending a house in our guide.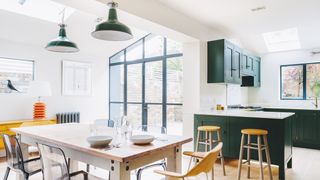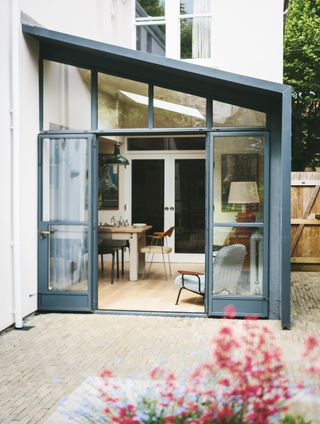 Steel-framed windows and doors give the new space an industrial look. 'Brett had seen the windows tin a magazine, and we fell in love with the idea of a fully glazed wall. They're functional and aesthetic,' says Melanie.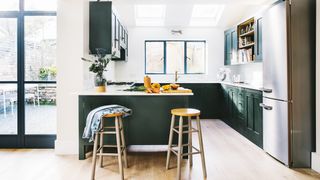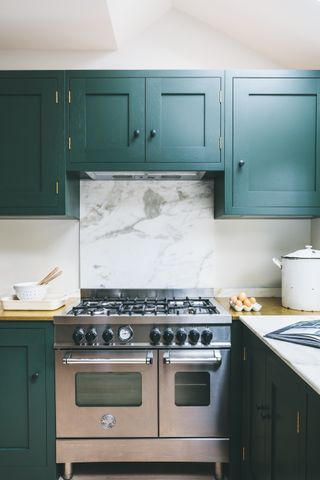 MORE FROM REAL HOMES MAGAZINE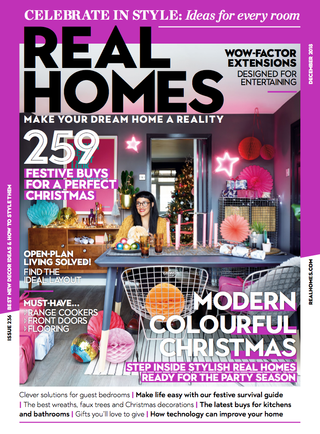 Want to see inside more stunning homes? Each month, Real Homes magazine features everything from modern extensions to cleverly redesigned family spaces. Get the magazine delivered straight to your door with a subscription deal.
The cabinetry, from Sustainable Kitchens, is simple in style, handpainted in a rich dark green from Fired Earth. 'We wanted a look that was bold but deviated from the greys you see everywhere these days,' says Melanie.
'Brass touches on the hinges, tap and slabs of brass worktop either side of the range cooker, break up the expanse of white worktop.'
The engineered oak flooring by inspired by some 'beautiful but astronomically expensive flooring used at the Saatchi Gallery in London' replicated using extra-wide boards from a local supplier.
Now the space is complete, it's where the family spend all their time, as it's ideal for socialising, entertaining and family life.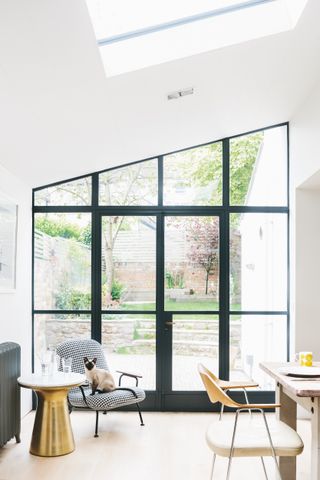 Contacts
More real home tranformations: