Urban Outfitters Nightstands: Quick Menu
My Urban Outfitters nightstand is a sacred piece of furniture in my apartment. So, I had a look through the website and found the best they have to offer so you can join the crew. Needless to say, UO came through with some stunning silhouettes packing some serious storage and statement features that I'm genuinely obsessed with.
As a big-time bookworm, once I get in from work, you'll find me curled up in my lamp-lit bedroom, curled up in bed, sipping tea and reading whatever I can get my hands on (yes, I've read Pride and Prejudice four times… so what?) This means a nightstand is a non-negotiable decor decision for me and positions me as a self-proclaimed nightstand aficionado.
So, whether you're into the dopamine décor trend, looking for a playful and contemporary piece or you're a timeless queen — the Urban Outfitters furniture aisle has got you covered.
12 of the best Urban Outfitters nightstands
Why you can trust Real Homes Our expert reviewers spend hours testing and comparing products and services so you can choose the best for you. Find out more about how we test.
Have a little scroll through this round-up and find your perfect nightstand, complementing your home and interior personality. Let's fuse form and function and get furniture shopping! FYI you might find some of these in the Urban Outfitters home sale. Even more of a valid excuse to buy now and reap the rewards for a long time.
Prices were correct at the time of publishing.
Metal nightstands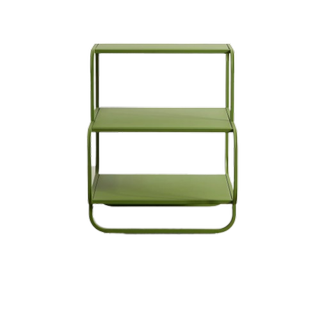 Five colors
Price: $179
Size (in.): L18 x W24 x H22
Made from: Metal
Color: Green, Pink, White, Black and Sky
OK, I'm obsessed with this nightstand because it would fit like a glove in my earthy-toned industrial apartment. I love metals in army green and this simple little nightstand offers the perfect dosage. But if you're less about camo, and need more interior ammo, the other hues can make an impact.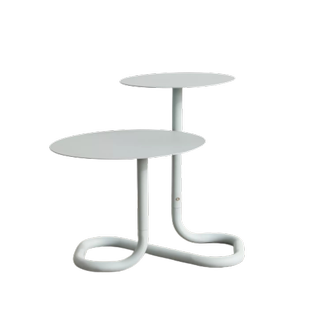 Two-tier
Price: $229
Size (in.): L24.4 x W22.87 x H21
Made from: Iron
Color: Sky
Get double the fun and double the function with this cute little Urban Outfitters nightstand. This model is crafted from iron and has a cool curly base, adding a super modern touch to the design. This screams dopamine decor and will sell out quickly!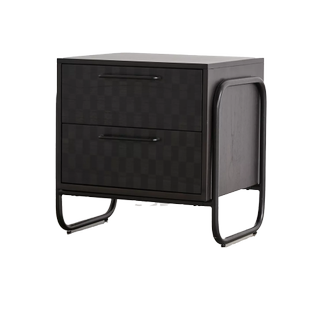 Made to order
Price: $349
Size (in.): L22 x W18 x H22
Made from: Solid wood, MDF, particleboard, natural wood veneer and metal
Color: Black
Add a touch of depth to your space with a black nightstand. A funky storage update with two drawers and curving powder-coated metal legs, this will slot seamlessly into a contemporary space. Living for the subtle checkered motif that has been laser printed onto the front.
Ceramic nightstands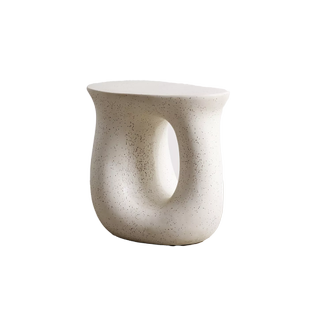 Quiet luxury
4. Vera Ceramic Nightstand
Price: $249
Size (in.): L17.7 x W11.8 x H17.3
Made from: Clay and glaze
Color: Ivory, Rust or Black
Um, hello minimaluxe. I'm all over the pared-back minimal vibe when decorating and this nightstand in clay just captures that feel completely. The flat tabletop and cut-out accent detail give this intrigue and a bit of "wow" factor. Love.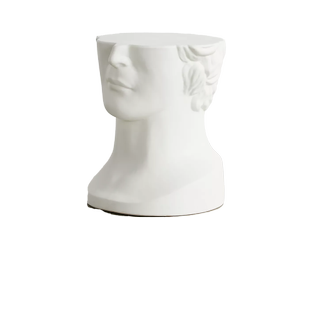 Homage to history
5. Bust Ceramic Side Table/Nightstand
Price: $229
Size (in.): D14.15 x H18.15
Made from: Clay and glaze
Color: White or Black
I'm a Greek Mythology girlie through and through, so discovering this ceramic bust nightstand floored me. It's so classy, eye-catching, and just a beautiful decor piece that you won't regret adding to your basket.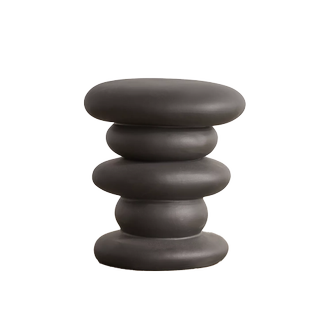 Organic shapes
6. Nadia Ceramic Side Table
Price: $299
Size (in.): L17.7 x W13.75 x H20.85
Made from: Clay and glaze
Color: Black
This nightstand reminds me of The Incredibles in the best way. The silhouette is so fun and the deep matte onyx finish gives it a seriously impactful aesthetic. Made from clay, this black decor will bring a touch of nature to your space, adding a calming energy.
Modern nightstands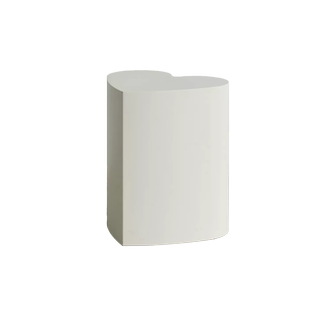 Available in pink
Price: $199
Size (in.): L12 x W14 x H16
Made from: Metal
Colors: White or Pink
You know I had to throw a little bit of cuteness into the mix. This heart-shaped nightstand is made from metal and has a glossy, powder-coated white finish to give your decor game a boost. It also comes in pink which is adorable. There's also a fried egg, butterfly, or lip-shaped nightstand in this collection if you're feeling fun.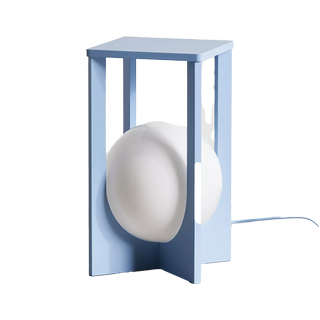 2-in-1 design
Price: $269
Size (in.): D12.6 x H18.1
Made from: Wood and glass
Color: Light blue
I've said it before and I'll say it again. If you can find decor that doubles up as art, you're winning at this interior design game. My sneaky calculations are celebrating the way this nightstand incorporates a lamp... so one of them is basically free, surely?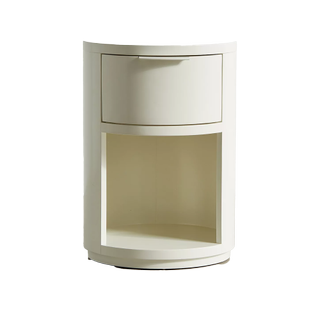 Arrives fully assembled
Price: $329
Size (in.): D16 x H22.5
Made from: Poplar wood, MDF, bentwood, plywood, and metal
Color: Ivory or Rose
Urban Outfitters gave us modern simplicity and coveted curves with this piece. Made from a blend of woods with statement-painted finishes, this nightstand features a cylindrical structure with a spacious drawer and a cubby.
Wooden Nightstands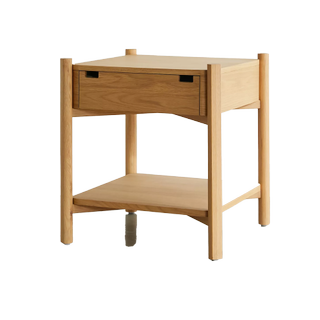 Natural variances
Price: $429
Size (in.): L21.6 x W21.6 x H23
Made from: Oak wood, Pine wood, and MDF
Color: Natural
This nightstand is giving Scandi vibes with its clean yet intricate design. Made from a blend of woods, this is honestly a beautiful and timeless model that will add an expensive look to any bedroom setup.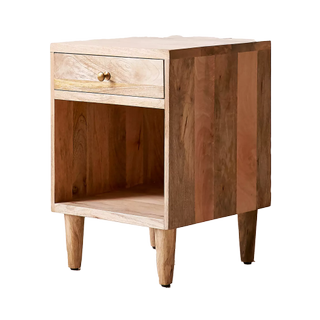 Matching dresser available
Price: $279
Size (in.): L17 x W18 x H24.5
Made from: Mango Wood
Color: Brown or White
The hold that mango wood has over me. This natural nightstand boasts a unique grain that I can't get enough of. Warm tones and classic shapes come together to create a piece of furniture that will never go out of style.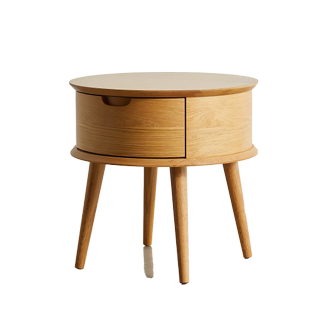 Retro modern
Price: $399
Size (in.): L19.7 x W19.4
Made from: American white oak solid wood and American white oak veneer
Color: Natural
A little bit retro and a lot of a bit cool, this solid oak nightstand has a circular table top for contrast, splayed legs, and a pull-out drawer that creates a contemporary silhouette. I love a nightstand that has space for a lamp as well as a secret storage spot. Can't go wrong with this one.
How we chose these Urban Outfitters nightstands
As a fully invested Urban Outfitters fan, I know the website like the back of my hand. Therefore, with prior familiarity, I took a deep dive into the nightstand range and took reviews and ratings into account. After this, I made sure to include a range of materials and sustainable choices wherever possible, picking pieces made from clay, sustainably sourced woods, and glass.
---
Looking for a match made in heaven? These Urban Outfitters lamps are the perfect partner for your bedstand. The desk and table fixtures will give your night table a gorgeous glow and add even more interest.