Urban Outfitters Desks: Quick Menu
OK, Urban Outfitters desks... you really came through and redefined what I thought hot desking meant. This collection is absolutely fire and so subtly diverse. I can picture a different one of my friends at every desk and that's what makes this range so fab.

As a writer who spends ample time propped up at my desk, it's no surprise that the importance of one is not lost on me. I'm vehemently against the idea of working at the kitchen table if it can be avoided (compartmentalizing is key) and I never got into the working-from-bed fantasy (but no judgment if that's your scene, you do you, girl).
Therefore, putting together this list of the best desks in the Urban Outfitters furniture range was a dreamy endeavor, and choosing my fave was a struggle. So, have a look through this roundup and find your winner. But don't wait too long to make your decision, these are selling out quickly!
Prices were correct at the time of publishing.
12 of the best Urban Outfitters desks
Why you can trust Real Homes Our expert reviewers spend hours testing and comparing products and services so you can choose the best for you. Find out more about how we test.
Wooden desks
Metal desks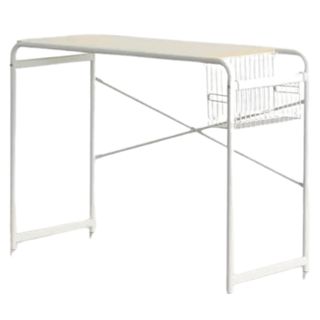 For small spaces
7. Ilana Desk With Side Basket
Price: $179
Size (in.): L39.4 x W17.7 x H29.5
Made from: Engineered wood and powder-coated steel
Color: White
If you're working in a small space, you'll need all the storage you can get. This model from Urban Outfitters has a wire side basket that's perfect for storing your books, chargers, and other accessories. Made with engineered wood and powder-coated steel, this is built to last.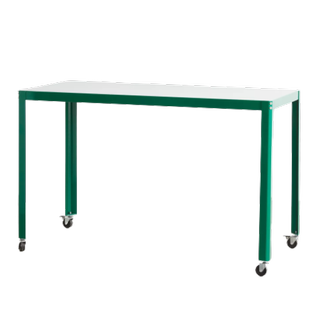 Removable legs and wheels
Price: $199
Size (in.): L47.75 x W23.9 x H29.5
Made from: Metal
Color: Green or Sky
Anyone who has been to my apartment knows that green furniture is the way to my heart (my Manhattan Sofa from Raft in green is the beneficiary of many a compliment every time I have friends around). So, this simple metal desk in green gets a firm yes from me.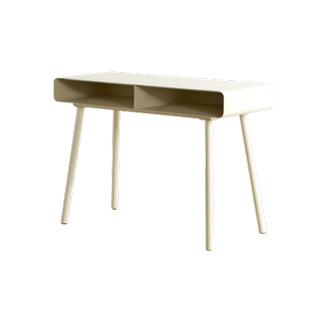 Two integrated compartments
Price: $329
Size (in.): L42.13 x W18.11 x H29.92
Made from: Sheet metal, iron
Color: White
I'm a big advocate for desks with storage space and I love the fact that the Hugo Desk has a little cubby that you can easily reach into without it being an eyesore. Clean in white sheet metal, this has a minimalist charm that will brighten up your WFH set-up straightaway.
Boho desks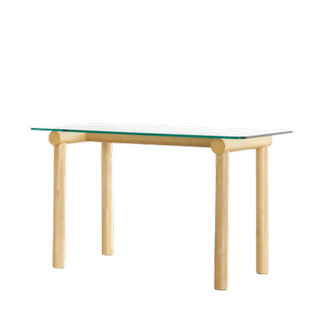 Mixed materials
Price: Was $599, Now $219.95 (save $379.05)
Size (in.): L52 x W22 x H30.38
Made from: Solid Birch and tempered glass
Color: Natural
I have a real weakness for furniture that juxtaposes different materials, so naturally, the Nova Desk captured my attention immediately. Solid birch legs are styled with a sheet of tempered glass, creating a contemporary but timeless look that will genuinely never go out of style. FYI, this one is in the Urban Outfitters home sale!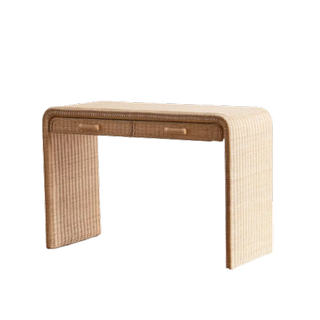 Curved silhouette
Price: Was $699, Now $249.95 (save $449.05)
Size (in.): L44.25 x W20.25 x H30
Made from: Rattan
Color: Natural
This rattan desk really channels a boho and vintage look with an arching frame and rounded edges that further soften the aesthetic. With an added storage section, this desk has dual drawers, perfect for storing your laptop and any bits and pieces you want tucked out of sight.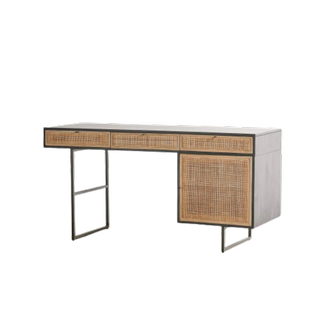 Easy to clean
Price: $1399
Size (in.): L60 x W22 x H30
Made from: Mango Wood, cane, and iron
Color: Black or Natural
I have made no secret of my love for mango wood and I'm not about to stop now. Naturally sustainable, by virtue of it being a fruit tree, this material, paired with cane and iron creates a beautiful design statement and the silhouette screams mid-century modern in a sophisticated and simple way.
How we chose these Urban Outfitters desks
As an Urban Outfitters aficionado, I know the UO collection like the back of my hand. Therefore, with prior familiarity, I took a deep dive into the desk range and took reviews and ratings into account. After this, I made sure to include a range of materials and sustainable choices wherever possible, picking pieces made from eco-friendly woods such as Mango wood and bamboo.
---
Now that you've found a place to organize your papers and stationery, finish the look with a statement Urban Outfitters lamp.