If you have an open-plan living space, buying the best integrated dishwasher means a clean look as well as clean dishes. Some of us love the look of a retro appliance to make a statement, but where you have gone for function over form, choosing built-in is the way to make your kitchen look neat and streamlined.
Technically speaking, there are no differences between an integrated and freestanding dishwasher. Simply put, an integrated dishwasher can be nearly identical to its freestanding counterpart, but you can fit a door over the front so that the run of cabinetry is not interrupted. Price wise, they are pretty similar, too. Just take into account that you may need a new cabinet door to fit to your new dishwasher if you previously had a freestanding model.
We have rounded up the best integrated dishwashers, offering you the most bang for your buck. Keep scrolling to see our top rated makes and models, or find more of the best dishwashers – including slimline and freestanding models – in our buyer's guide.
The best integrated dishwasher options
Why you can trust Real Homes Our expert reviewers spend hours testing and comparing products and services so you can choose the best for you. Find out more about how we test.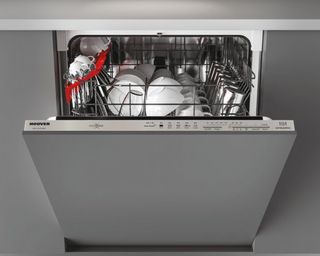 This is our pick of the best integrated dishwasher you can buy, and for good reason. You can wash up to 13 place settings in one load with six wash programmes and four temperatures to play around with – it has everything you need to get your crockery looking good as new – and is very reasonably priced.
Quick cycles
In a rush? There's a quick cycle which takes just 29 minutes.
Energy ratings
Not only does this machine have an energy rating of A+ there's an Eco-Wash setting which takes 170 minutes, too.
Smart control
The machine can also be controlled via an app on your phone, so you can turn it on during your lunchtime at work and it'll be clean for when you arrive home. The best part? Once the cycle is finished, the dishwasher will automatically open to allow your crockery to air dry.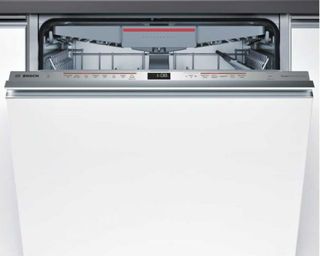 If you want all the bells and whistles included with your next dishwasher, we'd suggest you opt for this model from Bosch.
Customise your wash cycles
Not only does this model have eight automatic programmes to choose from, but it will adjust your water usage, water temperature and rinse time to suit the level of soiling.
Make the most of additional features
For those who like their dishes to be completely dry when they come out of the dishwasher, use the ExtraDry feature, and if you like to put your dishwasher on once the kids are tucked up in bed but don't want to risk waking them, use the Quiet Mark feature for ultra-silent cleaning.
And a stylish, handy design
The TimeLight function will show the time remaining on the current wash through a fancy LED light projected onto the floor, and the OpenAssist function will let you open the dishwasher just by touching the front of the unit, meaning it's perfect for those who have handle-free kitchens (or if you just want to wow your guests).
Make the most of eco settings
For those who find themselves using the EcoWash option regularly, this one takes 195 minutes.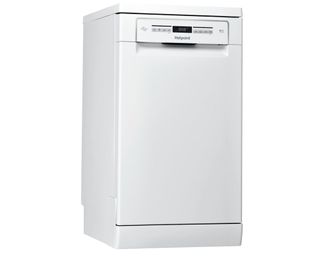 Say goodbye to standing at your sink and scrubbing dishes, with this budget-friendly integrated dishwasher option from Hotpoint.
Make the most of impressive basic features
Not only does it come in at around £300, but it has a very good energy rating (A++), a rather low noise level and ten wash programmes to choose from.
3D Zone Wash
If you need to remove any stubborn burnt on foods, the 3D Zone Wash will come in super handy, as it lets you focus on cleaning particular areas.
Quiet and efficient
The inverter motor makes this model super-quiet, which is ideal if you have an open plan home, or you would rather not hear your appliances when in use.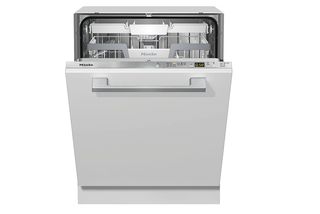 If budget allows, this Miele integrated dishwasher is an efficient and durable built-in option which has been built to stand the test of time.
High energy rating
With one of the highest energy efficient ratings a dishwasher can have, its quick power wash provides fantastic results in less than one hour (58 minutes to be precise).
For another quick-wash option you can also select 'Short' for a multitude of programmes, reducing the runtime by up to 30 per cent.
Flexible space
The Miele G5072SCVi will wash up to 14 place settings at once, thanks to its well-designed trays. You'll just need to line up your cutlery in a dedicated tray on top to leave more space for plates, pot and pans below. It also features an intelligent fold-down system which will help you find space for dishes of all sizes.
Quality assured
All Miele appliances are tested for an equivalent of 20 years' use to offer you unique reliability and peace of mind. At the moment, no other manufacturer in this field does such rigorous testing, which goes a long way in explaining why the brand is so highly sought after and the machines are well worth the investment.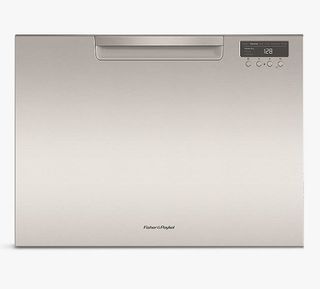 For something a little different, this dishwasher in a drawer will eliminate any discomfort experienced when loading / unloading conventional dishwashers, because it can easily slide open and closed at waist height. It also has a number of settings and features which you may come to expect with one of the best integrated dishwasher options around...
13 wash programmes
The DishDrawer boasts the ability to wash everything from fine glass and crystal, to heavily soiled pans at the touch of a button. This is thanks to the Wash Modifiers which allow specialised cycle settings; Quick delivers a fast wash with no performance reduction; Sanitise provides extra protection from bacteria; and Extra Dry is perfect for plastic dishes.
You can even select these different wash programmes if you choose to use both drawers independently.
Load capacity
This integrated dishwasher option has enough space for seven place settings, and is suitable for tableware, cutlery and glassware.
---
How to choose the best integrated dishwasher
Where to buy the best integrated dishwashers
When looking to buy the best integrated dishwasher for your home, there are a few factors which need to be taken in to account before parting with your cash.
Freestanding or integrated?
The majority of dishwashers made as freestanding units are usually no wider than 60cm and stand a little below your kitchen countertop level. If you're looking to save space or want to keep a certain aesthetic appeal to your kitchen, integrated dishwashers are designed to sit behind a façade that matches your kitchen cupboards. If you are working with a particularly small kitchen design, you can also get some of the best slimline dishwashers that are a fraction of the width.
Check the dishwasher's capacity
You can pretty much pop anything in a dishwasher these days, but make sure you check the capacity and the amount of space on the racks available. Some come with adjustable racks and prongs so you can fit in larger items when needed, but some don't. Many people don't like to put glass in the dishwasher, but they normally clean well on the top shelf, and some dishwashers have special settings to ensure a more delicate wash.
Check the speed settings
It's worth noting if the dishwasher you're eyeing up has a quick wash option, and how long it takes. It's also handy to know how many speed settings the dishwasher has, as this can be useful for those who own nice kitchenware that needs to be delicately washed, or for those who like to use an Eco-Wash programme.
How noisy is your dishwasher?
Mostly beneficial for those who have younger children and don't want to risk waking them up or those who live in a flat, it's worth thinking about the noise of the dishwasher, or if there's a quiet programme.
Dishwasher energy efficiency
Energy ratings go from a D to a A+++, with most being very highly efficient. Most dishwashers will also come with an Eco-Wash setting, which takes a little longer – but every little helps.
What do dishwashers cost?
The cost of a dishwasher can range from anything between £200 and £1,000, depending on its capacity and energy rating.
What is the best integrated dishwasher?
To recap...if you are after the RealHomes best integrated dishwasher, we recommend buying the Hoover HDI 1LO38SA Full Size Integrated Dishwasher. Boasting 13 place settings, six wash programmes, four temperatures and more, it offers everything you might expect from a dishwasher. Plus, being integrated, it blends seamlessly into your kitchen scheme – which is perfect for those who don't like the idea of bulky appliances affecting the aesthetic appeal of their kitchen.