Researching kitchen appliances? Whether you love or loathe cooking, a good oven goes a long way. If you've just moved home or need to replace your existing oven, choosing a new one can be surprisingly difficult. Whether you're looking for a basic oven or something to feed the 5,000, we've picked out some of the best ovens with a range of functions to suit your kitchen and style of cooking. Ready, steady, cook!
Looking for a steam oven instead? Find out more...
What to consider when buying a new oven
With today's technology, ovens have a range of special features to help make your style of cooking easier such as dough proving for bakers or pizza base functions for those Italian lovers.
Special features aside, it is important to consider some of the basic functions on an oven before purchasing. First of all you will need to consider the size of oven you want and the space you have in your kitchen. Most single ovens will fit under a kitchen worktop, which is great for smaller families and kitchens and makes them the best ovens for small kitchens. But, if you want more flexibility when cooking, you may wish to opt for a higher capacity oven. A large oven is defined as around 65 litres or above, so if you have a big family that is something to consider.
For those who like to cook multiple things at once, double ovens allow you to cook at different temperatures and with different functions which is ideal for big Sunday roasts or Christmas dinners. With cooking big meals comes a lot of washing up, so the last thing you'll want to think about is cleaning the oven, too. Many ovens now come with a self-cleaning function (hurrah!), which will help minimise any grease or residue from cooking for minimal effort.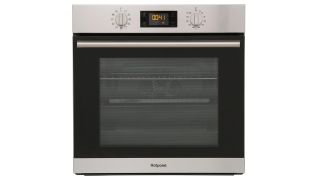 1. Hotpoint Class 2 SA2844HIX
The perfect under-counter oven for everyday cooking
Specifications
Best for: Traditional under-counter
Type: Electric
Dimensions: H59.5xW59.5xD55.1cm
Capacity: 71ltrs
Reasons to buy
+ Under-the counter + Cleaning setting
Reasons to avoid
- A little basic
This Hotpoint single oven is a great bargain buy for the modern kitchen. If you live alone or only have a small household, this oven is ideal for you. It fits neatly under the kitchen counter but has a surprisingly high capacity of 71ltrs, allowing you enough flexibility to make smaller meals for yourself and the family. This is one of the best ovens for bakers as it has a dough proving setting, and it's got a steam clean function which makes it incredibly low maintenance. Simple yet effective, this oven is an all-round winner.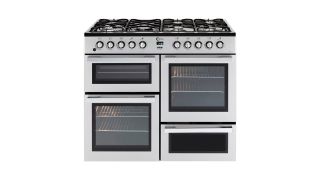 2. FLAVEL MLN10FRS Dual Fuel Range Cooker
A huge oven ideal for multi-tasking
Specifications
Best for: Budding chefs
Type: Gas hob, Electric oven
Dimensions: H90xW100xD60cm
Capacity: 2x58ltrs
Reasons to buy
+ Cook multiple meals + Storage tray
Reasons to avoid
- Too big for some kitchens
This huge oven and hob combo is great for those who have a large kitchen and often cook for the family or host dinner parties. This oven has one conventional compartment and one fan compartment, allowing you to cook different foods at different temperatures and speeds. You will also benefit from a whopping seven gas burners, including one designed for woks so you really can cook anything with this oven. The best oven for large families in our list and has the added benefit of making easy work out of hosting Christmas and other food oriented events.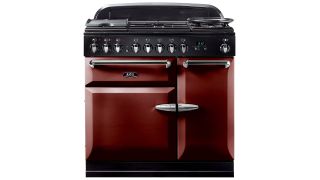 3. AGA Masterchef XL 90 Dual Fuel Range Cooker
A stylish looking oven that could heat the whole house
Specifications
Best for: Energy-efficiency
Type: Electric with gas grill
Dimensions: H90.5xW90xD61cm
Capacity: 1x73ltrs 1x67ltrs
Reasons to buy
+ Huge capacity + Energy efficient
Reasons to avoid
- No windows
If it's beautiful design you're after, look no further. This oven is expensive, but it is stylish and one of the fastest, most energy-efficient ovens on the market. When you cook with this oven you won't need to turn the central heating on because this will heat your home just fine while cooking a delicious dinner. It looks super sleek and professional; however it doesn't have any windows on the doors, so if you like to keep an eye on your food you'll have to keep opening the doors to check on it. The classic AGA oven has been around for decades and has stood the test of time for a reason. The perfect oven for country kitchens and contemporary kitchens alike.
4. Candy ACOM609XM Built in Electric Single Oven
A built-in oven that is ideal for saving space in your kitchen
Specifications
Best for: Pizza
Type: Electric
Dimensions: H59.5cmxW59.5xD56.7cm
Capacity: 65ltrs
Reasons to buy
+ Built-in unit + Pizza function
Reasons to avoid
- A little small
If you have a modern kitchen, then this built-in integrated oven would fit in nicely and is a great way to save space and give your kitchen a sleek look. Similar to the Hotpoint Class 2 in our number one spot, this oven has a slightly smaller capacity but it does boasts a pizza function, which cooks pizzas quickly and with perfection. The dials are easy to use and the oven is finished with grease-proof enamel so it is very low maintenance and easy to clean. An ideal pick if you are designing a small kitchen.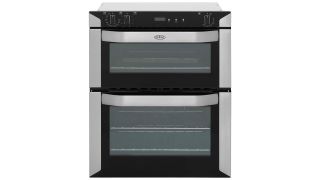 5. Double Oven Stainless Steel (BI70FP_SS)
A double oven that fits under the counter and cooks at different temperatures
Specifications
Best for: Cooking at different temperatures
Type: Electric
Dimensions: H59.5xW55x70.3cm
Capacity: 59ltrs
Reasons to buy
+ Cook multiple items+ Not too big
Reasons to avoid
- No frills
This oven boasts no frills but if you want one that works in the same way as the AGA Masterchef or the Flavel that doesn't take up so much space and you're no fussed about design, then this is the oven for you. Perfect for standard kitchens and medium-sized households, this oven fits comfortably under the counter and features two cavities in which you can cook at different temperatures. It doesn't have any special features but this oven from Belling is simplicity at its best.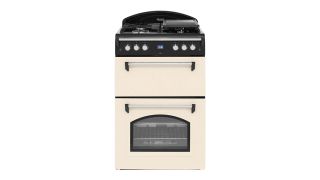 6. Leisure Gourmet GRB6GVK Gas Cooker
A stylish-looking gas cooker with loads of room
Specifications
Best for: Style
Type: Gas
Dimensions: H90xW60xD60cm
Capacity: 100L
Reasons to buy
+ Looks good + Huge capacity
Reasons to avoid
- Some prefer electric
This is a great high street equivalent to the classic AGA. This kitsch choice from Leisure Gourmet has a great design and a capacity of 100ltrs without being too cumbersome. It comes with two conventional ovens, with the top one ideal for crisping off your favourite meals such as cottage pies or pasta bakes. This oven also features a slow-cook function, ideal for those Sunday afternoon meals and winter comforts. If you like the look of the AGA but want something more purse friendly, this is a great choice.
More on ovens and cooking: