Target Nightstands: Quick Menu
Every bedroom needs a good place to stash all your essentials and a Target nightstand is just the solution. Whether you're curling up with a book or having an all-out lazy day, however you choose to relax, you're going to need your phone, hand cream, and a few other odds and ends nearby.
Before you dive headfirst into the world of small bedroom storage ideas, a little forethought. At present, there are some 947 nightstands listed on Target's site, making the search for something both affordable and premium a little tricky. You know the old adage, "Seeing everything is seeing nothing."
We've put our expertise into sourcing only the top easy-assembly nightstand designs, picking out an array of colorways and styles, spanning minimal white designs to more rustic wooden ones. So, next time you wake up in the middle of the night thirsty, you'll be glad to have the nightstand there, primed with a glass of water and looking chicer than ever.
12 of the best Target nightstands for the ultimate bedside setup
Why you can trust Real Homes Our expert reviewers spend hours testing and comparing products and services so you can choose the best for you. Find out more about how we test.
Anyone looking for chic small bedroom ideas will likely need a nightstand, if not just for decoration. Indeed, student housing and shared apartments are rarely decked out upon arrival. It's wise to give your boudoir a personal touch — something I kept in mind during my not-so-distant days as a freshman.
Here, I'm sharing that same wisdom — now enhanced with a few more interiors-obsessed years behind me — towards your search, whether you're after something kooky for that alt-girl aesthetic, Scandi, or mid-century modern.
White Target nightstands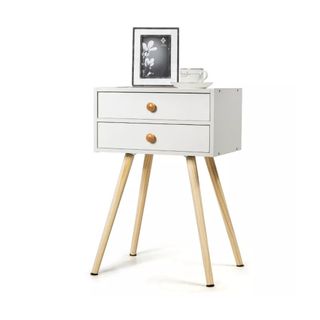 Affordable
1. Costway Modern Drawers Nightstand
Price: $56.99
Color(s): White
Material: Wood and MDF
Size (in): W15 x H24 x D12
Storage: 2 drawers
There's affordable, and then there's this. Yes, taking gold for the best bedroom storage price-wise, this Target nightstand comes with a high-spec design, including splayed wooden legs, non-slip feet pads, and stoppers inside the drawer to prevent unwanted accidents. As for that mid-century modern design, it's *chef's kiss.*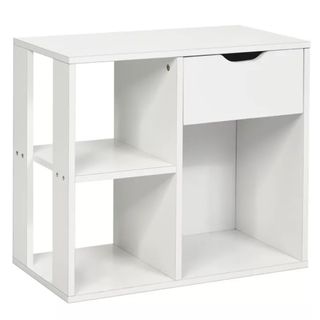 Space-saving design
2. Costway Table Nightstand
Price: $61.99
Color(s): White
Material: Particleboard
Size (in): W23.5 x H20.5 x D12
Storage: 2 shelves, 1 drawer, and 1 cubby
Shopping on a budget doesn't mean skimping on style — nor space, for that matter. This modern design is a case in point, offering serious room to keep your bedside trinkets, treats, and other nightstand essentials without hogging space. The icing on the cake? It's a breeze to set up.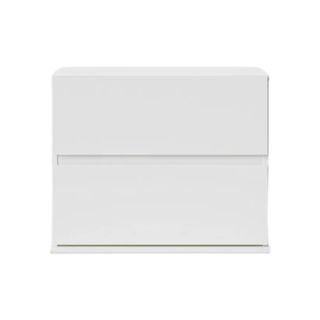 Minimalist chic
3. Room Essentials Modular Nightstand
Price: $70
Color(s): White
Material: Particleboard
Size (in): W23.5 x H19.13 x D16.75
Storage: 2 drawers
Less really is more in the case of this sleek number, replete with sharp lines and some sizeable drawer space to keep all your nighttime staples. On top, a smooth surface provides ample room for your smartphone, a glass of water, or a lamp for pre-sleep reading. It's giving starchitect decor.
Wooden Target nightstands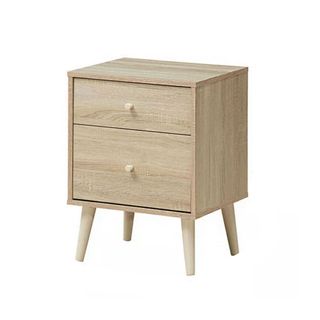 Sturdy
4. Costway Nightstand Beside Table
Price: $81.99
Color(s): 2
Material: MDF
Size (in): W18 x H24.5 x D16
Storage: 2 drawers
As far as sturdy stands go, this is up there. Constructed with a hardwearing frame and rubber wood legs that jut outwards for stability, it also features an additional anti-topple strap should you be particularly prone to accidents. And yes, the drawers are buttery smooth.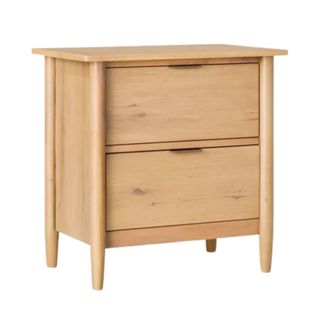 Mixed materials
5. Hearth & Hand X Magnolia Wood Nightstand
Price: $199.99
Color(s): 3
Material: Wood and metal
Size (in): W23.63 x H24 x D15.5
Storage: 2 drawers
Often, you can't beat a classic, and this particularly chic design is no exception to the rule, combining tapered legs, smooth surfacing, and a blink-and-miss-it woodgrain. Look closer, and you'll notice the bronze-tone hardware across the drawers. Sure, it's hardly reinventing the wheel, but if it ain't broke, don't fix it!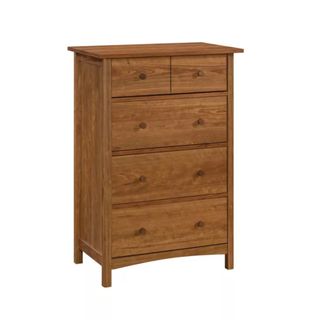 Twin set
6. Costway Set of 2 Nightstands
Price: $124.99
Color(s): 2
Material: MDF
Size (in): W18 x H22 x D17
Storage: 1 drawer and 1 cubby
One top tip if you're moving in with your partner: buy this nightstand set. With a virtually silent drawer, understated metal handles, and a waterproof surface for the clumsy ones among us, it's a long-life design perfect for bed-adjacent decor.
Gray Target nightstands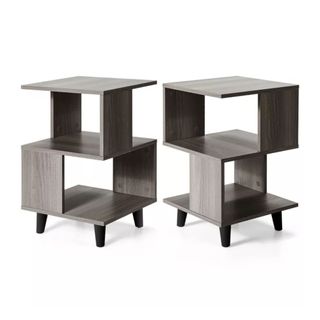 Modern asymmetrical style
7. Costway Set of 2 Side Table
Price: Was $179.99 Now $67.99 (save $112)
Color(s): Gray
Material: Particleboard
Size (in): W16 x H25 x D16
Storage: 2 shelves
If you're after something a little wilder, that also ticks boxes for quiet luxury — this is just the ticket. Aside from coming as a very inexpensive twin pack, it's also an asymmetrical wonder that, despite appearances, is a piece of cake to put together. On the bottom, pads reduce noise, too — always a bonus in high-traffic areas.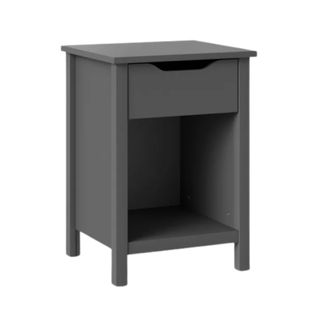 Not just for kids
Price: $68.99
Color(s): 2
Material: Particleboard
Size (in): W17.32 x H24.41 x D15.75
Storage: 1 drawer and 1 cubby
Being stylish isn't all about making a statement. In some cases, you can whisper panache rather than plastering it across your room. Indeed, this open-shelf design does what it says on the tin and matches with almost any decor — loud or quiet. It's a strong little guy, and you wouldn't even know that it's marketed as kids' bedroom furniture.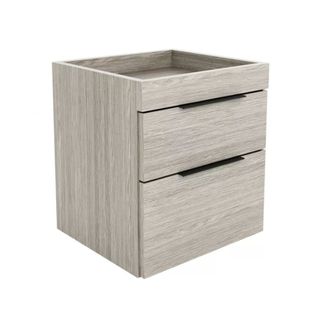 Contemporary
9. Eco Dream Double Drawer Nightstand
Price: $80.99
Color(s): 3
Material: MDF
Size (in): W15.75 x H17.7 x D13.8
Storage: 2 drawers
Did somebody say slick? With steely looks and a raised edge on its top surface, this offers great space-saving capabilities and major styling kudos alike. Another that's giving quiet luxury if you ask us. Plus, in the gray, it instantly adds a mature and restrained edge — even in the most typical student pads. My favorite feature? That raised top edge prevents objects from taking an impromptu flying lesson.
Black Target nightstands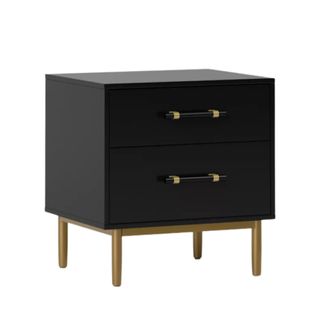 Gold standard
10. Threshold Ellery Luxe Nightstand
Price: $200
Color(s): 2
Material: Wood and MDF
Size (in): W22 x H23 x D18
Storage: 2 drawers
If you're willing to part with a little more for something a little extra, then this design — still relatively affordable — fits the bill. Golden legs? Check? Glam, ultra-smooth finish? Double-check. As for care, this requires only a light touch — just wipe as and when needed. It-girls, meet your new status symbol.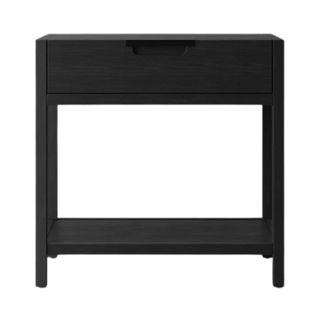 Pared-back design
11. Threshold Porto Nightstand
Price: $150
Color(s): Black
Material: Wood and MDF
Size (in): W26 x H26 x D15
Storage: 1 drawer and 1 shelf
Black decor is back — not that it ever left — in the world of interiors, as is restraint. As such, this exercise in doing a lot with a little is bang on trend, offering up subtle relief handles and a clean profile. It's lightweight, making it easy to assemble, but still high-spec. Expect lots of use to come.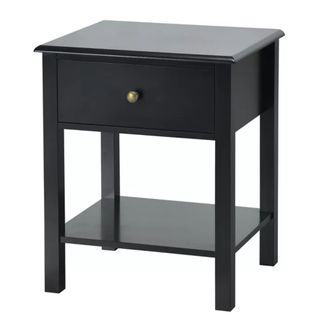 Vintage vibes
12. Costway End Table Nightstand
Price: $77.99
Color(s): Black
Material: MDF
Size (in): W18 x H23 x D15
Storage: 1 drawer and 1 shelf
Getting hold of vintage decor in this day and age can be one pricey affair — no matter that it comes with the risk of damage and disrepair. However, if you're keen to channel that same luxe energy without taking out a lifetime loan, then this mid-century treat, complete with golden handles, has your name on it.
How we chose
With so many products out there, trialing each and every one physically is an impossible task. So, we take the next best approach, which is to scour through reams upon reams of reviews and feedback from doting (or not-so-doting) customers. After all, the customer is always right, and on Target, they're especially honest. As such, I've picked out only products with a minimum of four stars and some nice words to boot, all while taking into account the current trends sweeping the world of interiors right now.
---
Once you have your nightstand all figured out, you're going to need everything else that goes with it! First up: Nightstand lamps to brighten up your bedside cabinet and give your room some ambiance.