The WFH lifestyle can be tricky. On one hand, it's an incredibly convenient, modern luxury that some of us are lucky enough to experience. On the flip side, working from home can cause the lines between career and play to become increasingly blurry.
Apartment living adds another unique layer: limited space to do said work and limited space to relax. It's essentially the perfect design storm.
Challenging floor plans and modest square footage can make it difficult or impossible to set up a proper office, and if you're mostly decorating and editing an apartment on a budget, that can be even tougher! So, what's left? Resorting to your couch can be too tempting (hi, Netflix!) Your bed is supposed to serve as a dedicated space to unwind. Sitting in your dining chair all day gets uncomfortable. What's a girl supposed to do?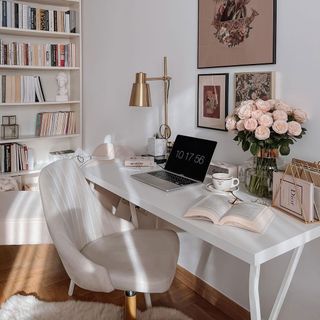 Home office essentials that work hard
Why you can trust Real Homes Our expert reviewers spend hours testing and comparing products and services so you can choose the best for you. Find out more about how we test.
Before you get frustrated and claim that your WFH situation and apartment living just don't jive, consider more out-of-the-box solutions. Designing a productive space is possible if you take some time to get creative with it — no corner office needed.
Use these tips, tricks, and helpful finds to craft the workspace of your dreams, all while sticking to a budget.
What should every home office have?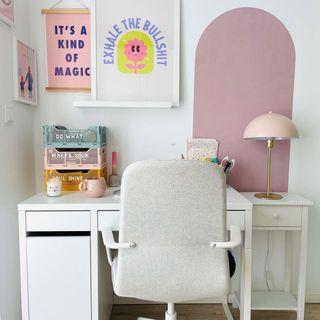 It really depends on how you work and on your existing environment! If you need a desk, one that suits your space will be essential. And if you need it to work double-time as an island, that's no problem as there are a ton of portable (and cheaper) kitchen island picks, ripe for slotting into small spaces.
Alternatively, if you're planning to use your kitchen table or breakfast nook as a proper desk, opt for cozy accent chairs made with fabric rather than basic wood to make your seating arrangement feel extra inviting, and focus on those little extras like lighting and time-management props for a super cozy setup all day long. Your WFH space needs to help you feel grounded and inspired, so don't be afraid to try different things until you find the perfect layout and environment for you to do your best work ini!