Real talk: There's so much more to living on your own (and adulting in general) than anyone is ever prepared for. Getting used to everything you need to do to maintain a clean space can get overwhelming, and I know I'm personally guilty of letting my laundry pile up when I'm stressed.
Stocking up your new place is super exciting, but the rows and pages of laundry and cleaning supplies can be a li'l intense. Let's be honest, it's hard to know what's actually an essential, and what just looks cute or smells good (though some of our picks for you are both, you're welcome!)
So whether you're stocking up your laundry room, cabinet, or caddy, we're breaking down the seven essential laundry items you need to have, plus some of our team's favorite items so you know that what you're putting in your machine has the editor stamp of approval.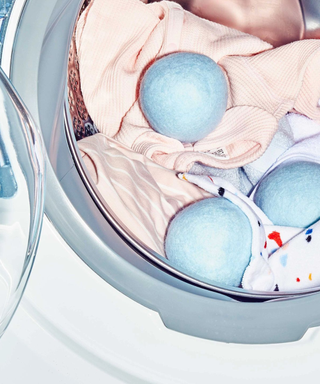 1. A mild detergent
Why you can trust Real Homes Our expert reviewers spend hours testing and comparing products and services so you can choose the best for you. Find out more about how we test.
For those of us with a laundry shelf rather than an entire utility room, having multiple giant bottles of detergent is just not the move. To get the most out of your detergent, it's ideal to stick to a gentle formula that works for everything and anything. You can easily add a scent boost or stain remover in for bigger loads or heavy-duty cleaning and build your detergent up to what you need. But you can't strip down an intense formula to be safe for delicate materials.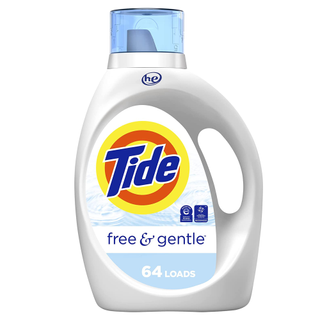 $12.97
Tide Free & Gentle Laundry Detergent
This fragrance-free, hypoallergenic detergent from the iconic Tide is perfect for anyone with sensitive skin and pet parents who want to keep their laundry clean without any added dyes or perfumes.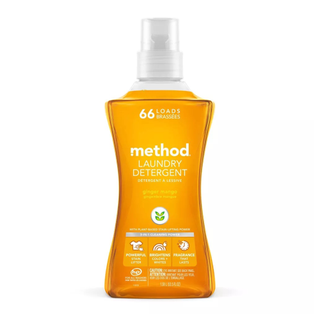 $14.99
Method Mango Ginger Detergent
If you're a girlie who loves sweet scents but also wants to make sure their detergent is kind to the planet like me, Method's biodegradable laundry detergent with the tropical scent of mango ginger is a shelf staple.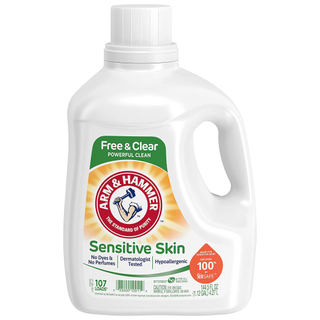 $9.48
Arm & Hammer Free & Clear
Our favorite baking soda brand, Arm & Hammer, has a whole line of cleaning products with the ingredient incorporated. And with over 25,000 five-star reviews on Amazon, we think its fragrance-free laundry detergent will be a winner, too.
2. Oxi stain remover for both whites and colors
TBH, between Wine Wednesdays, hot girl walks, makeup spills, and lowkey messy cooking, running my laundry with just detergent doesn't always cut it. Sometimes you need an extra boost or a treatment to target those stains, and that's where my oxi stain remover duo comes in. I have one each specializing in whites and colors that have rescued a favorite outfit many times, which is why every laundry room should have the same.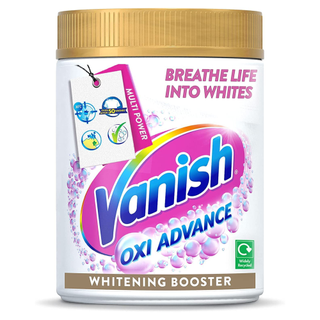 $14.74
Vanish Crystal White Stain Remover
I absolutely swear by this oxi stain remover to use on my whites, and always have it on hand. Whether it's my favorite linen shirt, my cozy waffle bedding set, or my fluffy white bath mat, I always find a scoop of this Vanish powder keeps everything looking bright and clean.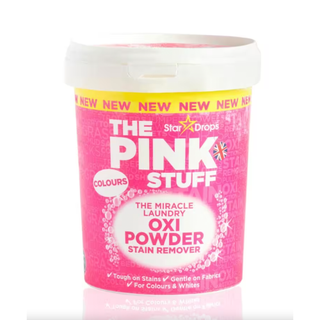 $14.97
Pink Stuff Oxi Stain Remover
The Pink Stuff's oxi stain remover for colors is my other laundry staple, and I throw it in with literally every load of laundry. This is also the stain remover I use mixed with detergent to hand-clean my shoes, and it's perfect on a variety of surfaces and materials.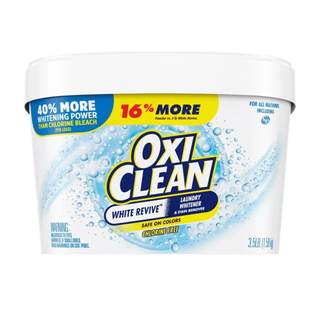 $10.49
OxiClean Laundry Stain Remover
If hearing the name OxiClean unlocks a core memory, you're not alone. We've all heard of this chlorine-free stain-removing powder, and it's a classic for a reason. With over 8,000 five-star reviews from customers at Target, this powder is sure to have your whites absolutely sparkling.
3. Baking soda
Baking soda is a home cleaning hack icon, and TBH you should always have some on hand for all your cleaning and laundry needs. It's amazing for neutralizing odors in your laundry and within the washing machine itself and will have everything feeling extra clean and fresh. Arm & Hammer is our absolute favorite baking soda for cleaning here at Real Homes, but the box isn't exactly aesthetically pleasing. Pick up a glass container or jar to pour your baking soda into to set the clean vibe in your laundry space.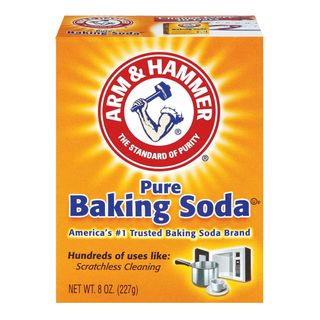 $0.99
Our team is obsessed with Arm & Hammer's baking soda for our cleaning and laundry needs, and it's beyond budget-friendly. Use this to clean your washing machine, deodorize your sweatiest workout clothes, and get your sheets looking fresh and towels feeling fluffy.
$9.98
This adorable set of two glass canisters is ideal for storing your baking soda, oxi stain remover powder, or any other cleaning or laundry essentials you don't love the packaging of. Their mini size makes them ideal for putting in a laundry caddy or storing in a small space.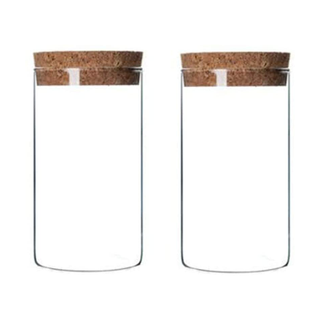 $11.85
For apartment dwellers and those of us blessed with a full laundry or utility room, these larger glass storage canisters are the way to go. Thanks to their long and narrow shape, they're still space-saving while also keeping your baking soda looking cute even when you buy it in bulk.
4. Dryer balls
For dorm dwellers paying per use for laundry machines and those of us who live in apartments wanting to cut down on our drying time and noise, dryer balls are a must-have. They work by keeping your laundry from tangling and giving the air in your dryer the space to properly circulate and dry each item. Their softening and energy-conserving abilities make them an absolute essential for any laundry room.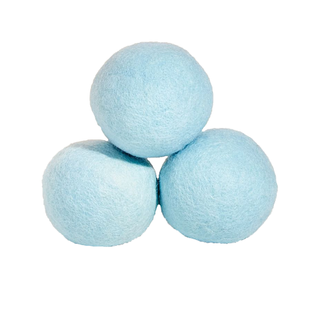 $18
Blueland Wool Dryer Balls
These adorable pastel dryer balls are made of wool from New Zealand. They're from an eco-friendly company called Blueland, which specializes in aesthetically pleasing cleaning and laundry supplies. The company also does a full laundry essentials kit with these dryer balls, oxi booster, and detergent pods — perfect if you're starting from scratch with building your laundry room kit.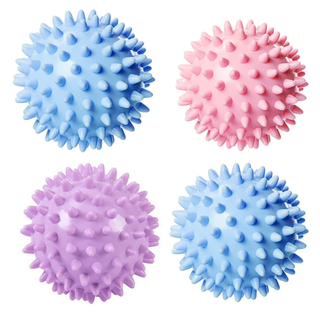 $8.99
Plastic Pastel Dryer Balls
Not feeling the wool? Our head ecommerce editor swears by a spiky plastic version of the dryer ball for keeping her towels fluffy and preventing her sheets from tangling up. Plus, she says they've been able to cut down her dryer running time by half, saving serious energy (a major bonus in our books).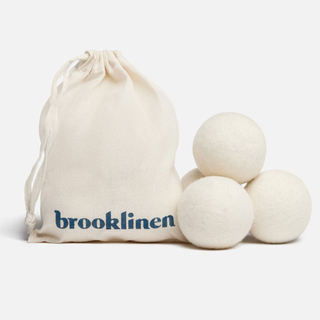 $15
Brooklinen Wool Dryer Balls
Luxury bedding brand Brooklinen is known for its soft and comfy sheets, which you can keep feeling amazing using its set of four wool dryer balls. They're perfect for both bedding and clothes and come in a stunning neutral storage bag with the Brooklinen logo to bring luxury to your laundry room.
5. A lint roller
Especially for pet parents and those of us who are constantly shedding our own hair (it's me, hi), a lint roller or remover is an absolute non-negotiable for keeping your clean clothes and cutest outfits looking top-tier. Go traditional with the sticky paper rolls, or try a sustainable version that can be washed and reused like the ones we recommend below.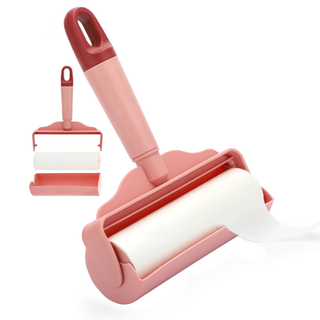 $10.98
Sticky Peel Pink Lint Roller
If you love how satisfying peeling the paper off a traditional lint roller is, this adorable pink one is perfect for you. Keep it in your laundry cabinet alongside plenty of refill paper to roll off your favorite 'fit after giving your furry friend a cuddle.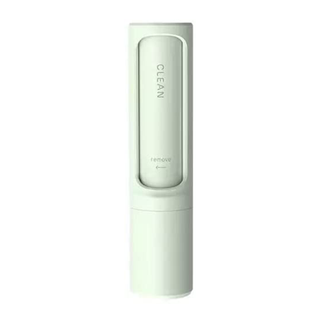 $10.99
Mint Green Mini Lint Roller
For dorm dwellers and those of us who are constantly on the move, a travel-sized reusable lint roller is beyond ideal. You can keep this in a desk drawer, in your car, or even in your work bag for fresh-looking clothes on the go.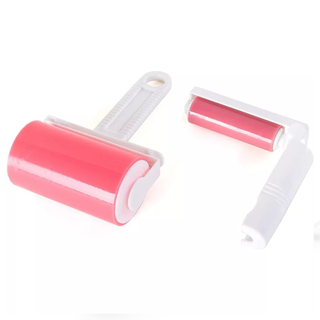 $11.99
Pink Reusable Lint Roller
If you're looking for a more eco-friendly solution to your hair and lint issues, let us introduce you to the reusable lint roller. This fun bright pink number is made of silicone, so instead of using paper, you can wash it off with warm water and reuse it over and over again.
6. Fragrance booster
If you love an extra boost of fragrance for your sheets, knitwear, and towels, a bottle of fresh-smelling linen spray, scent booster, or some essential oils should definitely be on your shopping list. These would all pair perfectly with our recommended detergents, and you have the freedom and flexibility to customize your very own signature scent for clean laundry.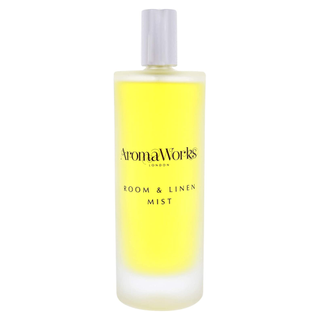 $17.50
Aromaworks Light Room And Linen Mist
Something about citrus just feels sooo clean, and our staff writer Beth is obsessed with the uplifting orange scent of this mist from Aromaworks. Use it on your laundry after it comes out of the dryer, your air-drying delicates, and around the house as a refreshing room spray.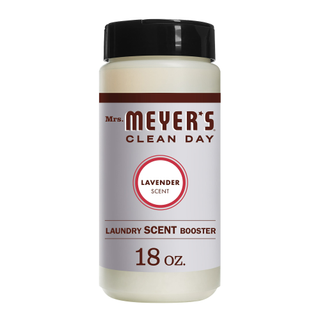 $9.98
Mrs. Meyer's Clean Day Laundry Scent Booster
We adore Mrs. Meyer's cleaning products for our kitchens, and love that this scent booster brings the signature soothing lavender scent to our laundry machines. This fragrance would be ideal for bringing the relaxing, sleepy vibe to your sheets and bedding.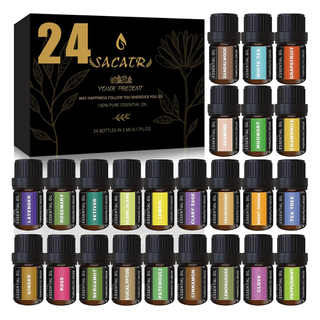 $23.99
Sacatr Store 24-Piece Essential Oil Gift Set
The sky is the limit with this set of 24 essential oils. Pop a couple of drops in your washing machine or infuse your wool dryer balls with your favorite scents to naturally bring any combination of fragrances to your clean clothes, towels, and sheets.
7. A cute li'l garbage can
It's beyond important to regularly clean out the lint, hair, and dust bunnies from your washer and dryer to keep your laundry looking its best and your machines at max efficiency. Having a fun little trash can close to your machines gives you a convenient place to throw those clumps away, and it serves as an adorable reminder for yourself to check the washing machine filter and dryer's lint catcher.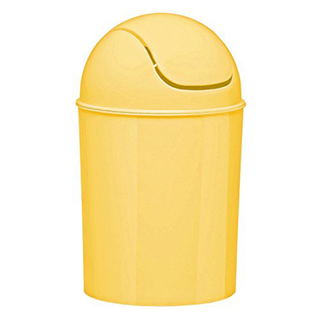 $14.95
Yellow Mini Swing Lid Waste Can
Super-small space dwellers, this one's for you. This ultra-mini desk-sized trash can in a cheery pastel yellow shade will fit in literally any corner, on top of your laundry machines, or in a cabinet tucked away. Plus, it's beyond easy to pick up and transfer debris into your main garbage can regularly.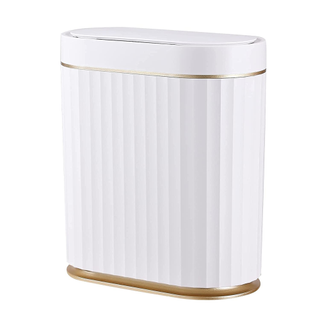 $31.49
Ribbed Automatic Trash Can
If you're feeling fancy AF and are in the mood to splurge on a more luxurious option, the minimalist ribbed detailing and gold accents on this automatic trash can make it the stuff of vanilla girl dreams. It's also the perfect shape and size for any laundry area.
$13.99
Pastel Narrow Wastebasket
If you have a narrow space between your laundry machines and the wall, this slim rectangular wastebasket is ideal to squeeze in and have on hand to get any lint or hair that comes out of the wash. We're obsessed with the pastel purple color and love the bright and fun energy it would bring into the laundry room.