Confesh time: I could spend hours looking through Target. It's so great for finding household essentials, and bath towels are no exception. Whether you're in need of one for college or just want to switch yours up, I've found the best one on there — and it's an absolute bargain.

The Threshold performance bath towel is filled with features that make it amazing to use, easy to clean, and long-lasting. Over 7,000 Target shoppers have given this Threshold performance towel five stars, and there are so many reasons why they love it.

I'm personally obsessed with the fact it comes in 21 colors. 21! That's the most I've literally ever seen for just one towel. It covers pretty much every shade you could possibly need too, from neutral grays and pinks right up to bold reds and blues. This means that you can mix and match colors depending on what kinda vibe you wanna go for.

I could go on and on about how brilliant this towel is, but if you want to get your hands on it ASAP, these are all the deets you need to know.
The best Target bath towel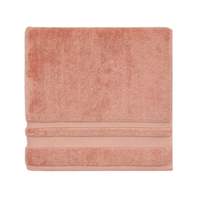 Threshold Performance Bath Towel

Size (in.): W30 x L54
Made from: Terry (87% cotton, 13% polyester)
GSM: 550-800
Colors: 21
Price: $9

Looking for a bath towel that ticks all the boxes? Say hello to Target's most highly-rated bath towel. It's made from a gorgeous cotton blend that's soft on the skin and stylish on the towel rail. You can choose from a variety of colors and patterns, meaning you can easily bring your personality into your bathroom. Oh, and don't forget about the price — talk about an absolute steal.
Reasons to love the Threshold Performance Bath Towel
First of all, this Target towel is fade-resistant, which means that it won't quickly lose its color when put in the wash or after usage. This can be the case with bath towels of this price range, so that's def a relief to know.

In terms of care, the performance towel can be machine washed and tumble-dried, so you don't need to worry about handling it delicately. It's also low-lint, so it won't leave you with fibers here, there, and everywhere after you've rinsed off.

As well as coming in a whole load of colors, each towel has a decorative two-stripe pattern that gives it that hotel luxe kinda vibe. Match that with the heavyweight GSM, and you've got yourself a towel that you could pretend that you've smuggled back from your last vacay.

We also seriously stan anything with eco and sustainability credentials here at Real Homes, and this towel has the Made in Green by Oeko-Tex label. FYI, this certifies that it has been made in an environmentally-friendly facility with socially responsible working conditions.
What reviewers say about the Threshold Performance Bath Towel
"Fave towels I own. Super soft and cheap!!!" — Rearea

"Really pretty towels. Wash well. Remember to NOT use dryer sheets with Terry cloth and these towels will hold up for many years. Soft and absorbent." — PowLa

"I absolutely love these, as they're so soft like spa towels" — CJ

"I've bought so many of these in different sizes and colors. They look great and feel luxurious." — Breec82

Up next: How to roll towels for serious spa vibes