Confession time: I have a LOT of clothes. Colossal amounts, to be precise. Most people would say too much, but it's a WIP. As such, I've been welcoming any advice helping me distill or neaten up my pride and joy. I've been browsing genius closet organizers to buy, and I've already got a few clothes storage bags and boxes, too. And to say this has helped my situation would be a drastic understatement. Now, I know exactly where to find my favorite sweater that I only wear on cozy days.
Clothes storage containers are also handy for storing unseasonal clothing safely and making for more space for the stuff you will be wearing. So, say hello to the clothes storage containers rated by both us at Real Homes, and, most importantly, shoppers. Most of the containers below are super durable so they can be stored everywhere from your closet to a garage, and they all have lids to keep your stuff safe.
Goodbye wardrobe meltdowns, hello affordable and chic clothing organization. Now, I don't even have to think about that clothes rack I was just about to purchase.
The best clothes storage containers to store seasonal clothes
Why you can trust Real Homes Our expert reviewers spend hours testing and comparing products and services so you can choose the best for you. Find out more about how we test.
The prices in this article were correct at the time of publishing.
Clothes storage bins
Either your closet's at breaking point or you just need some handy ways to delineate what's in use and what's out for the season. Your solution? A clothes storage bin, sure to keep your garments neat and tidy, as well as easy to access. As simple as they are sturdy, these designs are just what the doctor ordered. Meet your newly ordered bedroom.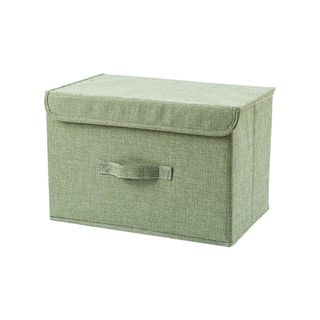 Eco-friendly
1. Yipa Foldable Cube Storage Bin
Made from: Cotton
Size (in.): H9.8 x W14.9 x D9
Price: From $16.89
Made from an eco-friendly blend of 100% cotton and ramie fabric, this sturdy design is supported with a PP board structure, primed with handles and a folding lid. Available in an array of stylish colors, it's foldable, waterproof, moisture-proof, and breathable. Plus, this washable winner keeps guard against mold. Do bear in mind, though, that its lightweight design means it's best for lighter items. Think t-shirts, shirts, and sportswear, not winter coats.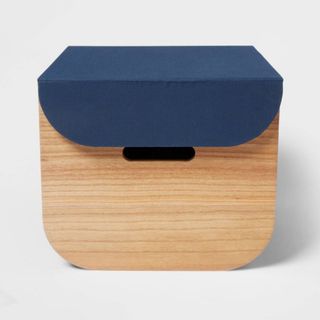 Wooden
2. Pillowfort Natural Wood Storage
Made from: Wood
Size (in.): H11 x W13 x D14
Price: From $25
Providing space and taste alike, this natural wood Target closet organizer is well-sized to fit clothing, eveningwear, and other essentials. It has handles for easy moving, and it's perfect for placing on your closet floor. As far as shoppers are concerned, it's a hardwearing design, so you can expect plenty of years of use.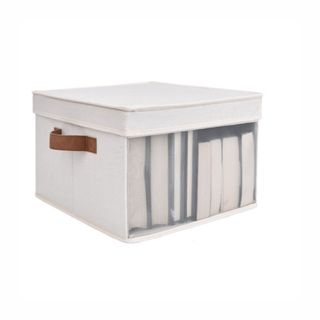 Stylish
3. Latitude Run Fabric Box Set of 3
Made from: Fabric
Size (in.): H8.4 x W12.2 x D13
Price: From $39.99
Available in two muted and tasteful colorways, this light design features a large mesh window made from nylon on its face, allowing one to see the contents without opening it. Reviewers are big on the latter as it means no more lost items! A pack of three, this is ideal for daily essentials you need quick access to, like underwear and casual t-shirts. With a removable lid and stackable design, this would sit neatly in a cupboard or in the corner of a room.
Plastic clothes storage boxes
Plastic isn't really the devil it's made out to be... So long as you get the most use out of it. Unlike a carrier bag that'll end up in the trash — these clothes storage containers will be with you for life.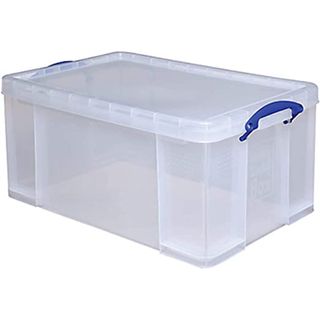 Transparent
4. Really Useful Clear Transparent Plastic Storage Box
Size (in.): H12.25 x W17.31 x L28
Material: PP
Price: $47.99
It's an unspoken rule that every household must have at least one Really Useful Box, despite no one ever really being sure where it came from. And it's little wonder — they're budget-friendly, stackable, practical, and hard-wearing, making them fantastic for long-term clothes storage. Whether for you that means stashing your gear in your garage, or up in the loft. They come in a range of sizes, although this large 64-liter box is ideal for storing lots of items long term, or tall and inflexible items such as hats, sports helmets, and boots.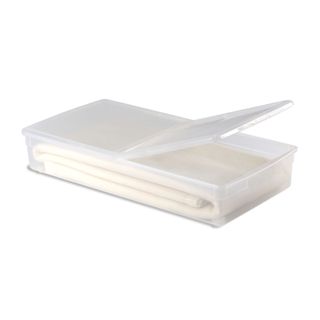 Stackable
5. The Container Store Underbed Box
Made from: Plastic
Size (in.): H6.5 x W18.25 x D35.63
Price: From $29.99
Molded with meticulous attention to detail, this clear polypropylene design is as hardwearing as it gets, taking the title of "virtually unbreakable." With a locking lid and wheels, it makes smart use of the forgotten space below our beds. I'll be filling mine with wintry garments too stuffy for the current weather, keeping them close by in case the rain returns. With ample capacity for sweaters, pants, and workout gear, it's also stackable. I'll be doubling up, for sure. Let's face it, no one likes wriggling underneath their bed (hello, dust bunnies) to pull out clothes storage. So this under-bed box will wheels comes in handy for when you want to want to keep the good times rolling.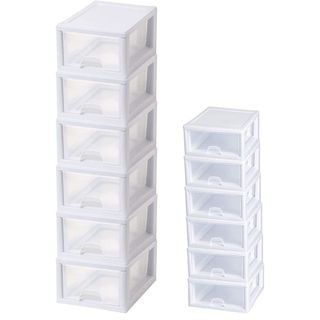 Stackable
6. Sterilite 16 Quart Sturdy Plastic Storage Drawer Containers
Size (in.): 6.9 x 14.4 x 17
Material: Polypropylene
Price: $72
If you don't have the DIY skills in you to put together a chest of drawers (yes, even with instructions), consider these clear drawer containers. You can keep them separate for different rooms or stack them to create an impromptu piece of furniture, without breaking a sweat. What's more, every reviewer on Target has given these a 5-star rating.
---
What is the best way to organize your clothes?
Good question! To help you out, we caught up with Suzanne Roynon, Interiors Therapist and author of Welcome Home: How Stuff Makes or Breaks Your Relationship (sold at Amazon). "Start with the basic principle of only keeping the clothes you use, need, and love," says Suzanne. "Send them to a thrift store, or if you have plenty of time, sell online — just don't keep them," she affirms.
Then, you can get underway with organizing your collection. This should be personal and dependent on your lifestyle. "There is no 'one size fits all', so embrace your individuality not the floordrobe," she explains. "If you have a specific 'work wardrobe' and 'leisurewear' then keeping them separate in your closet will make getting ready for work easier." Here, you might consider using lidded clothes storage boxes. You might also apply her approach to your ordering of clothes storage containers, too, keeping your lesser-used or off-season items in vac bags, and more commonly worn items in storage boxes. As for occasional wear pieces, garment storage bags are key.
How we chose these clothes storage containers
Only choosing products that actually help users and make life that bit simpler, we paid careful attention to reviews, putting forward a roster of containers guaranteed to please. We haven't tested these products just yet, but rest easy, reviewers never lie. Every item received flying colors, scoring at four stars minimum and kind words.
Where to buy clothes storage containers
Still searching for the perfect clothes storage organizers to tighten up your bedroom act? Put your trust in our hot pick of retailers, listed below.