The Levoit Core 300 True HEPA Air Purifier is a budget-friendly option for anyone looking to invest more in the air that they breathe, claiming to rid the air of everything from tobacco smoke and bad odors to mold spores and bacteria.
We tested the machine to see if its lower price tag was reflected in its functionality and whether those looking for a slightly cheaper model should invest or save up for one of the many premium alternatives. Though we had some reservations, we came down firmly on its side, so if you're already sold, click on one of the links below. If not, scroll down to see what we thought.
And if you want to shop around and keep your options open, take a look at our rundown of the best air purifiers you can buy right now.
Levoit Core 300: Key specs
Weight: 3.4kg
Dimensions: 220 x 220 x 360mm
Room Size: 20m2
Power Input: AC 120V, 60Hz
Rated Power: 45W
Standby Power: <0.8W
Noise Level: 24–50dB
Levoit Core 300: Performance
The Levoit Core 300 air purifier uses three stages of filtration to clean the air, with an H13 True HEPA filter, ultra-fine pre-filter, and activated carbon filter that work together to catch particles, pollutants, and allergens in the air. It also claims to be 100% 'Ozone free' due to its lack of UV/Ion light cleaning.
During use, we noticed that it noticeably reduced elements such as food smells and, while not whisper quiet, the small amount of white noise created by the cleaner was never enough to disturb.
While we only used the original filter when testing the product, one of the critical things about the Levoit air purifier is the ability it gives you to choose between different filters, each catering to a specific need. Need to remove allergy-causing pet hair from the environment? Or help keep mold and bacteria from impacting your health? There are options for that.
A significant drawback for some people will be its lack of speed settings or the inability to integrate it with other smart home products you might have. However, besides the three-speed settings and timer function, what you see is what you get – an air filter that could help you keep your environment dust and allergen-free.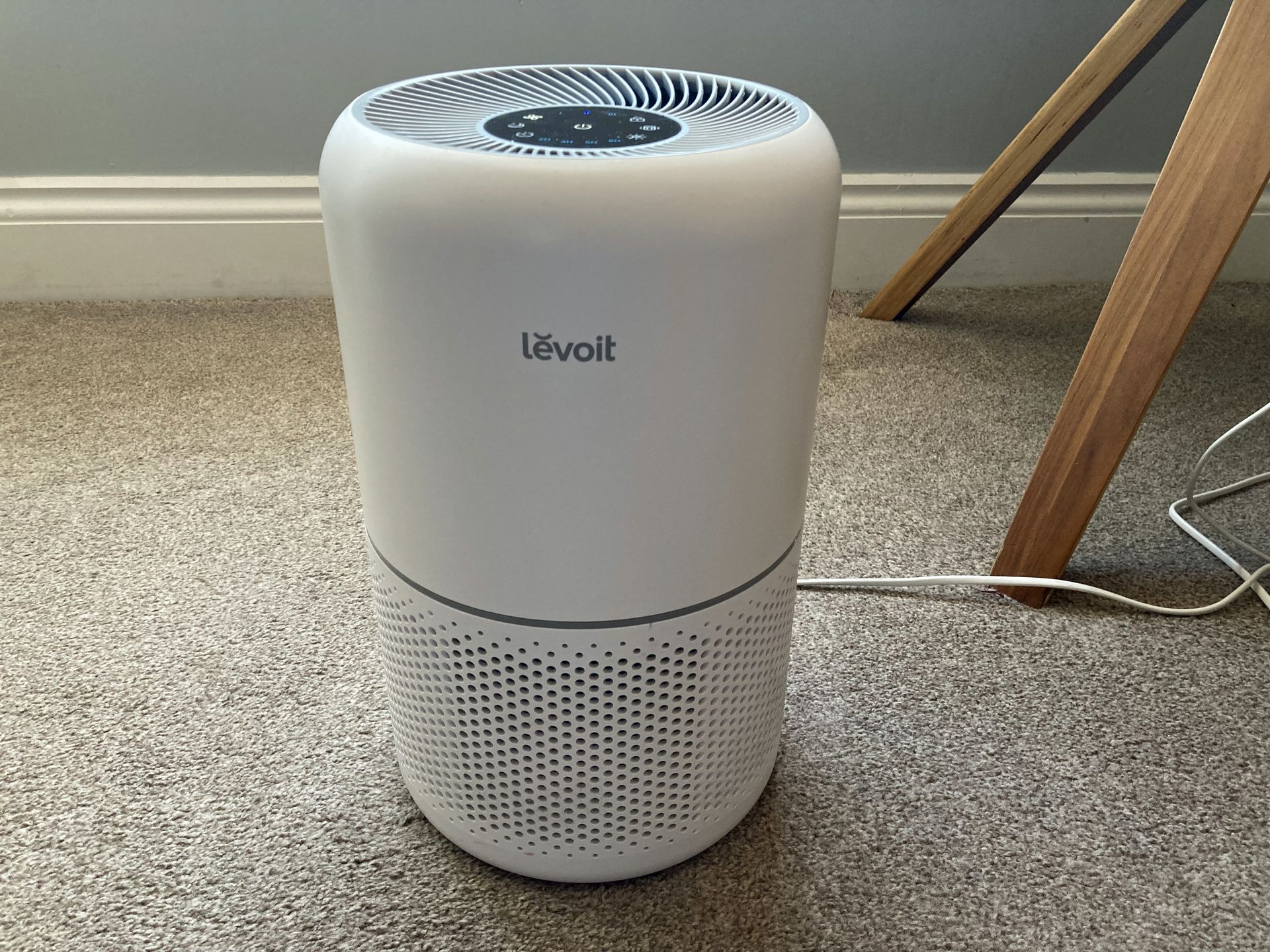 Levoit Core 300: why we would recommend
Attractive
The problem with a lot of home tech is how much it can stick out amongst other carefully-chosen décor. While the Levoit Core 300 doesn't completely solve that problem, an effort has been made to be aesthetically pleasing and diminutive enough to be tucked away in a corner or underneath a desk without drawing the eye too much.
Unobtrusive
On its lowest level, the machine is quiet enough to sleep to – making it suitable for use in the bedroom – and won't disturb conversation or movie watching in the living room either. It's also easy to move, so you can set it up wherever necessary.
Levoit Core 300: how does it compare to similar products?
It's tempting to go straight for big brands like Dyson when shopping for the perfect air purifier. Still, while the hefty price tag can prove worth it for some, those hunting for a bargain may want to look beyond pricier models like the trendy Dyson HP04 Pure Hot + Cool Fan Heater and Air Purifier.
The closest in price on our air purifiers roundup is the Blueair Pure 411 Air Purifier, which has similar functionality but is only suitable for rooms up to 15m2. The Homedics TotalClean PetPlus air purifier also comes in at under £200 but has a similarly limited maximum room size (17.5m2).
The Blueair Pure scores better on noise levels, coming in at 17–46dBs, while the Homedics TotalClean PetPlus reports a noisier 59dBs. The Levoit Core 300 estimates noise levels to be between 24–50dBs.
The Levoit Core 300 may not have all the specs of premium choices, but it could be an excellent choice for those who want something relatively quiet, versatile, and a little less fussy.
Levoit Core 300: Our verdict
Recommended for anyone curious about air purifiers but doesn't want to splash out, the Levoit Core 300 is a hard-working option for your home.
About this review and our reviewer
Caroline Preece is the smart homes editor for Real Homes. She's passionate about anything that can make our lives easier and improve the experience of being at home and spends her days testing smart products, gadgets, and other appliances. As a long-time renter, her spare time is devoted to finding new ways to make her space feel beautiful, cozy (and functional!).
As with reviews across Future and Real Homes, the Levoit Core 300 air purifier was tested at home to ensure we could provide a complete picture of its quality. This way, our readers know that they can completely trust any recommendations we make.