The growing popularity of air purifiers in the home, boosted by the time we've all spent there in recent years, can't be denied. Still, the Mila positions itself as a different kind of appliance. And when it comes to smarts, it's hard to refute that claim.
The air purifier promises to cover areas up to 1000 sq ft and allows users to customize and monitor pretty much every aspect of its capabilities. Want to see how many chemicals were released into the air while making pasta? Great. Need to know whether the air outside is clean enough for you to open a window safely? That information is clearly available. Want to measure the air quality in your bedroom compared to last week? Well… you get the picture.
But how does the feature-packed machine perform over time? We set one up at home to see if it could really do everything it promised, rating it on its usefulness, app performance and how it fits into daily life. Scroll down to see what we thought, or head over to our guide to the best air purifiers.
Mila Air Purifier: Set-Up and Specs
Recommended room size: 1000 sqft
Smart?: Yes
Works with: Alexa, Google Home
Ionizing?: No
Noise: between 24-53dB
Filter: HEPA
CADR: 447
Speeds: 10
Energy Star?: Yes
Dimensions: 12 x 12 x 15in
Weight: 18lbs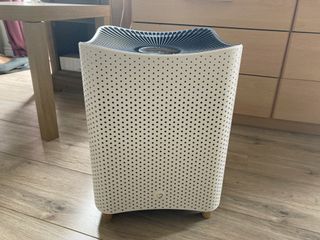 The Mila air purifier works out of the box, and you don't have to screw on the legs. The only thing to remember is that the filter inside is wrapped in plastic when it arrives, so be sure to open it up and remove the packaging before switching it on!
Once that's done, and you have found a good spot for your purifier, you will need to download the Mila Cares app. It's here where you'll be spending most of your time, as the physical controls on the unit are limited to manual/auto mode. The screen does light up with different messages from time to time, though, so it's a nice feature.
Within the app, you can do things that help the purifier along, like turning on the location for accurate outside air pollution data, whether you live in an 'urban,' 'rural' or 'suburban' area, and if you live in a house or an apartment. You can even tell itwhether your house is a new build or on the older side.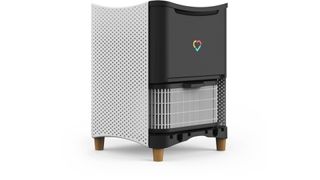 Mila Air Purifier: Features
The Mila is stuffed to the brim with handy features and ways to view your data and breaks down everything from the types of particles in the air to the optimum temperature and humidity levels. All of this, so goes the reasoning, contributes to the air quality we breathe.
It's refreshing to have so much information within the app, making it feel more like the purifier is actually doing something, which can be a question with any device designed to work away in the background.
There are two key ways to use the Mila - manual and automatic. Manual is self-explanatory, allowing you to set the fan level to your liking, while automatic offers much more customization. While testing, we found that both were useful for different situations, as auto mode could sometimes become quite noisy at the wrong moment. Switching to manual with the app allowed us to sidestep that problem.
If you just want an air purifier you can plug in and leave to work its magic, then there are cheaper options than the Mila. It's strange to criticize something with too many features, but it can sometimes feel like you're battling the air when you just want to relax at home.
Sleep mode and 'Bubble Boy' mode also impact how the fan runs, with the latter designed to override other noise settings to get the air quality down to 0.0 (meaning your air is clean as a whistle) no matter what, so we advise tweaking these until you're happy.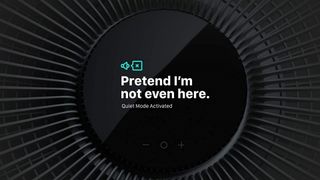 Mila Air Purifier: Design
The way the Mila air purifier looks is perhaps its best selling point, and it's clear that a lot of care and work has gone into both the physical device and its app. The general vibe that the company has thought about how the Mila might appear in someone's space and as part of someone's day goes a long way.
We wish the purifier were a touch smaller, as the boxy shape (offset somewhat by the wooden legs) takes up more space than necessary and makes it difficult to find a good place for it to live. That's a minor issue, though, and there are certainly larger purifiers out there that don't look anywhere near as good.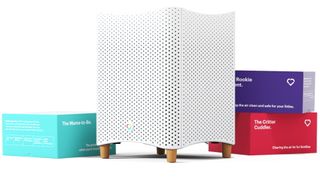 Mila Air Purifier: Our Verdict
The Mila Air Purifier does everything you would want and more besides monitoring air quality both inside and out, reacting to the slightest scent of pollution, and allowing you to set automation and modes easily within the app.
The device itself, while a little on the larger side, looks sleek and modern, and even the app has been given an attractive look that makes accessing the many, many options slightly easier—a fantastic choice, but perhaps not for casual users.
About the review
Caroline covers air purifiers and other smart tech on Real Homes, testing devices and gadgets to see whether they work in the home, making life easier or more pleasurable. For example, the Mila Air Purifier was tested in a small studio by a frequently-opened window close to the kitchen area. As with all products, we tried it over several weeks.