If you're someone who works from home, whether that's one day a week or five, then you'll know the importance of a smart desk setup. Owning a few desk organizers will make a huge difference to your day, but also going out of your way to find some stylish desk accessories will make your setup stylish AF. Especially these Amazon desk organizers I've found, in particular — and better yet, some are on sale for Prime Day.
Quick Menu:
1. Prime Day deals on desk accessories
2. More Amazon desk accessories
So, while you might not be able to decorate that home office of your dreams, there are definitely a few purchases you can make to make your sitch a little more motivational. Oh, and if you're in the market for a desk chair, we've also rounded up the best Amazon office chairs (most of which are on sale for Prime Day, too) so that you can buy everything you need in one place. Easy breezy.

The best Amazon desk accessories on sale for Prime Day
Here are the best Amazon desk accessories you can buy right now.
More Amazon desk accessories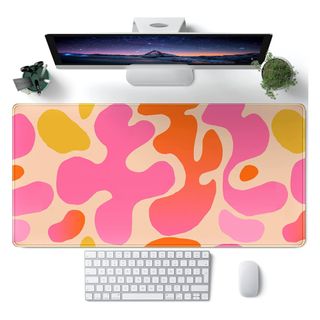 Cute desk mat
7. Pink Modern Abstract Desk Mat
Size (in.): D0.1 x W31.5 x H15.7
Made from: Rubber
Price: $19.99
Be honest; have you ever seen something so flippin' cute in all your life?! No, didn't think so. And while mouse pads are soooo 2007, larger desk mats are all the rage right now. It's large enough to fit your mouse and keyboard, and its rubber material means that you can also protect your desk from iced coffee spills and stains. But enough about the practicalities. This desk mat will add the perfect pop of color to your WFH area, and add the quirkiest retro feel to your space. Ugh, these colors are everything.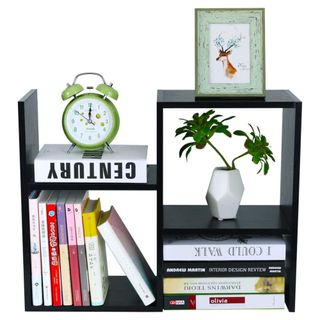 Extra storage
8. Pag Freestanding Wooden Small Bookshelf Desk
Size (in.): D7.5 x W16.5 x H21.3
Made from: Melamine
Price: $24.99
I'll admit that I'm a sucker for leaving books and magazines on my desk. And while I'll continue to leave them there until I can afford my multi-million mansion and create my dream reading nook, this desk bookshelf is definitely the perfect organization solution. Large enough to store countless books and other desk accessories, but small enough to not take up too much space on your desk, it's been specifically designed with workers in mind. Plus, there are two different ways to use this product! You can either set it up horizontally (as pictured) or you could use it vertically. The choice is yours.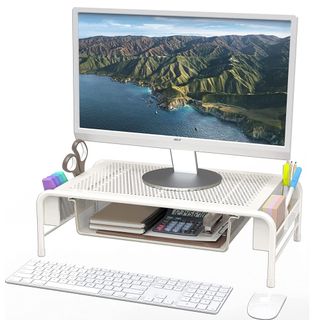 Clutter-free
9. SimpleHouseware Metal Desk Monitor Stand Riser
Size (in.): D1.5 x W20.3 x H5.8
Made from: Metal
Price: From $24.87
If you're a ~tech wizard~ and use a laptop and monitor at the same time, you'll be happy to know that you don't have to invest in a giant desk to fit all of your techy pieces. This desk monitor stand riser could be the best Amazon desk accessory you buy this year, as it will completely revolutionize your workspace. No, I'm not overreacting, I promise! It may look pretty simple, but the riser can house your monitor and offer you extra storage space thanks to the extra drawer and the cubby holes on the sides. This will instantly tidy up your workspace and make your desk super organized. Just remember to manage your cables so they don't get in the way!
---
FAQs
What accessories to add to a desk?
In short, the answer to this question depends on how you're using your desk. If you work on a laptop all day, you're less likely to need pen pots or other stationery organizers. This means that you can opt for less practical accessories, and more aesthetic options, such as stylish lamps or bookcases. However, if you have a creative job that requires you to draw, paint, or measure, you'll probably need to focus on adding accessories that make your desk more organized and structured. This way, you can give everything you need a home, without encroaching on your workspace.
How do I keep my desk aesthetic?
While it's important to keep your desk organized with the right accessories, that doesn't mean that you have to scrimp on the aesthetic. You can choose accessories that suit the color scheme for the room, you could choose a theme (e.g retro, modern, or Scandi), or shell out a little more on an aesthetically pleasing desk that offers more than just a wooden desktop and four legs. Then, if you have space, add plants and flowers to your desk to add another pop of color and inject a sense of calm into your WFH area. Of course, if you're likely to forget to water real plants, opt for fake plants instead!
How we chose these Amazon desk accessories
Why you can trust Real Homes Our expert reviewers spend hours testing and comparing products and services so you can choose the best for you. Find out more about how we test.
At Real Homes, we only feature products that are either recommended by ourselves, or by others online. Shoppers have rated these best-selling Amazon desk accessories so highly that we just couldn't ignore the five-star reviews. Plus, a lot of these products will be featured elsewhere on our site in other accessory guides.