Let's face it, teenagers are a notoriously fickle group when it comes to gifting. But fear not, we have channelled our teen spirit to put together the ultimate Christmas gift guide for teens. Whether they are into music, tech, fashion, beauty, books or homewares, we've got it sorted.
Take the legwork out of your Christmas shopping by checking out the Real Homes team's top 50 Christmas gifts for 2018: we want them (and so will you and your friends and family).
1. Help them save the planet
For the teen who is never without their flat white, a reusable cup is a must. Chilly's tumblers come in every design under the sun, including the apparent synonym of millennial excess, the avocado.
Chilly's tumbler, £25, Amazon.
2. Embrace the analog trend
Despite the fact they were probably in nappies when Polaroid announced it was no longer to produce instant film, teens just can't get enough of print photos (instant gratification and all that). The Fujifilm Instax Mini instantly prints photos, plus it includes an all important selfie mirror and comes in an array of cute colours.
Fujifilm Instax Mini 9, £74.99, John Lewis.
3. Go for a failsafe classic
A good beanie is never going to go out of style (and it beats socks or slippers).
Barts Bonanzo beanie, £27, Asos.
4. Give the gift of good vibes
Being a teenager can be tough, so they need all the good vibes they can get. This Good Vibes Kit is a (very Instagrammable) box of prints, quotes and illustrations that can be stuck up all over bedrooms or uni rooms to create a (again, very Instagrammable) photo wall.
'Good Vibes Kit' Inspirational Prints, £18, Not on the High Street.
5. And don't forget washi tape to stick them up with
Yes we know it's just glorified Sellotape but humour them, it's so on trend and it won't gloop up your walls.
Unicorn Star washi tapes, £8, Paperchase.
6. The sleekest of shaving kits
Possibly the most aesthetically pleasing razors we have ever come across, Harry's know how to do branding. Despite their super sleek packaging, the razors are actually really affordable, making them a great option for teens (sooo, much better than your standard Lynx Africa gift set).
The Truman Set comes with three spare blade cartridges, a foaming shave gel and a travel cover and is only £14!!
The Truman Set, £14, Harry's.
7. The most low maintenance diary
This journal is a low maintenance version of a diary, just one line, everyday, for five years – perfect for the attention span of a teen who'd rather be on Snapchat.
One Line a Day Five Year Memory Book, £11.99, Asos.
8. The most expressive, affordable, customisable artwork
This will be all over their social media by Boxing Day, hopefully without expletives.
Large letterboard, £79.99, Oli Olsen.
9. A practical (but also incredibly stylish) rucksack
If you haven't seen that red fox bobbing about in front of you at some point you must have been living under a rock. The Fjallraven Kanken has become an essential part of a teen's wardrobe, but as well as being super stylish they are also incredibly practical.
Fjällräven Kanken Classic Backpack, £80, John Lewis.
10. A quirky mug to brighten up their morning
Regardless of age, who wouldn't want to drink out of this?
Awesome People Club Mug, £12, Oliver Bonas.
11. For more beautiful laundry
We aren't promising that these super cute laundry bags will encourage them to clean up their floordrobe, but you know, it could be start…
Hana Floral Travel Bag, £19.50, Oliver Bonas.
12. Headphones for uninterrupted listening
Whether they are crashing around their room to Slipknot or chilling out to Adele, with pristine sound quality, liberating wireless freedom, built-in microphone and the retro design, these Panasonic headphones are perfect for teens with any music taste.
Panasonic HTX80BE Bluetooth Wireless Over-Ear Headphones, £99.99, John Lewis.
13. An organic skincare routine for teenage skin
Choosing skincare as a gift can be tricky, especially with teenage skin which can be prone to all manner of issues. But we all know that great skin starts with a great routine, and this three-step routine from Green People has been packed with soothing organic botanicals that work wonders for even sensitive teenage skin.
Organic Young My Skin Goals, £30, Green People.
14. A YA book subscription
The Willoughby Book Club will send out a new YA book each month, tailored to your teen's preferences.
Young Adult Book Subscription, £34.99, Not on the High Street.
Find more book lovers' gifts (that aren't all reads but are ingenious) in our buyer's guide.
15. A speaker to take anywhere
Portable, super durable and completely waterproof, Ultimate Ears Wonderboom is the best way for them to blast music by bands you've never heard of.
Ultimate Ears Wonderboom, £64.99, John Lewis.
16. A very on trend macrame kit
This DIY macrame kit is a creative teen's dream come true.
Macrame wall hanging, £28, Lottie Lou.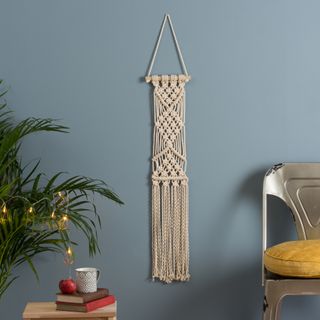 17. A portable charger (basically a teen live saver)
The smartphone is a teen's lifeline. That's common knowledge. So you can't go wrong with buying them a gift that ensures their phone never dies on them.
Typo Pastel Galaxy Charger, £12, Asos.
19. An exotic phone case
And to go along with the life saving portable charger, a very on-trend botanical print phone case from Ban.do. In fact, come to think of it, order anything from Ban.do and we think you are pretty safe.
20. Some (budget friendly) interior inspiration
Okay, so maybe your 13 year old might not be interested in how to make uni halls more homely, or how to turn your rented flat into a dream space, but for older teens who are leaving home for the first time, tips on how to style your first home (who are we kidding we mean room) can be super valuable. Grab them a subscription to Real Homes which is filled with a ton of advice for renters who are on a budget, plus lots of inspiration from well... real homes.
21. A cushion to stand out among the mess
Sticking with a similar vibe, why not also treat them to something that will brighten their hovel of a bedroom? We love this quirky cushion from Urban Outfitters and who knows maybe one nice cushion will inspire them to sort out the rest of their room?
22. A set of magical makeup brushes
If your teen is a die hard Potter fan, then look no further than these makeup brushes. They aren't just gimmicky merch either, oh no, each brush is actually based on real wands of the characters. Using Voldemort's wand to master a cut crease? Sounds doable, Accio eyeshadow!
23. The snuggliest hot water bottle
How cute is this hot water bottle and eye mask set? And check out the matching slippers! If you have the tradition of your family being allowed to open one prezzy on Christmas Eve then we reckon either of these would be perfect.
24. Teen approved shower speakers
Designed in collaboration with Disney, this waterproof speaker means your teens can keep their questionable singing to the shower!
25. If in doubt... bath bombs
You simply can't go wrong with Lush. Seriously, stick any one of their deliciously-scented bags under the tree and you're golden. But this year we have fallen in love with this '90s inspired box filled with novelty, fruity fizzes, bubbles, and lathers.
Jolly Holidays, £37.95, Lush.
26. An instant cinema
They will thank you when Zoella's recent Asos haul can be transformed into a glorious cinematic experience. All they need to do is slide their phone into the back of this Smartphone Projector and voila, there she is, larger than life, looking irritatingly peppy telling your teens about clothes they can't really afford.
Looking for more Christmas gift inspiration?