Last year we headed up to my sister's home, in Minnesota-- an 1800s riverside charmer. And as usual, we squeezed some time in for a little bonding over all our favorite DIY projects.
She is super lucky to have a large dressing room and closet just off her bedroom. Because that much space opens a world of opportunity in interiors, right? We got to thinking outside the box when it came to the walls and eventually planned to add one roll of bold wallpaper to the back wall-- pretty birds from Burke Decor on a black background. This pattern I had actually used to decorate our powder room, as well. For such a simple DIY, it just goes to show how it's sometimes the smaller projects that can have the most impact. Whether you're on a budget or not, even just having one spare roll of wallpaper to hand can be the start of something beautiful.
Wallpaper project ideas to DIY
These mini wallpaper projects aren't time consuming – it usually takes me around two hours to hang wallpaper myself. Full disclosure, I managed to complete a few of these using double sided duct tape, a dream right? But if you prefer to wallpaper the traditional way, you will need the same materials to get the job done right, for that professional finish.
Paste
Wallpaper smoother
Exacto knife
Brush
Paint tray
Roller
Scissors
Measuring tape
Pencil
Rag
Double sided duct tape makes an easy cheat to using paste!
I'm currently loving nature inspired papers. Think birds, botanicals, and chinoiserie murals. They make dramatic backdrops for small projects so it's no wonder they are big wallpaper trends for 2022.
Here are a few wallpaper projects that I've completed with just a roll of wallpaper:
1. Jazz up the back of a bookshelf
I didn't even use paste for this job. Just a roll of good, old double sided duct tape-- an essential DIY supply in my opinion. It makes it easy to swap the bookshelf background when you tire of the pattern, too. Which is perfect if you're anything like me and want to try out all the wallpaper ideas going throughout the year.
2. Add interest to a drab entryway ceiling
If your small entry lacks personality, just look up and add character to the ceiling. Here's another project installed with double sided duct tape. Wallpapering ceilings is by far the most difficult, in my opinion. The tape has stronger adhesion than paste, giving your arms a break as you install overhead.
Here you can see how a little wallpaper on the ceiling leading onto our mudroom creates a loftier appearance and adds design depth also.
3. Leopard up a small space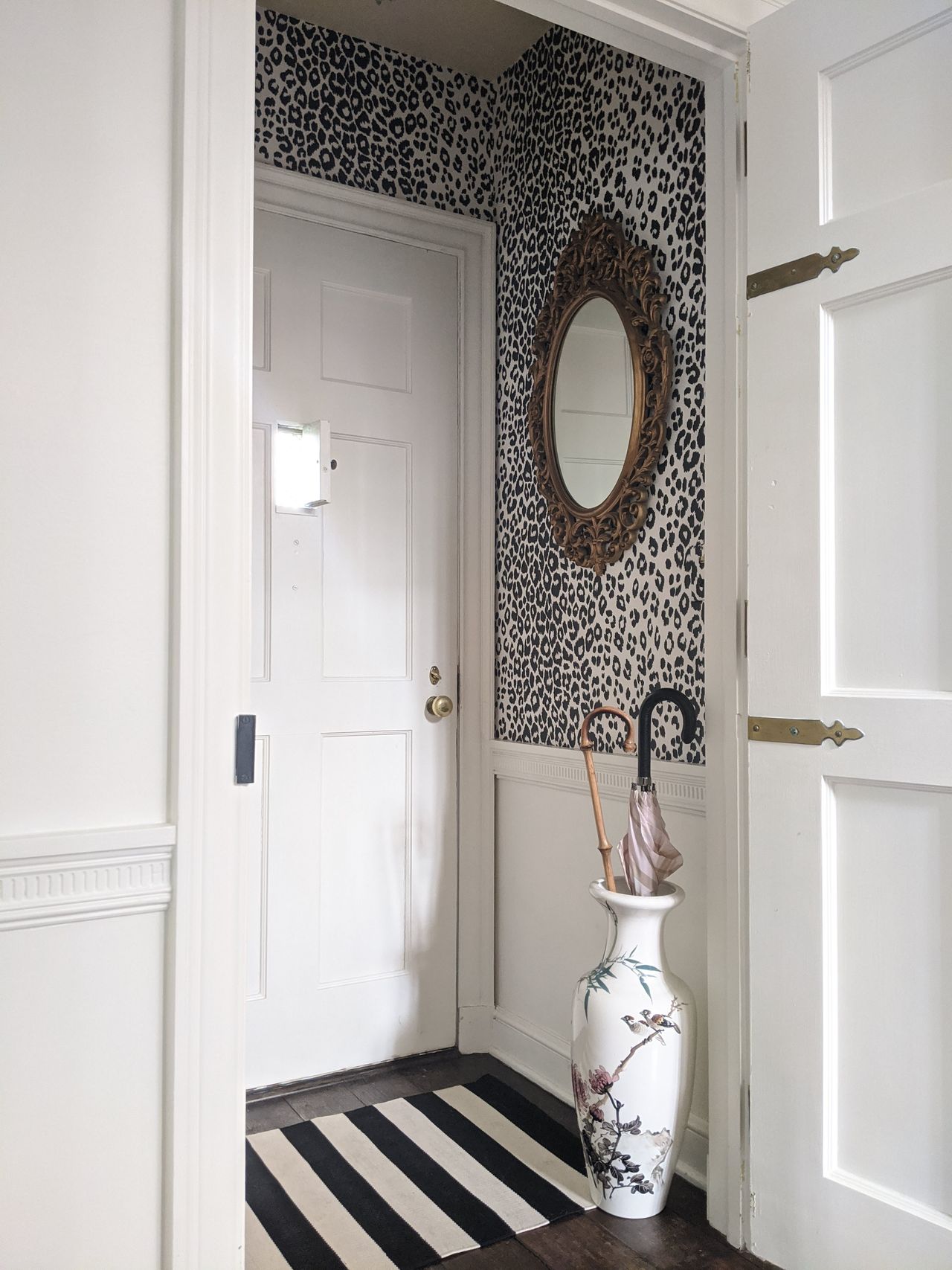 For our small entryway, I found a single roll of Iconic Leopard, Schumacher wallpaper on Ebay for $25. A whopping 90 percent off retail. In fact, most of these projects I completed with cast off rolls of paper found online. I search using my favorite brands such as Schumacher, Thibault, and York and set up an alert for any paper patterns I desire. It's even more cost-effective if you pick up an Ebay discount code too.
4. Go half and half in a powder room
Why not glam up a powder room with half tiled walls or a chair rail? This was only a single roll install, but in the interest of transparency, it took more than a couple hours, with all the cuts. Powder rooms often have mirrors, outlets, cabinets, and windows to cut around-- so take extra care to ensure a quality install.
5. Brighten up closet doors
Wallpapering closet door insets is a great starter project for a wallpaper novice. There are no areas to cut around and often just two or three straight cut pieces to align
6. Dress up a linen closet
Finally, I dressed up our linen closet with a partial mural strip leftover from a previous project and finished by painting it in a coordinating shade of blue. It turned out great and was such a budget-friendly upgrade.
Whether you're keen to get out the wallpaper paste or to use a little duct tape for an even easier wallpaper project, just look around your home for any bare walls or spots where wallpaper could be the one to fill it with beautifully.