Thanksgiving might look a little different this year, but we still think whoever you are hosting you can still go all out with the table decor. After all this is an eating holiday, and your delicious food deserves the most stylish backdrop! So we have rounded up 10 lovely looks to deck out your table for Turkey Day – from the more traditional fall colors and rustic tablescapes to minimal contemporary twists and gothic looks, we have something to suit all styles.
For more fall decor ideas to dress your home for Thanksgiving head over to our gallery.
1. Decorate your walls with pumpkin garlands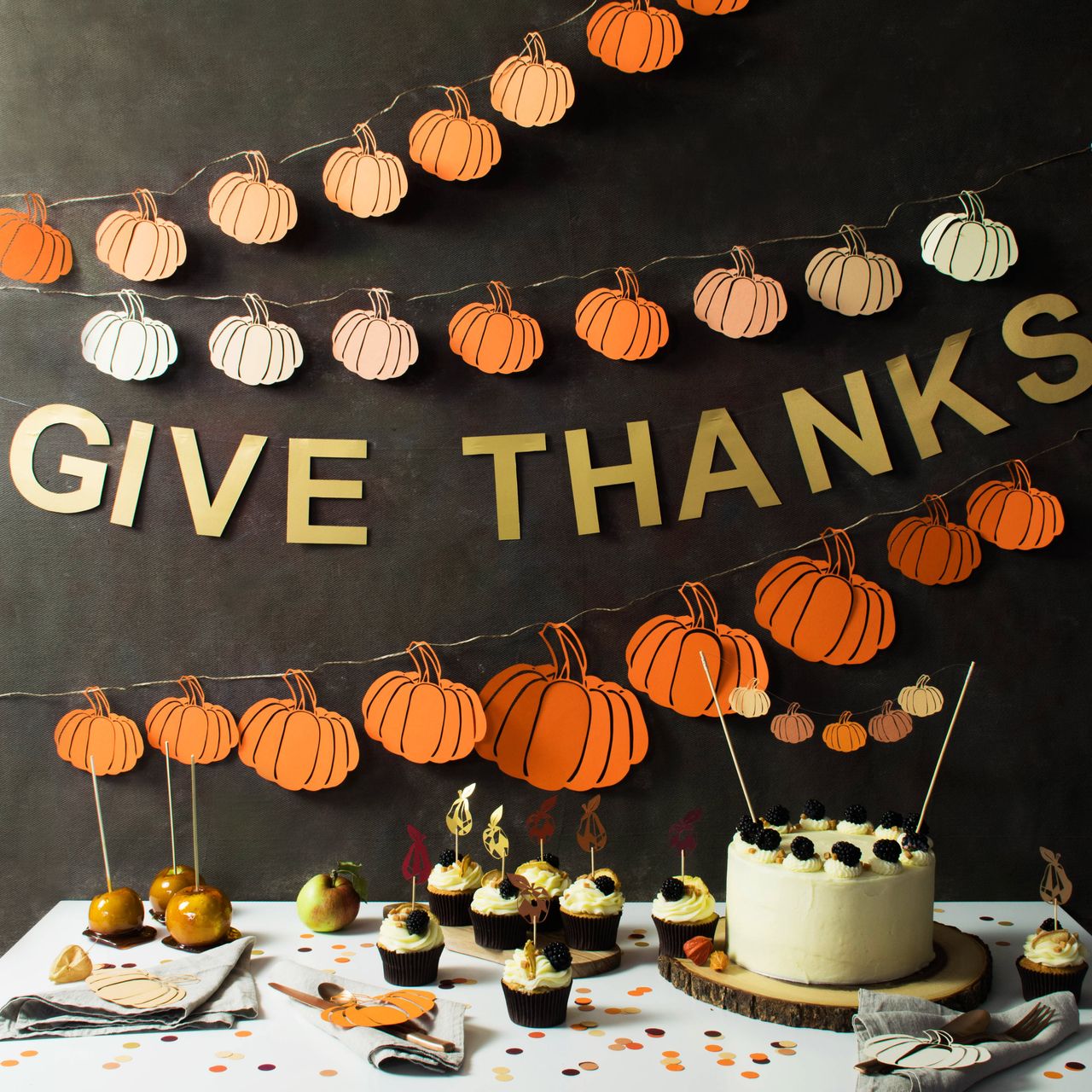 What harvest celebration is complete without pumpkins? Pumpkin pie, pumpkin-flavored cupcakes – which will it be this Thanksgiving? Let your Thanksgiving home decorations take their cue from this staple fall food.
You can find loads of affordable decorating kits just like this one over on Amazon, or you could of course get crafty with the orange paper an some scissors.
2. Incorporate some classic plaid
You can't go wrong with plaid for fall, and it can add the perfect amount of pattern to your Thanksgiving table. Pick a plaid tablecloth and matching napkins in a neutral color so they can be a backdrop for you to build on. Layer up your placemats and crockery to add lots of lovely texture and of course, add some fall foliage too – we love how the deep purple works here too, not traditionally a fall color but it gives this table a sophisticated feel.
3. Scatter decorations for a natural Thanksgiving theme
Want to add a relaxed, boho vibe to your Thanksgiving decorating theme? The key is to be more relaxed about how your position your decorations. Not everything needs to be perfectly symmetrical – instead, scatter your decorations in a way that looks natural and not too fussy. Mix and match shop-bought decorations with real veggies and leaves for a variety of textures and colors.
4. Go for a minimal (but still festive vibe)
Love this very rustic, minimalist thanksgiving table decor. Super easy to recreate too just with a few pumpkins and some dried flowers (again just check out Amazon for affordable options). Note the old books too! A really nice way to add something a bit more personal to your table, plus can give your centerpieces a bit more height.
5. Pick a gothic theme for your Thanksgiving table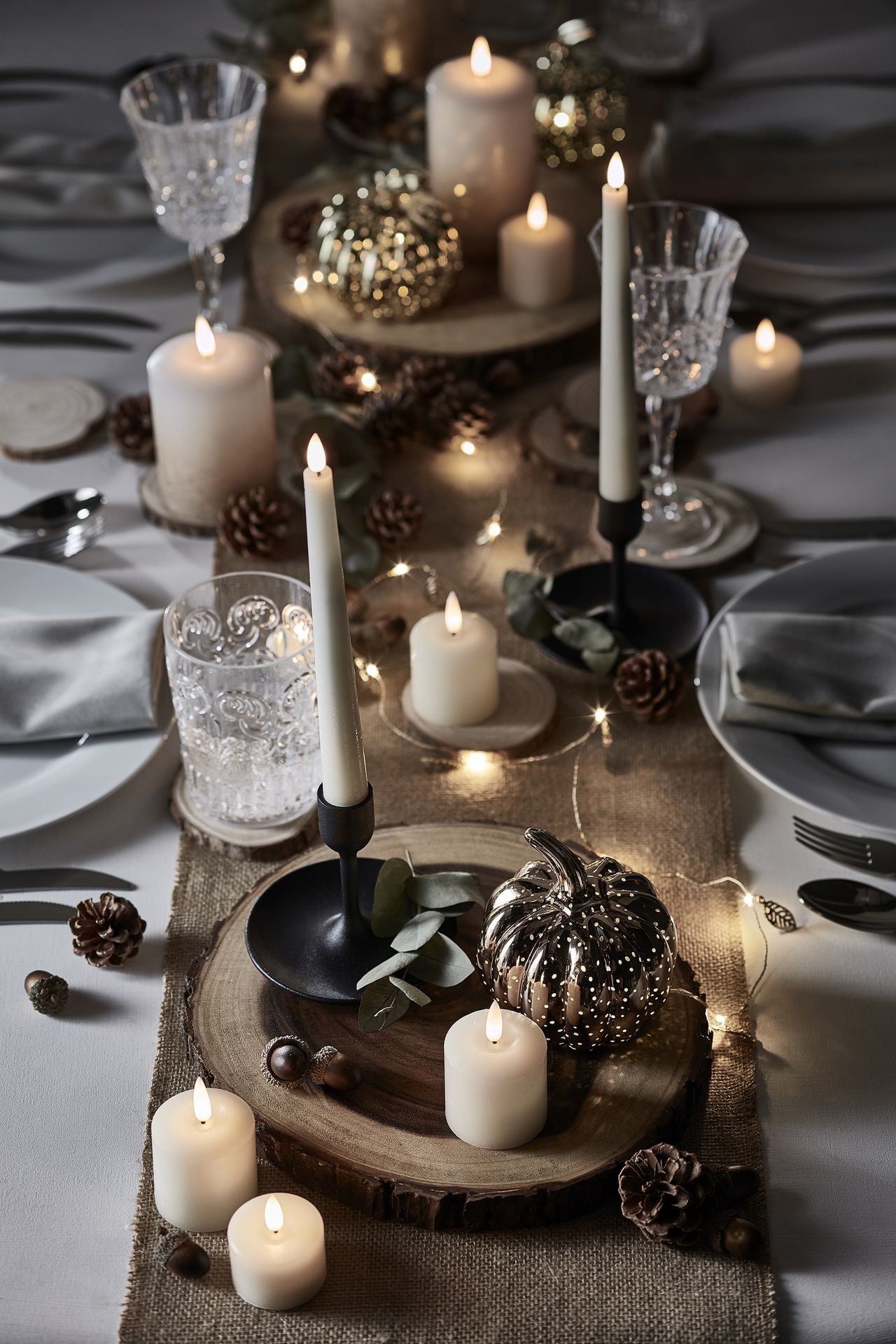 Add some drama to your Thanksgiving (since your extended family might not be present this year to do so) by going for a dark color scheme. Still keep it fall-approved by choosing dark browns and greens but add in accents of black and of course and go to town on the pillar and taper candles. Oh, and don't forget to add in the odd pumpkin – try painting them black or silver if you don't want to ruin your gothic vibe.
Check out our no-carve pumpkin ideas if you are after more ideas that aren't just for Halloween.
6. Or go light and bright with a classic white theme
And on the opposite end of the scale, this gorgeous table decor. So simple but so effective, an all-white scheme is classic and elegant (but still suitably festive). Add in some touches of greenery for contrast and again just spray your pumpkins white for a subtle nod to Thanksgiving.
7. DIY some cute pumpkin plate decs
Looking for last-minute Thanksgiving table ideas? This is so simple and all you need is paper and scissors. You can either draw your own design or look online for some cute pumpkin templates and cut out your designs to place on each plate. You could add some fall colored confetti too and just keep the rest of your table really simple.
Check out more easy Thanksgiving decor ideas in our gallery.
8. Create a really opulent look with deeper shades
There's so much going on on this Thanksgiving table and it looks amazing! It's really busy and there are lots of elements and yet it doesn't look too styled. To create this look, start with your vases (or vase depending on the size of your table) fill them with flowers foliage and then dot a bit of that greenery 'effortlessly' around the rest of the table. Then go in with the fruit, you could go traditional with pumpkins or squashes but we love the luxe vibe and the rich color the pomegranates bring. Then just light plenty of candles at different heights and the look is complete.
9. Choose a softer look with pastels
Traditional, but with a twist. This Thanksgiving table has very traditional patterns going on, the turkeys, the pumpkins, the wooden placemats, and yet it all has a very soft, dare we say it almost Disney vibe to it because of the adorable pastel color scheme – even the crockery has a lilac tinge to it. Do note thought how the wooden accents and the darker copper ground the look and stop it from becoming too sweet.
10. Hang decor above the table
We have been seeing this rustic look all over Instagram –hanging branches and leaves and decs over the table to create this impressive suspending sculpture. You can recreate this look yourself, obviously, you just have to make sure it's secure by fixing it to the ceiling. Pick a branch that fits your space, and hang some fall decorations from it – easy peasy and a nice alternative to a centerpiece.