Over the past few years, paying attention to the planet has become a big part of our everyday conscience, and when it comes to making both big and small investments for the home, we want to know whether we're making good sustainable choices. Although it might seem simple to pick up an eco-friendly version of something like a water bottle or even bedding, if you're in the market for an eco-friendly mattress, there are some specific features to look out for so that you choose one that's good for you and for the planet.
To make sense of it all, we've done the research for you and spoken to the experts to understand what makes the best mattress eco-friendly. Because whether we choose to recycle, buy products with less packaging or reuse the items we'd otherwise throw out, in today's world, changing shopping habits and putting thought into our purchasing decisions is one of the easiest ways we can contribute towards a greener future. The eco-warriors out there – this ones for you.
Defining an eco-friendly mattress
As expected, price and comfort still take priority when choosing a mattress, and many manufacturers name their models accordingly: 'hybrid mattress', 'premium mattress', and 'the original', for example. While many brands do have great eco-credentials, it can be hard to know what they actually mean.
From material to manufacturing process, understanding what an organic mattress means and how to avoid greenwashing, there's a lot to take on board. But, opting for the sustainable pick, can make all the difference.
1. Materials
Okay, so a mattress isn't the most environmentally friendly buy for your home in the first instance so ensure you only go to replace yours when needed (every seven years or so) and that you recycle your mattress or dispose of it in an eco-friendly way.
As a first step, Martin Seeley, Founder of Mattress Next Day, suggests you should look for mattresses made with natural fibers and avoid synthetics:
'Mattresses made of polyester, nylon, or uncertified foam are (unfortunately) petroleum-based and non-biodegradable, making them not only potentially dangerous to the environment, but also to you.'
Seeley recommends 'Fillings such as cotton, wool, bamboo, silk, and latex are chosen by manufacturers instead for their eco-friendly qualities since they're biodegradable and free from harmful chemicals. Natural materials also have the benefit of being hypoallergenic and temperature-regulating for great sleep.'
Noting that some materials have more longevity than others, which means your mattress should serve you well for the full seven years, avoiding an early renewal.
'How durable the material is, also affects how long it lasts. Latex for instance is one of the most hard-wearing materials used in mattresses, eliminating the need to replace one for at least a few years. Think buy once and buy well.
'What your mattress is filled with isn't the only material composition to consider, however. The spring systems used and the mattress cover should also be eco-friendly. Make sure the springs are fully recyclable and the cover meets environmental and social standards.'
Is memory foam eco-friendly?
Memory-foam lovers you might want to close your eyes because unfortunately, memory foam mattresses are usually manufactured using petroleum-based chemicals like polyurethane, a plastic polymer typically found in things like sneaker soles and garden hoses. While a flexible, cushioning material that's great for making mattresses more comfortable and supportive, it can take around a thousand years to decompose. That being said, many mattress recycling centers will take your old mattress and turn it into another or something useful like underlay for carpets.
2. Manufacturing process
Other than researching what the mattress model you're interested in is made from, pay close attention to the brand itself and its manufacturing processes to ensure they're honest and transparent when it comes to sustainability. This avoids potential greenwashing and claims towards eco-friendly products.
Certified Sleep Science Coach and lead mattress reviewer at Sleepopolis Bridget Chapman states 'eco-friendly mattresses should have at least one, if not multiple third-party certifications that verify their authenticity.'
These certifications will ensure the credibility of business claims towards sustainable sourcing of materials, responsible production and aims to cut waste. 'Mattresses that have several third-party certifications prove that they have been thoroughly evaluated by certifying agencies to ensure the transparency of the product itself, as well as the factory it was produced in. Some certifications to look out for include:
Global Organic Textile Standard (GOTS)
Global Organic Latex Standard (GOLS)
Certipur-US
OEKO-TEX Standard 100
Greenguard Gold
USDA Organic
Other things to look out for is where the brand is located, which can impact packaging, production costs as well as carbon-neutral delivery methods. Even if a mattress is made with the most sustainable manufacturing efforts, having it imported can give the brand a large carbon footprint. So if you are UK-based, try and source a new mattress from the UK, likewise, if you're in the States or further afield.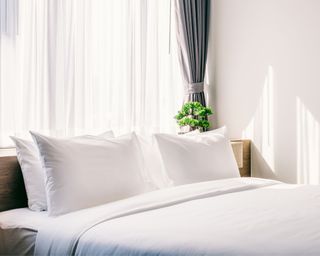 3. Organic vs eco-friendly mattresses
You may notice the term 'organic mattress' as well as 'eco-friendly mattresses' when doing your research. But it's important to remember that although similar, the two terms are not interchangeable and they do, in fact, mean different things.
Organic refers to a mattress that hasn't been sprayed with chemical pesticides. The best organic mattresses are non-toxic and their materials naturally have less of an environmental impact thanks to sustainable farming methods. Whereas, eco-friendly can mean this, amongst a plethora of other things too.
The Global Organic Textile Standard (GOTS) as mentioned above, is a great way to confirm whether the mattress is made with certified organic materials. And if you're looking for latex, ensuring the mattress is GOLS certified ensures you're investing in natural rather than synthetic latex, which is key if you want your mattress to last as long as possible.
Why buy an eco-friendly mattress?
The reasons for wanting to invest in an eco-friendly mattress model are clear. A planet-friendly mattress can do wonders for your sleep all whilst giving you peace of mind that you've done your part for the planet too.
As Seeley highlights, 'the use of natural materials allows for the mattress itself to breathe'. This helps regulate body temperature and prevent overheating during the night. Since natural fibers do not contain any flame retardant chemicals, pollutants or chemicals either, they tend to be hypoallergenic, making them especially great for kids and the elderly. In simpler terms, you're guaranteed great sleep.'
The verdict? Eco-friendly, organic mattresses have a huge range of health benefits unlike their synthetic, chemically treated cousins so it's totally worth putting in a little more research time to ensure you invest in a more plantet-friendly sleeping partner.