The cost of granite counters is well worth researching if you are renovating a kitchen or just looking for a durable, classic countertop material. Granite countertops, despite their somewhat bad rap as old-fashioned, are a great, affordable choice for kitchens and come in a variety of styles and finishes.
Some of the best kitchen worktops are made from granite, so if you are looking for a countertop material for your remodel, find out how much granite will cost you with this expert advice. We'll also look at how granite stacks up against its man-made rival, quartz, in terms of costs and durability.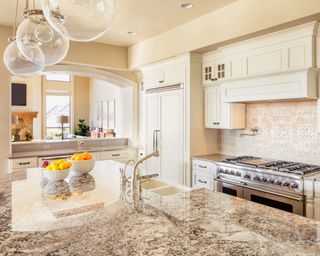 Cost of granite counters per square foot
The cost of granite countertops is measured per square foot of material.
Thomas Borcherding, of Homestar Design Remodel, said that 'the price we charge our clients varies per project size. That being said, expect to pay within the range of $70 to $122 per square foot for granite.'
Maggie Griffin, founder of Maggie Griffin Design, points out that 'less desirable granite options may even be less expensive as they have fallen out of trend.'
This is the most important thing to understand about granite – it is priced entirely according to the desirability of the natural color and pattern of the stone. Granite is graded A–F, with A being the least expensive. You will generally find tan and brown varieties of granite in this category and they will cost considerably less than, say, Saturnia granite, which has a richly marbled black-and-gold pattern, or white colors. In terms of strength and durability, all granite types are the same, you only pay more for the more desirable visual quality.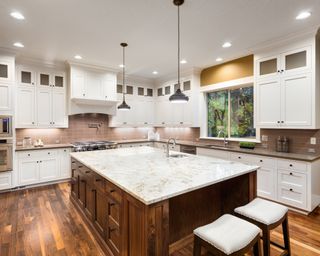 Cost of granite countertops with installation
Nicole Gurney, Project Designer at renovation and construction firm Quality PM Inc. advises that 'currently, granite prices are around $100 to $150 per square foot, template delivered and installed.' Even if you are confident at DIY, it is always best to leave countertop installation to professionals. This is especially true if you have complex kitchen layout ideas in mind, but even if you are having a single slab of granite installed, it will be very heavy and difficult to maneuver, so is best handled by experienced installers.
On average, the total cost of granite counters in an average kitchen, including installation, will come in at $2,000 to $4,500. This may sound like a lot, but granite countertops are significantly cheaper than other natural stone options. Compare granite with marble, for example, which will cost around $75 per square meter without installation, and you'll begin to see granite for the cost-effective gem of an option it really is.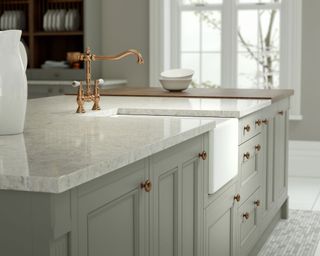 Cost of granite countertops vs. quartz
Gurney explains that in general, quartz is slightly more expensive than granite, at about $120 to $180 per square foot. Quartz is more expensive 'because it is an engineered product. Quartz is inherently maintenance-free, you don't have to seal it, and if you use a knife on it, you're more likely to ruin your knives than mark the countertop.'
Of course, the differences in pricing between different grades of granite and different types of quartz mean that the actual cost of your material 'truly depends on the slabs that you are comparing', according to Borcherding. 'A certain slab of granite could be more expensive than a certain slab of quartz', particularly if you're interested in highest-grade, marble-lookalike granite types.
Granite is more affordable and remains the slightly more popular option. Borcherding confirms that although 'granite or quartz countertops are standard in any high-quality kitchen remodel', his company does ;more granite than we do quartz.'
Are granite counters worth it?
The answer is a resounding 'yes!' Granite has many qualities that strongly recommend it as an affordable yet supremely durable kitchen countertop material. You really get you money's worth here, not least because, as Borcherding points out, 'granite will last for decades if properly taken care of', whereas 'due to the epoxy used in the manufacturing of quartz countertops, quartz can tend to yellow overtime.'
This is generally true of synthetic materials rather than natural stone, although, again, a high-quality quartz countertop may be a better option if you don't want any maintenance. Gurney also acknowledges that 'quartz can be more vivid with a saturated look, but both quartz and granite are great options for someone looking for a durable, long-lasting, high-end touch to their home.'
Having said that, just because granite requires some maintenance it doesn't mean that it's difficult or time-consuming. Gurney advises that 'granite maintenance is super easy, just requiring sealing twice a year. Sealing takes about the same amount of time as wiping down your counters with a cleaner.'
Granite also has a slight edge over quartz in terms of heat resistance – granite 'can take the heat from direct contact with pots and roasting pans. Many people like that aspect. Repeatedly doing so with quartz risks leaving a mark.'