Intrigued by the world of smart home tech? If you want to kit out your home with the latest smart gadgets and devices, but are a little overwhelmed by the sheer abundance of smart home tech and are wondering how it can really improve your home life, you've come to the right place.
Overall, those who do have a connected home report positive experiences: smart tech can help with everything from security to shopping lists, from feeding the cat to preventing leaks.
So, if you are ready to embark on your own smart home project, read this expert advice to find out how to make it work for you. And don't worry: having a 'smart home' doesn't necessarily mean having a fully connected, gadget-crazy house: start small and see how you like it.
Whether you're a total novice, or looking for advice on expanding, or making the most of your smart home, head over to The Hub, our one-stop-shop for all things smart home tech.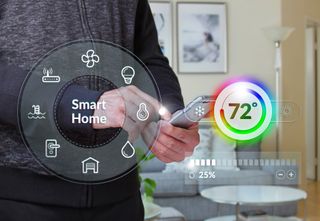 Do: think about what you need first
If your budget is limited, concentrating it on one smart home aspect that will really make a difference or that you need to upgrade anyway is a good place to start.
So, if music is your thing, then a simple solution that enables multiple rooms to be playing the same music is probably the perfect solution for you. This can be achieved with a selection of network connected smart speakers. However if the sound quality of your music is what interests you then a higher end, single room solution might suit you better. Whether it is functionality or performance, there is a host of smart audio systems that will deliver on what is important to you.
Read our review of the best smart speakers to get the best system for your home.
Don't: forget that your router may not cope
Most routers supplied by internet providers will struggle to provide a consistent performance: especially when you have more than 20 devices connected. That may sound like a lot, but this can very quickly be achieved in a home where smart technology is installed.
Wireless coverage can also be an issue if you have the luxury of a large home. Remember, relying on your mobile phone connection is fine when streaming content via YouTube, but to control and interface to products will require a home network: a group of devices – such as computers, game systems, printers, and mobile devices – that connect to the internet and each other.
There are various off-the-shelf solutions you can choose that will extend the Wi-Fi capabilities throughout your home, but again, the router will still become an inevitable point of weakness. Enlisting the expertise of a professional home tech installer is wise, as they can advise you on the best approach. Doing so will ensure connectivity throughout the home that can cope with a typical family with high usage, along with the ability to include critical systems like smart lighting and smart heating, so you can watch your latest boxset while controlling your living room lighting.
Don't: confuse smart devices with smart systems
If you are looking to build a new home, or improving an existing one, installing a wired infrastructure will provide far greater long term flexibility and breadth of possibilities.
Adding smart devices over the top of existing wiring is a great solution when you can't rewire, but it can limit what you can achieve: particularly at a house wide level. That being said, if you engage a professional smart home installer they will be able to help you get the most from whichever system is being installed.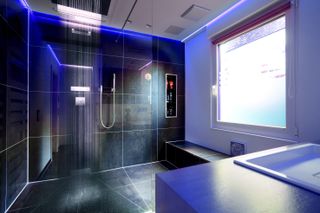 Do: use your smart assistant to improve its performance
Most smart home devices, particularly those based around voice interfaces, improve the more you use them and the more systems that you have connected. Checking the weather is certainly useful, but being able to dim the lights, shut the blinds and play your favourite album with one simple command is far more helpful. A lot of systems now have a degree of computer learning so the technology becomes tuned to your lifestyle and habits, the more you use them, the better they get.
Find out more about using smart assistants in our expert guide.
Don't: give in to scaremongering about security
The majority of systems from well-known brands are inherently secure, and the manufacturers do everything possible to protect you and your data. Voice devices may always be listening, but they are not always recording. This feature only comes in to effect when a key word is said, at this point the voice application will make a secure connection to the cloud and process your command.
Do: change the default passwords
'Security is a two-way street,' advise the experts at Ivory Egg. 'So make sure to do your part by using strong passwords on devices and changing them regularly. Also, make sure you don't alter the settings in your router that open your home to the outside world; if you are not sure, seek expert advice.'
Do: consider smart home technology as an investment
When approached the right way, technology can be used to not only make your life easier, but also make your home more comfortable, secure, efficient and healthier. This leads to a better and more enjoyable home which is the type of investment that over time, will really pay dividends for you, your lifestyle and your entire family.
Read more: