Ever heard of a Japanese floor mattress? Nope? I hadn't either. This mattress and bed frame alternative is proving to be better and more convenient for most than the traditional sleep set-up. Rentals are getting smaller, budgets are tighter, and moving more frequently is becoming pretty popular. So there's no surprise investing in a brand new bed is fairly uncommon.
But if you're moving into an unfurnished place or simply can't sleep on the old mattress your mom bought you way back when, you're going to need a new bed and you luckily have a new option. Japanese floor mattresses are space-saving, cheaper, and just as comfy. But what are they? And do you need one? After doing my research, I can confirm there's more to it than being just a mattress on the floor.
To help you understand, I've uncovered everything you need to know about Japanese floor mattresses below, and picked out the best ones to buy.
What is a Japanese floor mattress?
Also called Japanese futons, these mattress alternatives are flat, thin pads designed so you can sleep directly on the floor. Often quilted and stuffed with cotton, polyfiber, or foam, they're basically a less-bulky version of your memory foam mattress. They're typically placed on top of a tatami mat for added comfort and support. Although lots of people in Japan do have box spring beds, futons are still super popular, especially in studios or small apartments as they can be folded and stored away when not in use. They're also a much more affordable alternative, usually costing less than $300.
Beyond being a space- and money-saving solution, they also have some great sleep benefits. Known for being particularly good for back sleepers, Japanese floor mattresses can help with spinal alignment and sore joints.
My fave Japanese floor mattresses
Think this sleep switch might just be for you? Me too. These are my fave Japanese floor mattresses worth getting.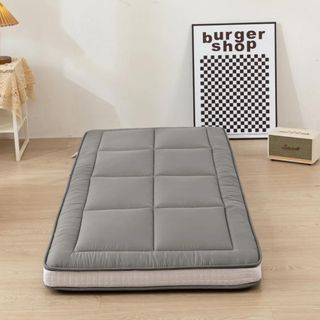 From $109
Maxyoyo Japanese Floor Mattress
Just as comfy as a mattress in a box
Sizes: Twin, full, queen, king, cot
Material: Memory foam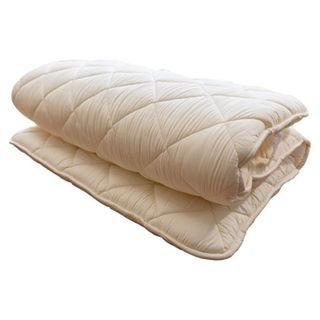 From $178
Fuli Japanese Floor Mattress
Foldable and space-saving — ideal if you're in a studio
Sizes: Twin, twin XL, full, full XL, queen, king
Material: 100% polyester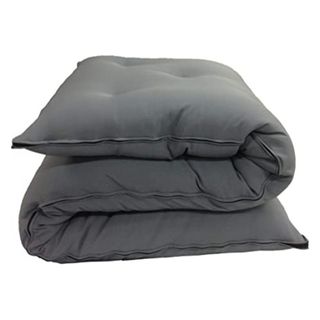 From $97
D&D Futon Japanese Floor Mattress
Doubles up as a cozy futon for when friends come to stay
Sizes: Twin, full, queen, king
Material: Cotton/foam/polyester fiber