If you live in a period property you're probably aware of the pitfalls of sash windows. As beautiful as they may look, it can be tempting to replace sash windows that are difficult to open or stuck fast, draughty, with rattling panes of glass, or frames that are beginning to rot, but often such problems can be resolved with simple repairs.
You can do lot of sash window maintenance yourself but just make sure you feel confident in your skills and have the right equipment for the job. If not, get in touch with a sash window specialist, or find a skilled carpenter.
When a sash window shows signs of rot, the damage will most likely be to the most vulnerable parts, typically the horizontal elements, such as the bottom rail, or the meeting rail. The 'boxes' (the frame in which the sashes slide) are often intact and can be left in situ while other components are repaired, although the sill can also be vulnerable.
Damaged sections of timber windows can either be replaced (including the whole sash in some instances), or repaired by cutting out the section of damaged timber to at least 5cm beyond the furthest point of decay and then treating the remainder and splicing in a new piece of matching seasoned timber. This is followed by sanding, filling and repainting.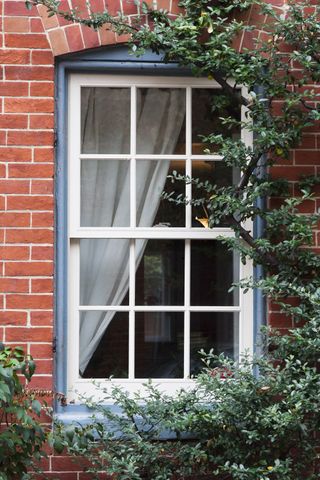 Draught and noise problems can be significantly reduced by fitting the sashes with new seals and replacing the parting beads (a vertical strip on each jamb between the sashes), which will also ensure smoother operation. The cost of draught-proofing will generally be recouped within five to 10 years.
If external noise is a problem, or when superior energy efficiency is required, it is possible to add new double-glazed replacement sashes into the original box frames, or secondary glazing can be added internally. Very thin double-glazed units are available from Thindow, Slimlite and Slenderpane. Alternatively, for a more cost effective option, you could install secondary glazing yourself.
Looking for more window inspiration?