Want to learn how to make scrambled eggs? A super simple option for today's lunch – but also weekend brunches and easy weekday dinners, too. The upside of scrambled eggs? They're healthy, hearty and filling which is great news if you're serious about watching what you eat.
And the best thing about scrambled eggs is how versatile they are. Enjoy them on their own, or with a side of smoked salmon and avocado for a great source of healthy fats. We love them with a serving of roasted tomatoes, too. We talk you through the steps below.
For all our egg recipes, go to our dedicated page. For more super simple recipes and healthy, hearty recipe ideas head over to our food hub page.
How to make scrambled eggs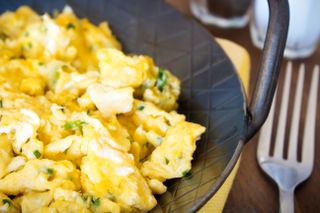 Want to know how to make scrambled egg? A staple for breakfast, brunch and lunch, scrambled egg is not only a quick, easy and affordable, it's also pretty tasty and will provide the perfect fuel for the rest of the day. Master the recipe using our simple, step-by-step instructions below. You will need:
Eggs – 2 to 3 medium eggs per person
Milk (optional)
Butter
Salt and pepper, for seasoning
Extra toppings for serving – we love the idea of smoked salmon, avocado or roasted mushrooms
Method:
1. Begin by cracking your eggs into a large bowl. We'd recommend 2 to 3 eggs per person as an average.
2. Take a whisk and begin beating your eggs until they form a smooth, yellow consistency.
3. If you like your eggs super smooth and creamy, add a dash of milk at this stage. If not, leave it out.
4. Season your egg mixture using salt and plenty of pepper.
5. Place a frying pan on the hob, and begin melting a small knob of butter.
6. Once melted, add in your egg mixture and turn down the hob to a low heat.
7. Take a spatula and begin working your eggs, ensuring that nothing sticks to the bottom of the pan. If you're serving scrambled eggs with toast, this is the time to start toasting.
8. Once most of the liquid mixture has become soft, but solid, remove your eggs from the heat. You don't want to risk overcooking them, so stop before the mixture begins to look dry.
9. Serve your scrambled egg
How to make Jamie Oliver's 'special' scrambled eggs
Jamie Oliver's special scrambled eggs are on his IGTV. We're sharing the tips we found particularly useful, plus a few of our own, below.
1. Jamie makes both a type of onion jam and an onion pickle to accompany his scrambled eggs. Don't fret, these are quick and easy to do. Jamie grates an onion then sets a little aside but fries the rest, adding some garam masala, to caramelise it. The remaining onion? He adds a tablespoon or two of vinegar and a little salt and mixes. We liked these both so much, we've repeated them to serve with burgers at barbecues and, when the rain came, when we were cooking indoors.
2. One of the other extras that makes this scrambled egg recipe special? A fresh tomato sauce. You don't have to use fresh tomatoes, Jamie says, but we can heartily recommend it because, once again, it's quick and easy. Jamie grates a fresh tomato, then pushes the onion in the pan to one side and adds it to cook off the moisture. He repeats the process with another couple of tomatoes. Next, he turns up the heat, mixes tomatoes and onions together, and reduces the mixture. The shortcut? You could use tinned tomatoes rather than fresh, but we thought fresh delivered a superior taste.
3. This brunch is heartier than scrambled eggs alone, as Jamie adds brioche buns to the dish. To prepare them, he pushes the tomato sauce to one side in the pan and toasts the buns. Once they're beautifully brown he spreads them with the homemade tomato sauce, but he leaves a little bit of tomato sauce in the pan. Jamie then adds fresh coriander leaves and puts the top back on each bun, cuts them in half and sets them on the plate.
4. Now's the moment to scramble the eggs. Jamie breaks them into a dish and then beats them with a fork. He then adds them to the pan he used for the onion jam and the tomato sauce without turning the heat back on because there's enough residual heat left, he explains. We have to confess to adding some butter to the hot pan before we put in the eggs just to make them more velvety. You'll remember that Jamie left a little bit of tomato sauce in the pan? This gets mixed in with the scrambled egg. Lovely.
5. Jamie plates the scrambled eggs alongside the buns and the onion pickle. The finishing touch? A sprinkling of garam masala on top of the scrambled egg. Brunch with spice? We're fans.
Martha Stewart's secret to scrambled eggs
'People add water, they add milk, or they add cream to their scrambled eggs, but if you're cooking in a pan [and] you have really good eggs, you don't need anything in the eggs,' Stewart has shared on her YouTube channel.
Instead? All you need a good-sized pat of butter in the pan, plus some coarse salt and a little pepper. If you're feeling inventive, top it off with a pinch of dill and parsley, like Martha shared in a recent Instagram post. (Also, we're only referring to scrambled eggs as 'scrams' from now on.)
Ingredients:
3 large eggs
1 tablespoon unsalted butter
Coarse salt and freshly ground pepper
Method:
1. Beat the eggs together with a fork.
2. Melt the butter in a nonstick pan, using low heat.
3. Add the eggs, using a spatula to pull them continuously to the center of the pan, for one and a half to two minutes or until the eggs are set.
4. Season with salt and pepper.
Scrambled eggs, Martha style! Watch the video below for a glimpse at Martha's spatula technique, then humbly accept all the compliments on your breakfast game.
How to make scrambled eggs like Delia Smith
When we heard that Delia Smith uses one method, and one method only, to prepare her eggs, we were pretty intrigued. After all, Delia is known for her shortcuts in the kitchen (remember all that controversy over frozen foods a few years ago) and we figured if there was a way to make cooking scrambled eggs even easier, we wanted to know about it.
Discover the recipe below, which Delia claims to have learnt from famous French chef August Escoffier. Here's what she recommends doing.
1. Begin by beating your eggs in a bowl with plenty of salt and pepper for seasoning.
2. At the same time, add a good knob of butter to a frying pan and wait for it to melt and bubble before adding the egg to the pan.
3. The key, according to Delia Smith, is not to have the heat on too high as this can lead to the eggs becoming 'flaky and dry.'
4. Once the eggs are in the pan, stir constantly, ensuring that no egg gets stuck to the bottom of the pan. Delia Smith instructs us too be patient and continue letting the egg scramble slowly, removing once three quarters of the mixture has cooked completely. Yes, there will be some runny egg left in the pan, but according to Delia this is nothing to worry about as the eggs will continue looking.
5. From there, Delia Smith suggests adding a little more butter to the pan, along with some cream or crème fraîche if you're feeling extra indulgent. Serve immediately for the best results.
Take a look at the full recipe from Delia Smith.
How to make scrambled egg like Gino D'Acampo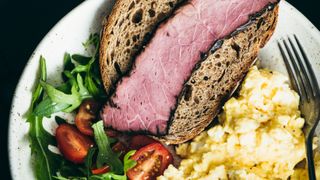 As you might expect, Gino D'Acampo serves his scrambled egg with a special ingredient that gives it a tasty twist. Any guesses as to what it is? No? How does pastrami sound to you? We think pretty delicious. Here's everything you need to know:
1. Gino D'Acampo begins by melting a small amount of butter with a glug of olive oil in a frying pan set over a medium heat. From there he adds pastrami – you could sub in bacon, prosciutto, or even salmon if you'd prefer – frying until cooked through.
2. Once satisfied, Gino D'Acampo then adds 30ml of milk and one beaten egg per person to the pan, along with a generous helping of black pepper.
3. He continues to gently cook the eggs, stirring constantly until a thick, glossy consistency is achieved.
4. Finally, Gino D'Acampo serves his eggs onto a warm plate.
Take a look at Gino D'Acampo's original recipe
Gordon Ramsay's tips on making scrambled eggs
What's the number one lesson from the celebrated chef that you should bear in mind? 'The most important thing about any scrambled egg is stopping it from overcooking,' says Gordon.
Scrambled egg recipes generally instruct you to whisk the eggs first, but the Gordon Ramsay method doesn't – instead you should break them down in the pan (which we'll come to). And neither should you season the eggs at this stage. 'If you put the salt in now what actually happens, it breaks down the eggs and it starts turning them into something very watery,' he explains.
Gordon cracks the eggs straight into a saucepan before it goes anywhere near the heat. He then adds a big knob of butter. The reason? 'It starts giving a really nice velvety finish to scrambled egg,' he says. Only now should you put the pan on the heat.
Make sure you use a high heat for the recipe, whisking the eggs in the pan, and stirring continuously. 'Treat it like a risotto, you can't stop stirring,' he says. Don't keep the eggs on the heat the whole time, though. Gordon recommends taking the pan off the heat, then going back to the heat three or four times – all while stirring.
Once the scrambled egg is off the heat for the last time, it's still in danger of overcooking because of the heat of the pan. Gordon's solution is to add half a tablespoon of crème fraîche. 'It brings down the temperature of the eggs,' he explains.
Now, finally, you can add salt and pepper, and Gordon adds chives, too. All done: creamy, delicious and perfectly cooked scrambled eggs.
Pesto scrambled egg with avocado and spinach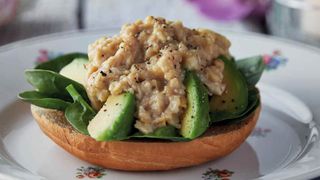 Special thanks to Aldi for sharing this recipe with us
Ingredients:
1 ripe avocado
1 lemon
4 large eggs
20ml single cream
1tsp Specially Selected pesto
25g Greenvale salted butter, plus extra for spreading
2 Village Bakery bagels
24g fresh spinach leaves
Salt and black pepper
Method:
1. Halve the avocado lengthways, and take out the stone. Scoop out the flesh in one piece, and slice into thick pieces. Squeeze the juice from the lemon on to the slices to stop them discolouring.
2. Add the eggs, cream and pesto to a bowl. Season with salt and pepper and whisk the mixture together.
3. Add the butter to a small saucepan and melt over a low heat. Add the egg mixture and cook, stirring gently, until set but still soft.
4. Slice the bagels in half and toast, then butter each half lightly.
5. Top the bagel halves with the spinach leaves, then add avocado slices to each. Put the scrambled egg mixture on top and serve immediately.
How to make healthy scrambled eggs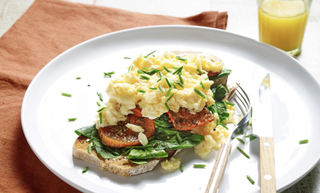 Here we show you how to make the scrambled eggs, tomatoes and spinach all piled on sourdough toast that you crave, so get out a pan and refill your mimosa.
Ingredients:
4 large tomatoes
1tbsp oil (whatever you have got in the cupboard will do)
2tsp dried oregano
Pinch of sea salt and cracked pepper
100g fresh spinach
4 slices of sourdough bread (or again, any bread you have)
80g butter
8 eggs
2tsp chives, finely chopped
Pinch of salt and pepper
Method:
1. For the oven dried tomatoes: pre-heat the oven to 140ºC/120ºC fan/gas mark 1. Slice each tomato into four slices, place on a lined baking tray and drizzle over the oil. Sprinkle over the oregano, salt and pepper. Place in the oven and bake for around 30 minutes. Remove from the oven gently turn the slices over and put back in the oven for another 30 minutes. Remove and leave to cool.
2. For the spinach: place a pan over a medium heat add three tablespoons of water, bring to a boil then add the spinach, cover the pan and boil for around 30 seconds, remove from the heat, tip the spinach into a colander to drain.
3. Toast the sourdough bread!
4. For the eggs: crack the eggs into a large bowl and whisk them gently with a fork. Place a large pan over a medium heat, add the butter and when melted and gently sizzling tip in the eggs, stir gently and then cook for a couple of minutes or until the eggs are setting. Remove the pan from the heat, stir and put back on the heat. Keep doing this until the eggs are scrambled to your liking. Season at this point with the salt and pepper.
5. Plate up! Place the sourdough toast on your plate, divide the spinach between the toast, laying it on, divide the scrambled egg between the plates placing on top of the spinach. Layer four slices of tomato per plate, on the top of the scrambled eggs, sprinkle over the chives and serve immediately.
Can you make scrambled eggs in the microwave?
Yes, you can cook scrambled eggs in a microwave. We don't think they come out as well as if they're cooked in a pan, but if you don't have access to a hob (speaking to you, students), here's how to get the best results:
1. Break your chosen number of eggs into a microwave safe mixing bowl.
2. Add a dash of milk (and we mean just a dash), season with salt and pepper and mix well together.
3. Microwave on high for half a minute.
4. Remove from the microwave, stir with a fork, put back in.
5. Microwave for another half a minute, remove, scramble with the fork.
Master more essential egg recipes