If you know how to make homemade candles, you'll always have a gift ready when you're stuck. Whether you've been to busy to pick up one of the best scented candles for a friend, or perhaps you enjoy making your own gifts? Maybe budget isn't allowing right now. Either way, a handmade candle is a lovely gift idea.
As an adult, giving and receiving gifts gets harder and harder each year, with purse strings tightening and simply not knowing what someone may want or like, I always try and go down the route of giving thoughtful, handmade gifts instead. These DIY scented candles went down an absolute treat with friends and family.
The best home fragrance always packs a punch, and these candles are eco-friendly, fully recyclable, and a great personal gift to give. What's more, they're a fab last-minute DIY too as they take just an hour to make and a week to cure. Here's everything you need to know about making them yourself.
How to make homemade candles
First off, let's talk wax. Paraffin wax is manmade and is quite a sooty burn. Ever burnt a candle and its left black residue on nearby objects, walls, ceilings, and around the candle jar? That's paraffin. It's made from petroleum.
Yep, the same stuff you put in your car's fuel tank. Paraffin burns hotter and faster, meaning they don't last as long, its fumes are actually toxic to humans and animals, with carcinogen compounds (cancer-causing agents) being thrown out into the air around you.
They're bad for the environment as they're not renewable, do not biodegrade, and increase CO2 emissions. Paraffin candles tend to be bright and colorful and take just 24-48 hours to cure.
However, these DIY scented candles are eco-friendly and totally worth the effort (probably less effort than figuring out how to make wax melts). Just follow these simple steps:
1. Prep your chosen glasses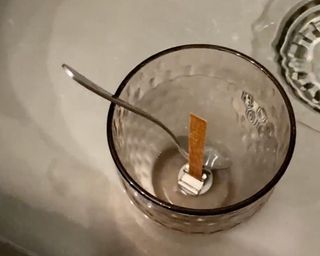 Fill your kitchen sink with water from the hot tap and place your glasses in to warm up.
This stops the hot wax from being such a shock to the cold glass and prevents it from cracking. You can also place a metal spoon in the glass while you pour as this helps dispel the heat.
2. Measure out soy wax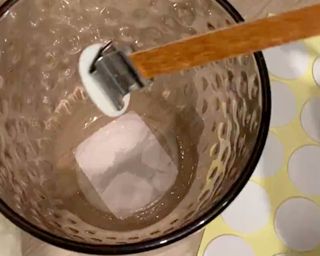 Place your crackle wicks in a clip (grab in a kit on Amazon) and on the stickers and stick to the base of each glass.
Use one of your glasses as a measuring cup and scoop out two full cups worth of soy wax you can buy in bulk on Amazon into a double burner or pyrex jug per candle you plan on making.
For fragrance oil, you want a maximum of 10% of the overall weight of the candle to be fragrance. For a more subtle scent throw, I'd recommend just 6%.
So, if you're making 6 candles that will weigh 100g, you'll need 94g of wax per candle and 6g will be fragrance. Don't add it just yet though, but make sure you know how much your wax weighs before melting it.
3. Melt the wax
The ratios are different for essential oils so be sure to do your research on how much is needed and what temperature to add it. A useful guide can be found at Supplies for Candles.
Pop the jug of wax in the microwave or put a double boiler (pick one up at Amazon) on the stove with water in the bottom pan to heat up and melt the wax, stirring with a whisk to break up the wax.
4. Combine the soy wax and fragrance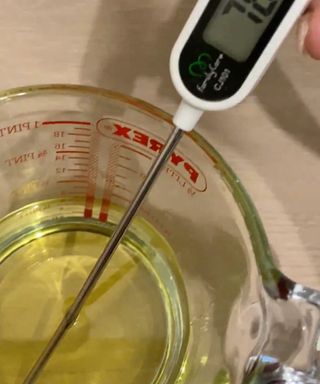 Keep heating until the wax is fully melted and has reached 80 degrees Celsius. If you're doing two different fragrances, decant evenly into pre-heated jugs and add your fragrance oil (I went for a very berry scent and one that smelled like a dupe of LUSH's Snow Fairy – divine, but if that's not for you, take a look at these oils from Candle Shack) when the oil is still above 75 degrees.
Keep stirring for 3-5 minutes as it cools so that the oils and the wax combine. If you don't stir, they could separate and leave an oily coating on the top of the candle.
5. Pour wax into glasses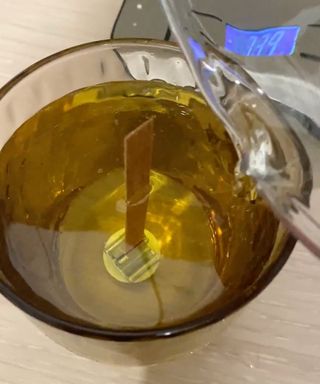 Wait until the wax has cooled to 50 degrees Celsius and remove your glasses from the sink. Ensure the insides are dry and begin pouring. Again, leave the metal spoon in there to dispel the heat.
6. Set the candles aside to cure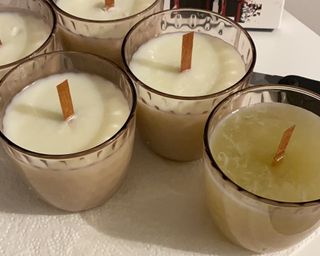 Once you've filled all your candle jars, you'll need to set them aside for 7 days to cure and the fragrance and the wax to merge and settle.
You can add decorations like dried petals (look on Amazon for reasonable prices), but make sure to remove them before lighting the candle as they are flammable and can get blown out of the jar and onto a flammable surface – we don't want that.
6. Make your candles gift-worthy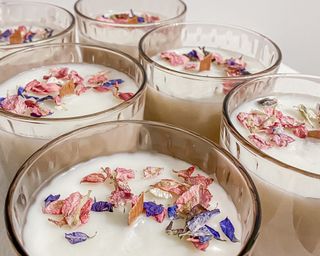 Once you're ready to gift the candles or even keep them for yourself, trim the wick a couple of millimeters from the wax and ensure that each time it is lit, the candle is left to burn right up to the edge of the glass to prevent tunneling.
Trim the wick before lighting each time and you'll have a fabulous, long-lasting, beautifully fragrant gift for all your friends and family, and are even worthy enough as great DIY Christmas gifts.
Check out Jasmine Gurney's quick how-to video on Instagram and follow her for more beginner-friendly, budget DIYs.