It's that time of year again and knowing how to make a Christmas hamper is going to come in clutch! If you're ready to put your arts and crafts hat on but are in need of a helping hand, you've come to the right place. The perfect way to treat someone special to a collection of things they love, a hamper is a brain-wave prezzie and we're all for it.
So, keep reading for a comprehensive how-to guide that covers everything you need to know from equipment to styling ideas! There are a whole load of different styles of hampers and it's all about choosing the right kind for your lucky recipient! So, have a gander of our round-up of gorj gift ideas to feature in your bedazzled basket and get creative today! A winner no matter your audience from, tots to grandparents.
Alternatively, check out our roundup of the best Christmas hampers 2020 to bag a beaut hamper without the legwork!
To create the base for your hamper you will need:
Step-by-step:
1. Pick a theme and buy a selection of goods that relate to it.
2. Fill your wicker hamper with a generous helping of shredded tissue to give your treats a bed to lie in. This will protect them, bulk out the basket and generally look fabulous!
3. Pop your items into little cellophane bags and tie them up with jute twine.
4. Wrap special items in brown paper and add a red ribbon bow, decorative cinnamon stick or berries, as a finishing touch.
5. Give your hamper a personal touch with a handwritten message or name on a cute luggage tag and tie it to the handle of your basket.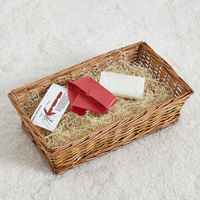 Make Your Own Hamper Natural | £6 at Dunelm
Get this piece of kit to cut the cost and gift a loved one with a personalised hamper without too much legwork. Decked out with a high-quality cellophane bag, festive ribbon and a wood wool shred, you can delicately package your hamper with care.
How to style your hamper:
1. A foodie's dream hamper
Nothing says "Merry Christmas" like a big basket of cheese and wine. We're talking a bougie picnic set up, nestled in gold tissue paper and wrapped in red ribbon. Somehow, it doesn't matter how deliciously mahoosive your Christmas dinner is, there's always room for cheese and wine afterwards… Hence why a charcuterie style hamper is a faaaaabulous prezzie. A bottle of red and some foodie treats alongside a festive box of chocolate? You can't go wrong, really.
Want to just buy a ready made hamper this year? No judgement here, just check out Selfridge's gorgeous selection.
2. A self-care hamper for mum
A hamper filled with indulgent pampering products is a winner if you ask us. This is the perfect choice for someone who deserves to spend a little more time thinking about themselves. Calling all lovely sons and daughters - this is a dreamy gift idea for your mum. We're thinking a luxury candle, a super soft throw, a diffuser, some teabags and a little skincare set.
Do check out The White Company for ready made hampers, plus loads of nice pieces to go in your DIY ones.
3. A sugar-rush hamper for the sweet-toothed
Everyone has a friend, brother, sister or cousin who just LOVES everything sugar. This hamper idea is one for them. We love the idea of stacking a hamper full of candy because not only will it taste good, but it looks good too. Choose a range of colours from festive red and white candy canes, pink candy floss and purple bars of Cadburys to packets of golden popcorn and (for the seriously sweet-toothed) toffee apples!
The lovely hamper you see above is the Family Treats Sweet Christmas Hamper from the Handmade Christmas Co.
4. The new-born baby hamper
For your friends who are expecting (or have just had) a baby, their minds are most likely occupied with all things lovely and little… A hamper is the perfect gift idea because it can even make a pack of nappies look fancy! A baby grow, nappies, a teddy bear and a blanket will fill a little hamper nicely. What's more, the basket will prove to be a handy (and trendy) storage solution moving forward, too.
You can pick this super cute baby hamper up from Amazon!
5. A truly home-made hamper
It feels like we've all got a little more creative this year (thank you, lockdown!) and so the idea of filling a hamper with home-made goods and crafty bits doesn't seem as daunting as it might have this time last year! A lovely hamper idea for a partner or parent - fill it with individually wrapped homemade Christmas biscuits, framed photographs, artwork and more!
Want your hamper to look homemade but not sure your crafting skills are up to scratch, just head over to Not on the Highstreet, they have so many lovely personalised gifts.