If you're looking for New Year's Day activities that don't involve leaving the house then you've come to just the right place. Lockdown life has got us pretty accustomed to thinking outside the box (but inside the home) and so we're seasoned activity planners at this point.
So, keep scrolling for a whole load of ideas from tie-dying and jigsaw puzzles to talent shows and table tennis competitions – there'll be no shortage of fun despite potentially not being able to leave the house...
Oh and for the best kid's activities for New Year's Day we have you covered too.
1. Kick-off 2021 with a big brunch
Why not start the New Year with a bang? We've all spent 2020 perfecting our baking and cooking skills and now it's time to show them off! After the antics of New Years Eve (albeit indoors with your immediate family), we'll all be in the mood for a generous helping of brunch. Get all your favorite breakfast goodies in for a good old fry up, stack of American pancakes or whatever tickles your fancy! All we know for sure is that coffee will be on the cards.
Find loads of brunch ideas in our gallery too.
2. A relaxing stay at home spa day
If there's one thing we all want, it's to leave 2020 behind us. We're looking forward to a year of fewer worries and more relaxation. So, why not start the year as you mean to go on? Indulge with an at-home spa day. All you need is a beautifully scented candle, a bubble bath, a bath bomb and a general pampering kit! We're ready to combat that maskne with face packs (opens in new tab) and every skincare deal we can get our hands-on. Oh, and speaking of hands, it's about time we treated ourselves to some velvety luxury handcream (opens in new tab) to combat the anti-bac dryness. A genuine self-care day is the perfect way to kick off the New Year, if you ask us.
3. A movie marathon
Chuck your favorite films on, kick back and relax. Create your very own home cinema with an overhead movie projector or keep it low-key, snuggled up in bed with your laptop... we're not judging! Why not deck your room out with fairy lights (just keep them up from Christmas), lots of blankets and get some novelty cinema bits and bobs to make your living room feel like a real movie theatre. We love the idea of warm, homemade popcorn served in authentic red and white boxes.
If you want our viewing recommendations, check out the best New Year's films (according to us).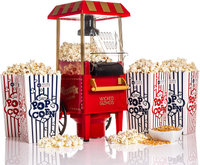 (opens in new tab)
WICKED GIZMOS 1200w Carnival Popcorn Maker | £29.95 at Amazon (opens in new tab)
Grab this popcorn maker from Amazon Prime for under £30! It comes with six serving boxes and can make gorgeous homemade popcorn in just three minutes... dreamy! Oh, and it's oil-free and easy to clean.
4. The Great Family Bake Off
There's no denying the fact that we became baking aficionados in 2020 so why not put your newfound skills and killer banana breads to the test in a family bake off?! This is a fun idea for all the family, encouraging some healthy competition and some not so healthy treats at the end of it all! Get into teams or just group together as a family with dedicated stations. Put the little ones on the decorating station and watch the creative mess flow!
5. It's game day!
Dust off Trivial Pursuit and put your thinking caps on, or strap on your Headbanz and get ready for a raucous game of shouting "Am I a loaf of bread?!" Whatever your game of choice, spending January 1st with your family and away from your phones is a winner, in our books. We love games that are adults vs. kids such as Beat the Parents (opens in new tab).
6. A table tennis tournament
The year of the lockdown has inspired us to think up ways to keep active without leaving the house and investing in a Table Tennis Table (opens in new tab) is just the ticket. However, if that's not on the cards at the moment then a Retractable Ping Pong Net for Portable use on any Table (opens in new tab) will do the job!
7. Create a collage of photo memories
This is a timeless idea that we need to get into the habit of doing to round off every year. Putting together a collage of photos from the year before is a brilliant way to spend your New Years Day. Taking a trip down memory lane will fill your day with laughter and love... A nostalgic activity that requires a touch of creativity, a cork board (opens in new tab)and some push pins (opens in new tab). Alternatively, put together a Scrapbooking Photo Album (opens in new tab) to document some memories as a personal token or gift.
8. Pimp your wardrobe with a tie dye kit
Whatever your age, you'll have loads of fun with this Tie Dye Kit (opens in new tab) and it'll last beyond New Years Day! The kit includes loads of vibrant permanent, long-lasting colours, helping you to create your own totally unique item of clothing. Super simple to use, just add water and it comes with a step-by-step guide as well as nine bottles, nine dye powders, 60 rubber bands, ten gloves, a reusable surface cover and a funnel. A creative hobby, a long-lasting gift and the perfect way to revamp a tired wardrobe while having fun.
If you don't have time to get hold of a kit just check out our guide to how to tie dye.
9. Solve a giant jigsaw puzzle
A huge 1000 piece jigsaw puzzle is a sure way to jazz up another lockdown day and start your new year with a bit of brainpower. Everyone can get involved and dip in and out as they please. Basically, it's just an excuse to all get together in one room and make memories. The perfect centrepiece to replace the abundance of Yorkshire puddings that graced your table but a week ago. There are soooo many fun jigsaws to choose from online from this animal world jigsaw puzzle (opens in new tab) to a beautiful Aegean Sea jigsaw puzzle (opens in new tab) to make up for the grey skies outside our windows.
10. Take on the new year with a talent show
Everyone has their party trick and now is the time to show them off! Whether it's dad's jokes or your sister's killer karaoke act, a talent show will give everyone the opportunity to showcase what they've got. If you've got a PS4, it's well worth the investment to buy Singstar Celebrations (opens in new tab) which has a tracklist of over 30 songs and has features that allow you to link it to an app on your phone, making your phone the microphone!