What is Friendsmas, you'll ask? Quite simply, it's a Christmas celebration party exclusively for your friends. Why might you want to have one? Well, for one, most of us will want to be with our families on Christmas day, so hosting a separate celebration for friends makes sense. Or, for those who live away from home, Friendsmas might be what you do on Christmas day instead of heading back to see relatives.
At the same time, hosting a Friendsmas party at home rather than booking a restaurant can save you a lot of money and hassle (anyone who's tried booking for a party of twenty in December will know what we're talking about).
This doesn't necessarily mean having a pyjama party – although by all means do that if you like. A Friendsmas at home can still be very glamorous and an opportunity to dress up. Check out our ideas for a smart and elegant Friendsmas.
1. Modernise the Christmas table
Think about decorating your table for the Friendsmas party as a chance to be a bit mischievous and less traditional than if you're decorating the table for family. For example, do away with the standard white table linens and go for colourful napkins and funky plates. Classic wine glasses can give way to Art Deco champagne saucers. For a finishing touch, decorate the table with a string of colourful fairy lights, like the adorable LED Vine Lights in purple from John Lewis & Partners shown below.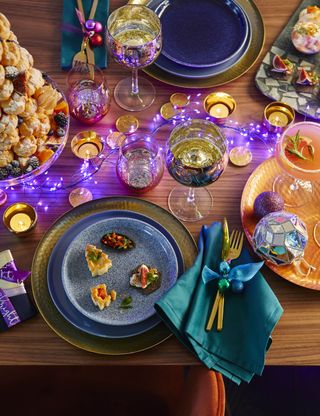 2. Have fun with novelty Christmas tree decorations
While Christmas with family is all about getting out the boxes full of heirloom Christmas decorations passed down generations, when hosting a Friendsmas party, you can take decorating the tree a bit less seriously, introducing elements of humour with novelty decorations. We bet you'll get a chuckle or two for choosing fun decorations like this Christmas Disco Hits Cassette Tape.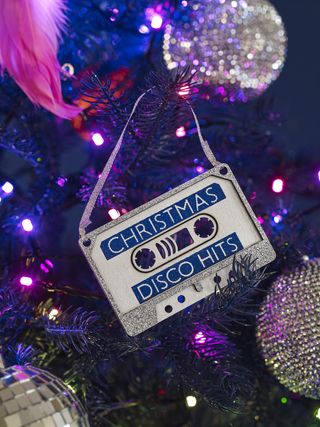 3. Introduce a party vibe with neon lighting
Neon lights are an easy and chic way to introduce a party vibe into your home while still keeping things elegant. Neon lights have a very attractive, soft glow that will complement most interiors and will help get everyone into a party mood. The Party Neon Star is especially good, because you'll be able to use it again come New Year's Eve.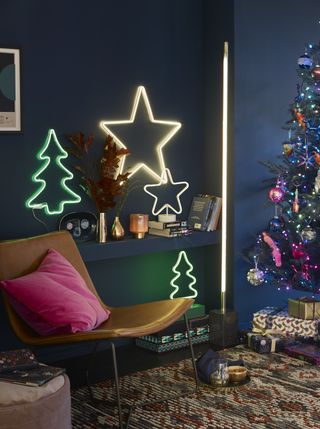 4. Smooth the transition into the living room with a bar cart
No Friendsmas party will be complete without a bar cart – they make transitioning out of the dining room and into the living room so easy, helping to avoid stiff backs from sitting around the dinner table for too long. There's less chance of drinks being spilt with them, too, because people can simply put their glasses back onto the cart, rather than on the floor.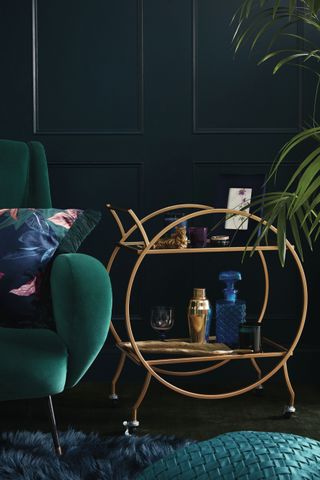 5. Zone your space by decorating multiple areas
To give people more space – and more of a chance to mingle – it's a good idea to decorate more than just the Christmas tree. By scattering colourful fairy lights, balloons and garlands, you'll be signalling to your friends that they can congregate in different areas of the living room. The more the merrier is our motto for Friendsmas.