Wondering whether smart kitchen appliances are worth the hype? The kitchen, so they say, is the heart of the home, so it's hardly surprising that smart home manufacturers have jumped on our kitchen's appliances, stuffing them to the brim with tech aimed at making our lives easier.
But does this extra functionality actually do anything to make things simpler, or is it just adding extra features for the sake of jazzing up a spec list?
The slightly annoying answer is, it really depends on what appliance it is, and how much you'll use it as to whether a new smarter kitchen is really going to benefit you, or just cost you more unnecessarily.
Thankfully, we've done all the investigating so you don't have to, so keep reading to find out if you should be investing in a smart kitchen right now, or if it's something to keep in mind for the future.
If you're looking for more advice, information and opinions when it comes to all things smart home, head over to The Hub, our technology home page. Looking for something specific? Jump to the smart appliance that interests you most:
What do smart kitchen appliances do?
Why you can trust Real Homes Our expert reviewers spend hours testing and comparing products and services so you can choose the best for you. Find out more about how we test.
Of course, what exactly they do is very much down to the individual appliance, but what they share is the ability to connect to the internet, and sometimes Bluetooth too. That means you can control or monitor them from your smartphone – even when outside of the house.
Some appliances are throwing in this connected functionality for no obvious price increase, while others are in the earlier stages, meaning it's going to cost you extra for the privilege. It's in situations like this that you'll need to ask how much use you'll get out of the added features and if it's worth future-proofing your home now.
We've taken a look at each smart category in turn to see whether they're worth the investment.
Smart ovens
Unfortunately, while smart ovens might make dinner time a little more straightforward, they still can't prepare the meal for you. So you'll still have to wash, chop, parboil and dish up. However, there are a few little shortcuts your smart oven can help you with all the same. Here, we run through the main smart features:
Control your oven from your phone
Most smart ovens will offer the ability to be switched on or off from afar. This might be particularly handy when you're on your way home from work or the shops, and you want to preheat the oven ahead of time for less waiting around when you're back.
Similarly, if you've nipped out with the oven on and got held up, you can check in on the cooking process from your phone, and adjust any settings or timers remotely. You can even get notifications to let you know when your timer is complete, in case you're somewhere you can't hear the beep, or get a nudge that the oven's connected meat probe reckons your joint is cooked to perfection.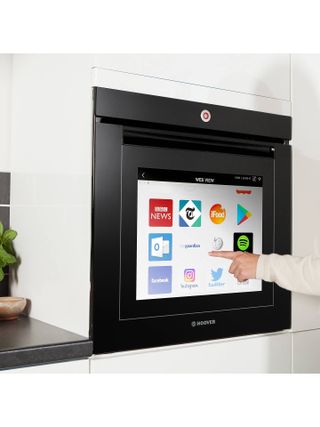 Voice control
Some smart ovens, like the Whirlpool W11 OM1 4MS2, include Amazon Alexa and/or Google Assistant for voice control, though this isn't quite as prevalent just yet as you'll find in some other appliances.
Customised pre-heat
One feature you'll find mentioned a lot is the ability to send a recipe to the oven and have it preheat to the exact temperature that dish needs. It's a nice idea, but a feature we see being forgotten in the long run – it's just a slightly fancier way to preheat the oven.
Cost?
For the most part, smart features are only included in the pricier ovens right now, so expect to pay £1000+ for an oven with a bit of techy know-how. Ovens at this price point tend to come with more advanced cooking features and functionality as well, so are good for larger families with more demands on an oven's capabilities.
Want to find out more? Read our guide What is a smart oven and do I need one? for lots more details, plus the best smart ovens on the market.
Smart washing machines
Of all the smart kitchen appliances, smart washing machines are the ones that seem, well, just a little bit pointless. Still, we'll take you through the main smart features so you can judge for yourself:
Control your wash from your phone
Sure, you'll be able to control a wash from your phone, so you can switch it on or pause it without being there, plus get a notification when it's finished, but considering you have to load the thing in the first place, there are only a handful of times when that might be considered useful.
Still, manufacturers are adding it to their washers by the bucketload, including companies like Samsung, LG, Bosch, Hoover and Whirlpool, so it's actually hard to miss when in the market for a new washer.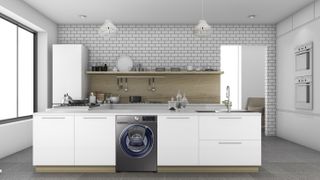 Cost?
The good news is, there doesn't appear to be much, if any, uplift in price for machines including smart know-how. If anything, we found that some smart machines were actually cheaper.
When buying a washing machine, it remains the more traditional features that should lead your shopping decision – things like number of programmes, drum size and spin speeds – but if you can get smart stuff thrown in alongside it, then why not?
Discover more in our handy guide: What is a smart washing machine and do I need one? We tell you the best smart washing machine models, too.
Smart dishwashers
No one likes to be stuck with the washing up, especially after a party. In that respect, dishwasher are already a timesaver from the cleaning gods, but could some smart functionality add a bit of something extra?
Dishwashers with smart tech built in tend to be saved for the top end of the market, where there are lots of bells and whistles in their feature list anyway – things like better filters, more powerful water jets and more flexible washing space.
Control your dishwasher from your phone
As you'll notice is becoming a theme with smart kitchen appliances, you can control a smart dishwasher with your phone from outside the home – start it, stop it and check in on its status. Some will even let you set a time that you want it complete by and start it to suit.
If you regularly get to tea time and realise you'd forgotten to press 'go' on the dishwasher, it could be a handy feature. If you can remember to set it of course…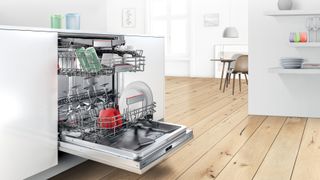 Voice control
Arguably more helpful is voice control, which smart dishwashers like the Hoover Axi HDPN 4S622PA have built in (Google Assistant and Alexa). This means you can tell your dishwasher to get going using just your voice, which can be handy just as you shoot out the door with your hands full. Not a necessity by any means, but a nice-to-have? Sure.
Shopping reminders
Other features to look out for include the ability to send notifications to your phone when you're low on rinse aid or detergent, sensors that can detect how much you have loaded and how dirty it is to select a programme accordingly, and the ability to monitor your dishwasher's energy usage from your phone.
While some of these features are tempting, they don't cause offer huge benefits and are certainly things you could live without. But, if you're a big busy family that needs a pricier dishwasher for the better core functionality, you may well find you get at least some of these features thrown in as part of the deal.
Smart fridges
As one of the appliances in your kitchen that is always on, a smart fridge has a few different features than other smart appliances you might own.
Connectivity
Connectivity is still a biggie though, and a fridge like the Samsung Family Hub features a large LCD screen on the front of its door, which acts like a family noticeboard. Here you can access family calendars, which sync with family phones, leave messages and reminders for others to see, or use it as a big tablet computer for looking up recipes, video calling or playing a video on YouTube. In some cases, Alexa or Google Assistant can even help you do this hands free.
In-fridge camera for shopping reminders
One of the more advanced features is some built-in fridges is a camera, which will enable you to peek in on your fridge when you're at the supermarket, to see what you're missing for the family meal. Plus, remember to tell your fridge the use by dates of food when you load it in, and the fridge can give you reminders when things are set to go off, helping you to plan dinner times and shopping lists accordingly.
Door sensors
Sensors are another top feature in a smart fridge, letting you know with a notification to your phone if a door has been left open, for example, or even opening a door for you when it notices someone is stood in front of it. Both aren't exactly must-haves, especially since door alarms are a feature in a lot of standard fridges these days.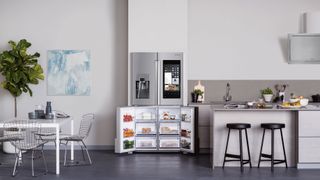 Cost?
Because of their slightly more involved feature set, there still aren't lots and lots of smart fridges out there just yet, and the ones that are out there are pretty pricey to say the least.
Samsung's Family Hub has to be one of the most established smart fridges at the moment and depending on where you're shopping for it, you'll probably need to part with the best part of £3,000 to add it to your kitchen.
That's about £500 more than a similarly sized non-smart fridge from Samsung, so it's worth thinking how much you need that added pizzazz before you part with the cash.
If you always shop with well-prepped list, meal plan like a pro and are happy with using a tablet or smart phone for all of the other extra features a smart fridge currently offers, then we'd recommend saving your dosh, until the benefits of a smart fridge become absolute must-haves, rather than nice-to-haves.
Read more in our guide: what is a smart fridge and do I need one? We also bring you the best smart fridges on the market.
Smart coffee machines
Smart kettles
If you're more of a tea fan, smart kettles are on the up as well, with devices like the Appkettle. You'll get a slightly chunkier base than your standard kettle, but it can be controlled using the accompanying smartphone app or has Alexa and IFTTT compatibility too for voice control.
As well as being able to switch it on from the comfort of your sofa, it also offers specific temperature controls for different teas, and a keep warm functionality for squeezing in another tea before you need to reboil. The Appkettle is pricey at £130.
Getting up to a freshly brewed cup of coffee is one of life's great joys, but can you trust technology with something so sacred? Here's the lowdown on what smart coffee machines can offer you:
Control from your phone
As you might guess, smart coffee machines can be controlled from your phone, and either programmed via an app for when you wake up, or on those days where the alarm is off, available to be switched on from afar whenever you wake up.
This is what gives them an inch over regular timer coffee machines – they can account for those unscheduled lie ins.
Voice control ++
One of the most advanced is the SMARTER Bean-to-Cup Smart Coffee Machine (below), which offers more features still, like knowing when you've stepped in the front door, and starting the machine as you do, or offering Alexa, Google Assistant and IFTTT (If This Then That) smart home functionality, for controlling the machine with your voice.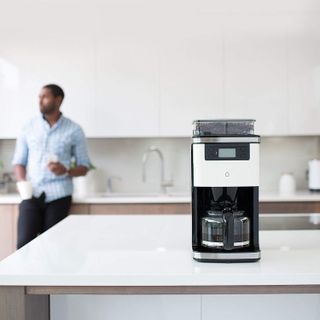 Adaptability with a smart plug
Already got an old coffee machine you love? An easy option is to invest in an Amazon Smart Plug for £25 – as long as your machine has a physical switch rather than an electronic one, you can have it switched on and ready to go, then control the power to the plug with your phone or your voice.
Both smart coffee machines and kettles undoubtedly come at a premium – the SMARTER bean-to-cup coffee machine will set you back £180 – but we can see the appeal here if you've got some budget to spend, and are as impatient as us when it comes to a cuppa.
Smart kitchen accessories
So that's the major appliances covered, but smart tech is also invading some of our more general kitchen accessories too.
The majority of these devices work a little differently to the bigger appliances, in that most of them connect to your phone using Bluetooth, rather than via Wi-Fi.
This means that you won't be able to control them when you're out of the house, but they're still smarter than your average appliance.
Smart meat probe
For example, the Meater+ is a wireless meat probe that can be placed into any meat you are cooking, and it will pair with your smartphone to help you cook it to perfection, keeping you in the loop while it's cooking and sending you a notification when it's ready to take out of the oven. No more dry or overcooked meat again!
Smart blender
The Nutribullet Balance Blender (below) is another device with a handy companion app. It features in-built sensors that will weigh the ingredients as you add them, and then calculate the nutritional value of your smoothie in the Balance app, so you know how many calories your smoothie contains. You can then start the blender from the app, and it'll stop when it's at the perfect consistency.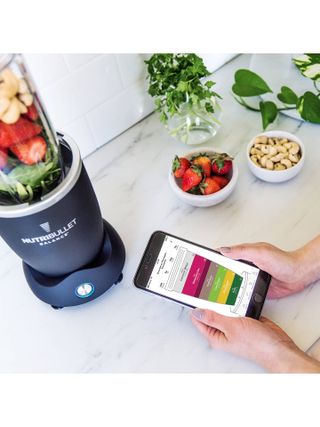 Smart scales
The Drop Scales work in a similar fashion, pairing with your smartphone to know what recipe you're planning from the app's one-bowl recipe book, and then helping you weigh out the perfect amount of ingredients without needing to check back.
It will also help you to build a shopping list, suggest substitutions if you're short on anything and can send cooking details to your devices too – it currently works with Bosch, GE and Kenwood connected ovens.
Smart microwave
While it's not available in the UK just yet, Amazon has turned its hand to kitchen appliances, and the AmazonBasic Microwave works with Alexa to take voice commands on cooking times and popular presets. As Alexa isn't actually baked into the device, you will need an Amazon Echo or similar for this to work, but once set up, it should work seamlessly.
Smart slow cooker
Finally, the Crock-Pot Smart Slow Cooker with WeMo is one of the smart kitchen accessories that does connect to your Wi-Fi, and is part of the WeMo family of smart bulbs and switches from Belkin. It's also a US-only device for the moment, but it allows you to keep an eye on your slow-cooking dinner while still at your desk, and adjust the temperature or the cook time, change it to warm rather than cook and turn it off entirely via the app.
So, do I really need smart kitchen appliances?
If you've had a read through this feature and not been intrigued by any of the functionality we've mentioned, the answer is probably no. As you'll have seen – most of the features we've mentioned are far from core to an appliance's usability, and you may well find it better focus on the core functionality first, and seeing if smart features come along as standard at that level – you may well find they do.
If you're investing in a new appliance and are worried about future-proofing it with smart technology, it is unlikely that smart functionality it is going to be a must-have in an appliance any time soon. So if you're okay with more face-to-face time with your appliances, and remembering to press physical switches rather than controlling them through your phone, you should be okay to put it out of the equation.
If, however, you have a decent budget, like to be at the forefront of technology and are building a smart home setup elsewhere in your home, a few key smart appliances may well be useful additions in your kitchen.
All we need now is the Rosie the robot maid from the Jetsons to become a reality and we'll be set…
Looking for more smart home tech advice?