If you need to know how much it will cost to replace a roof, you'll be feeling a little daunted by the potential expense. A roof replacement is a major renovation project and is something most homeowners would rather put off until roof repairs will no longer be enough.
If you've already considered repairing a roof and were told that it needs to be replaced, have no fear: a roof replacement won't necessarily be unaffordable and will ultimately be better for your home.
How much does it cost to replace a roof in the UK?
As Gian-Carlo Grossi, Managing Director at Roofing Megastore, tells us, 'there are quite a few factors that go into calculating the cost of a new roof. Everything from materials to surface area, the removal of old or damaged tiles and even scaffolding.'
'That being said, the average is around £5500. With flat roofs coming in lower than gable and hip roofs at an average cost of around £50 per meter squared, compared to £120 for Gables and anywhere between £90 and £160 for Hip roofs.'
The type of roof is not the only consideration. Grossi advises thinking about 'the longevity of your chosen covering. Synthetic Tiles or Slates for example, whilst potentially more expensive initially, can make for a far more worthwhile investment down the line with some lifespans reaching up to 40 years, all whilst being resistant to breakages.'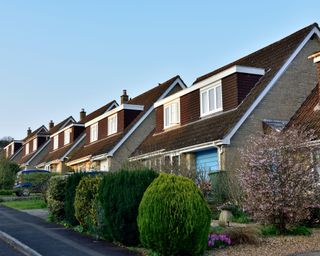 How much will it cost to reroof a house?
Again, there's quite a wide price variation dictated by several different factors. Geoffrey Lawrence of GJL Roofing & Building Maintenance, Manchester, says that 'a new roof for a standard 3-bedroom house will usually cost anywhere between £8,000 and £18,000, depending on the roof media.' These prices 'generally include a full roof covering from scratch and the approximate cost of old roof removal and replacement.'
If you want to drill a little deeper into roof replacement costs for a more precise estimate, Grossi advises factoring in the following:
The cost of the materials – the cheapest material if you have a pitched roof is bitumen sheets (around £500 per 100 sqm), while roofing felt is the cheapest option for flat roofs (£130 per 100 sqm). The most expensive material is slate, which will set you back nearly £4,000 per 100 sqm.
The type of roof: a pitched roof is always more expensive to replace than a flat roof;
Cost of skip hire – around £200
Cost of scaffolding – around £900
Labour costs – will vary by area
Extra work, e.g. guttering and/or insulation
Overall, you should be looking at anywhere from £3000 (the absolute minimum) and up to £18,000. If you want a detailed breakdown of the cost of all the different roofing materials available, there is a very handy cost table at Roofing Megastore.
The basic rule of thumb is that plastic materials are the cheapest, metal is somewhere in the middle, and real stone shingle is the most expensive. To understand the true value for money when choosing your replacement roof material, you need to research its longevity as well as the cost per square metre. While it's true that roofing felt is very cheap to install, it will only last around 15 years. By comparison, an expertly installed slate or fibre cement roof will last 70 years.
PVC has the worst longevity of only around 10 years, so avoid this material if you can as it will cost you more having to replace your roof every decade in the long run. Ultimately, how long a roof lasts always should be factored into your new roof budget.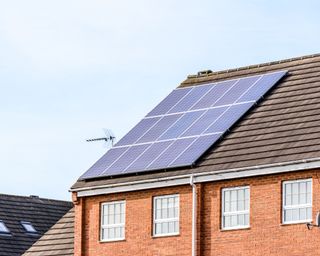 How much does a roofer cost?
'Again, the exact cost can vary based on a lot of different factors including your location, the type of job and any additional equipment that the roofer might need', says Grossi. 'However, a good basis to work from would be around £120 - £250 a day.'
Getting the cheapest roofer isn't necessarily wise. Grossi advises that it is 'important is to check your roofer's experience and qualifications to ensure quality work, limit the risk of damages and prevent costly repair work in the future.' Ideally, your roofer should have 'a BBA certification with a certificate from the British Board of Agreement.'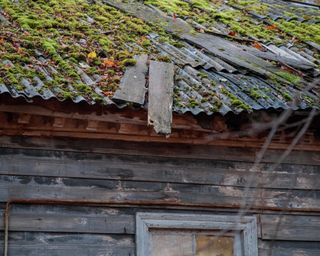 How do you know it's time to replace your roof?
Understandably, you may be reluctant to take the plunge into a full roof replacement. After all, many common roof problems, including leaks, can be resolved with a repair, which in some cases is even achievable on a DIY basis.
But, there does come a time when repairs will no longer fix the issues with your roof, and when the cost of a new roof will actually be less than the cost of all the repairs needed. Watch out for the following tell-tale signs that a roof needs to be replaced:
You keep finding granules orbits in your gutters – this is a sign that the roof is crumbling
The roof is sagging or otherwise looks misshapen
Multiple shingles are missing and more keep falling off
The roof is letting through water and/or light in multiple places
The roof is thoroughly covered in moss and/or algae
Don't be afraid to call out a professional roofer – they will give you an honest opinion on what needs doing. If it can be fixed they'll fix it; if not, you really need to replace your roof sooner rather than later, before you get flooded.