Real talk: I love the idea of hiking to a stunning view on vacation, but the shape my sneakers come back in afterward? Not so much.
As a certified vanilla girl, you'd best believe every pair of sneakers I own are a combination of white, beige, or pastel. They're all adorable, but they get dirty real quick. I want to enjoy trips and at-home walks and workouts to the fullest, without worrying about ruining my pricey pairs of Nike and Adidas, which is where learning how to wash sneakers comes in handy.
If you're like me and want to keep your sneakers looking crisp and clean but don't have hours to spend on hand-washing, this is your sign to find out: can you wash sneakers in the washing machine?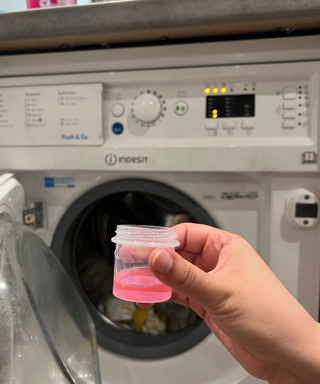 Can you wash sneakers in the washing machine?
The short answer? Most likely. TBH, a majority of materials are actually washing-machine safe, with the exception of leather and suede. With that being said, designers and manufacturers advise against putting your sneakers in the machine on your next laundry day with all your other items. Any warranty you have on your shoes will most likely be voided by doing this.
If you're not sure what exactly your sneakers are made of or they're designed using multiple materials (like a suede swoosh or logo), it's best to play it safe and hand-wash.
If you've checked everything and are ready to get your shoes in the washing machine, there are some steps you can take before and while machine-washing your shoes to protect both your sneakers and your washing machine.
Clean off any loose mud, dirt, and small rocks lodged into the soles by hand first. Pop your sneakers in a laundry bag (these ones from Amazon are perfect) or pillowcase, and opt for a mild detergent and run your shoes on a delicate or gentle setting at a cold temperature with an oxi stain remover (The Pink Stuff has one and you can buy it at The Home Depot) or a cup of baking soda — we always use Arm & Hammer, which you can pick up from Amazon — if you need an extra boost for stains or odors.
Can your shoes go in the dryer?
Cleaning your sneakers in the washing machine can be a great shortcut, but the dryer is a big no-no.
Most sneakers are constructed with an adhesive, which is why it's crucial to run them at a cooler temperature when they're in the washing machine. The hot air in a dryer will almost definitely melt away the glue holding your fave pair of shoes together, which is the last thing you want.
Instead of sending your shoes tumbling, lay them out to air-dry. Unless you're cleaning up white shoes, it's best to do this in an area out of direct sunlight, as the sun can have a bleaching effect that will leave more colorful shoes looking washed out.
I speak from personal experience when I say this: Give your sneakers at least 12 hours to dry to avoid walking out with squishy soles.
My shoe washing essentials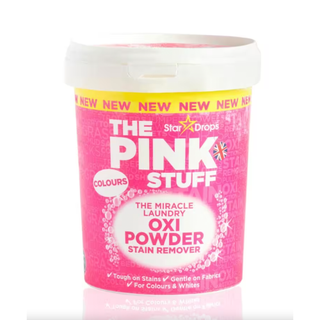 $14.97
The Pink Stuff Oxi Stain Remover
Sprinkle a capful of this oxi stain remover powder when you run your sneakers through the washing machine for a little extra love when it comes to combatting muddy stains on the fabric or any sweaty odors. I also love to use the powder dissolved in warm water to spot-treat problem areas before washing and while hand-washing my shoes that need it.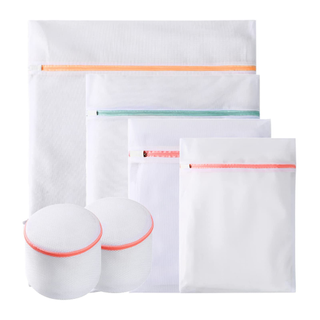 $11.99
Set of 6 Mesh Laundry Bags
While a pillowcase totally works for machine washing your sneakers, a zip-up mesh laundry bag is a better option by far. If you've been considering washing your shoes, knitwear, and lingerie more carefully, this set of six mesh bags is a great choice (and your laundry will thank you for it!)
$29.27
Method Ginger Mango Laundry Detergent
I swear by anything from non-toxic cleaning brand Method, and its gentle laundry detergents are no exception. I love bright and uplifting scents, like this ginger and mango option, and find that the smell is super long-lasting. Place half a capful of this in with your sneakers for the freshest feel ever.