It's probably just as well Isobel and Jeremy Thomson-Cook didn't realise how challenging their kitchen project – part of a whole house renovation – would be. If they had, they might have chosen an easier alternative – and that would've been a compromise too far. The couple knew they wanted to stay in East Dulwich, where they'd been living, but needed a bigger house and garden. Having looked at properties both pre and post renovation, nothing quite suited until they viewed this Victorian mid-terrace. Despite the fact it lacked the very thing Isobel was after – a spacious kitchen area for entertaining – she saw the huge potential it offered. She explains how they created their colourful space.
If you are looking to extend a house and create your dream kitchen, we have lots of advice and ideas on how to do it
Profile
The owners Isobel Thomson-Cook, a behavioural research consultant, and her husband, Jeremy, a chief economist, plus rescue kittens, Bennie and Jet
The property A five-bedroom, mid-terraced house in East Dulwich, dating from around 1890
Project cost £145,090
'The original kitchen was cramped and dark with strip lights on the ceiling, very little storage and only room for one person,' says Isobel. 'We wanted a bright open-plan space where we could entertain and be simultaneously cooking and relaxing. Somewhere we could use day and night, and something that worked for us now and in the future. We achieved this by extending into the back garden and the side return. Rooflights flood the space with light and the back wall has been replaced with floor-to-ceiling bi-folds. Now we have a multifunctional kitchen, dining and relaxing space that has become the heart of our home – it's where we spend most of our time.'
'We wanted an architect based locally and open to a more collaborative process, so we could incorporate our ideas. Our architect introduced us to our builders and handled the planning side. Jeremy was on site each day and took on much of the project management, but there were many late night and pre-work visits to the house, hours spent on the laptop planning and placing orders and lots of frantic phone calls during the day. My parents live close by so we stayed there throughout the renovations, which started in early July 2019. We finally moved in on Christmas Eve!'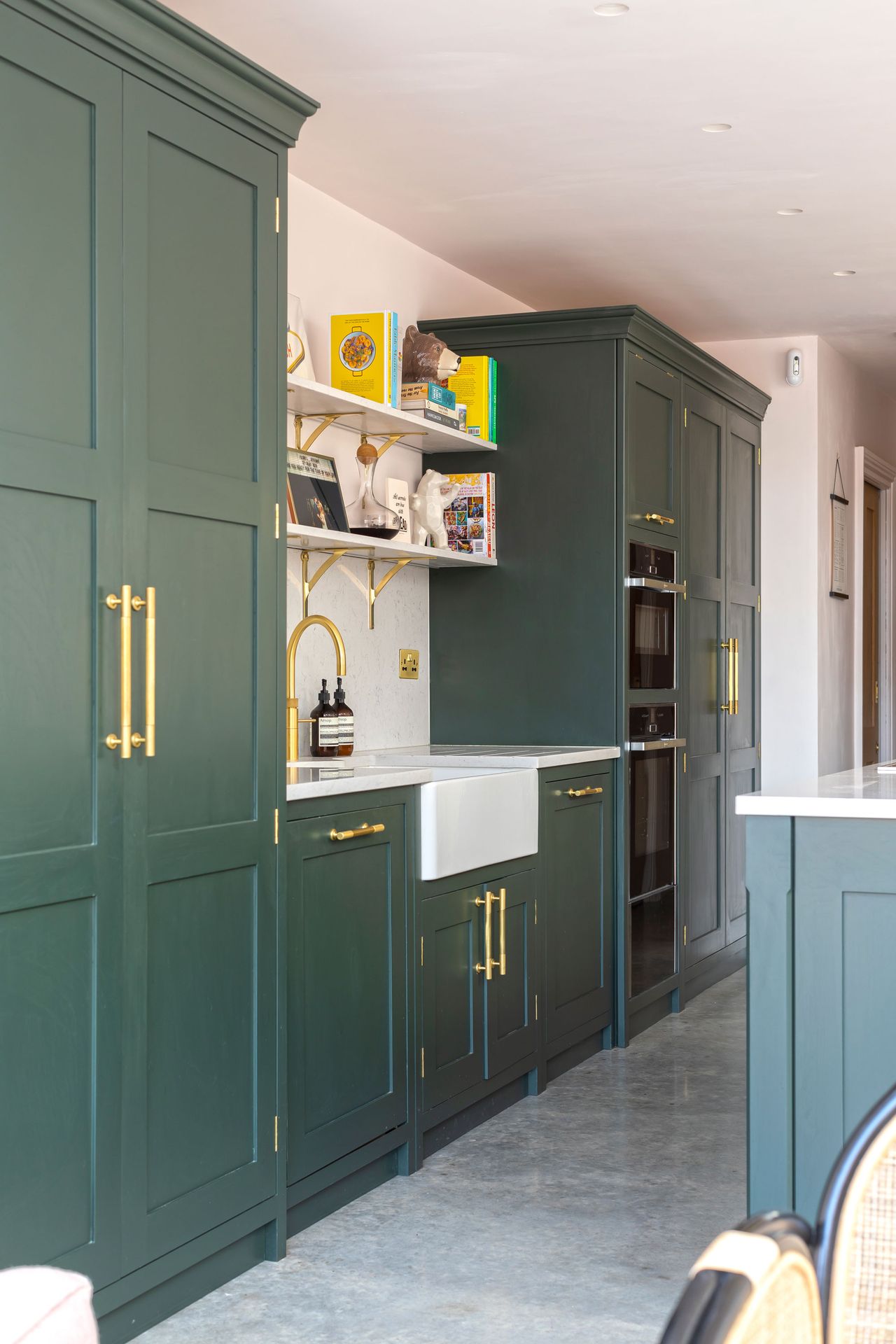 'Our ethos throughout was to do things well once, rather than doing them on the cheap and having to re-do them. We focused on key elements, such as reinstating the windows from uPVC to wooden sashes. We did compromise on increasing their size as it would've meant more steels, and thus expense.
'The British weather was challenging. Our polished concrete floor had to be poured before we had the bi-folds and the glass roof in place. The builders put up tarp but it rained constantly for days, causing it to fail and water to deluge onto our freshly poured concrete floor. Cue stressful hours with a phone torch trying to mop up the mess while not making it worse.'
'Budget was a major issue. We had an original budget with a contingency, but we had to allocate that and more within the build's first couple of weeks. This was due to a combination of things discovered in the demolition phase that hadn't been anticipated and the top floor being ripped out. This wasn't scheduled to happen until much later but had costing implications on a lot of the kitchen work, adding up to a very expensive unanticipated cost. We took on the decorating ourselves to free up money elsewhere. We also realised that our kitchen budget wouldn't allow for us to do any work on the top floor or in the garden, so introduced a phased plan for the renovations.'
'I wanted the kitchen to be in keeping with the Victorian house we bought, but with a healthy dash of colour and personality and all the mod cons a modern family needs – hence the Shaker-style doors in a fabulous period green, set against the glazed display dresser picked out in bright yellow, which complements the contemporary yellow stools at the island and the poured concrete floor underfoot. We've worked hard to get here but it's been a labour of love. Now we just relish being able to finally enjoy it – knowing we've created a kitchen that truly reflects who we really are!'
More reading