With a garden that constantly seems to be full of weeds, I was happy to give the Worx 20V MAX Cordless GT3 Grass Trimmer (also known as the WG163E) a go. I have not used a strimmer in my own garden as it is very long, and my parent's corded model doesn't reach where it is really needed. I'm not a fan of petrol power tools, so was keen to test the power of cordless against Britain's weediest garden.
The best lawn mower can take care of the lawn, but when it comes to edges borders and blasting weeds, you need a strimmer. Previously, I have used a combo of pulling, secateurs and just swiping at weeds with a rake to tidy the borders and grass around trees. It is messy, ineffective and wrecks your rake – so I already knew a grass trimmer was what I needed for a tidier garden.
See how I got on with the Worx 20V Cordless Grass Trimmer this summer, and read more about how it compares to other cordless strimmers below.
Worx 20V MAX Cordless GT3 Grass Trimmer specifications
Power type: battery (one 20V Li-ion rechargeable battery
Battery length: 30–40 minutes
Charging time: 2–3 hours (manual overestimates and says five)
2-in1: trimming and edging
Cutting width: 30cm
Weight: 3.5kg
Size: 94.5 x 15.2 x 19.8 cm
Who will the Worx 20V MAX Cordless GT3 Grass Trimmer suit?
Anyone looking for an affordable buy that offers more versatility than your average strimmer. If you have plenty of borders and edges to tidy then this will speed up the task of keeping your garden looking its best – especially if you have a long garden like mine with power access issues.
Set up and first impressions
When I took the strimmer out of the box, it immediately felt sturdy, durable and of good quality. The battery was part-charged, so I set it up in the provided charger for a couple of hours until it was full. The strimmer itsself arrives partially constructed – all you need to do is fit the guard and wheels at the base. This was easier said than done as while it was easy to attach both parts, it took me a while to work out which way up everything needed to go. It isn't that clear from the image-only instructions (which have no annotations) but I used my intuition, then backed it up with a quick search online and got it built in about 20 minutes.
With the strimmer built and the battery charged, I was ready to go. I just had to adjust the height of the pole with the clip in the middle.
How easy is it to use?
After the setup blip, the grass trimmer was really easy to use. The strimmer has a lock that you press first, then a trigger on the handle to start it. With the trigger depressed it is just a case of sweeping the strimmer over the patch of weeds. The cut is neat and you can adjust the handle to suit your hold which made it very comfortable to operate. It did a top job of clearing heavy patches of weeds and neatening the bits of lawn I can't tackle with my mower, such as right by the fences.
When you want to switch from trim to edging, you can pivot the head. I took the battery out before doing this, to be extra sure I didn't accidentally mangle my foot, but the lock button should prevent mishaps. One thing I did struggle with initially was repositioning the head. The instructions suggest pushing on it with your foot as you tilt the handle. This took a bit of force the first few times and I was worried about breaking it, but once I got a feel for the position it was fine to adjust with a wellied foot.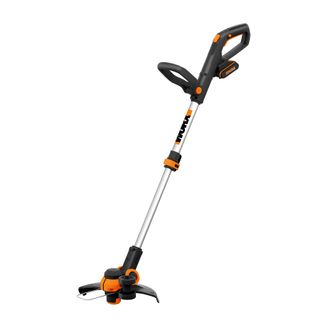 The edging position is a bit harder to do than standard strimming, but the wheel makes it much easier to get used to. It also stabilises the weight of the grass trimmer which is not significant, but having a wheel definitely leads to a neater and more controlled chop. I used this on the edges of my lawn and it left a beautifully crisp line.
My only complaint in use is that it is quite loud. The instructions say to wear ear protection, but my concern was that it would annoy the neighbours. Sure enough, after 10 minutes of constant use I did hear a neighbour ask her dog 'What is that noise?' so I would be mindful of using it near the house for too long. Further down the garden I was less worried and soon got used to the noise. It isn't noticeably worse than other strimmers I have used before, but having used a Worx cordless mower which was very quiet, I expected the same.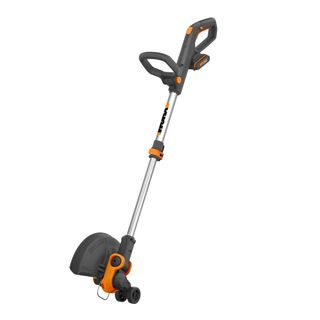 What features does the Worx GT3 Cordless Grass Trimmer have?
As mentioned, the grass trimmer head can be titled through 90º. Due to this Worx sometimes describe this strimmer as three-in-one, listing trim, edge and mow as the three positions. Suggesting it can be used as a mower is a bit of a stretch, though the trimmer is great for neatening up small patches missed by a mower. It can also be tilted from upright to flat so you can get right under hedges and bushes without causing damage. The flower guard will protect what you don't to cut (including yourself) and helps guide the strimmer in edging position.
A great feature on this grass trimmer is the Command Feed button that will auto feed more cutting wire when needed. As with all strimmers, the wire does break in use so this is perfect for extending it without having to break off. There is a blade that will trim the wire to size too so you don't have to do anything but press the button. On that note, I have not had to change the full spool of wire yet, but it looks easy to do.
How does the Worx 20V MAX Cordless GT3 Grass Trimmer rate online?
This grass trimmer rates really well on gardening sites and with customers on retailer reviews. I am not the only one who struggled with switching the head from edge to trim, but all agreed the 90º pivot of the head is a great function. People also loved the wheels which bear the weight well in edging mode and thought the handles offer better stability in use.
How does it compare to other cordless strimmers
Price-wise it sits in the middle, with strimmers from DeWalt and STIHL costing more than twice the price, but budget options around half. Many pricier models offer slightly longer battery life and some – like the STIHL FSA 85 – promise to be quieter meaning no need for ear protection... and less chance of annoying the neighbours. However, the Worx 20V MAX Cordless GT3 Grass Trimmer offers a greater range of movement than a lot of more expensive models we found. This makes the pivoting head a big draw and is a must if you have lots of hedges to get under, or want picture-perfect lawn edges.
Note that you can get it for less if you choose the one battery option, but we would recommend getting the double battery pack unless you already have other Worx products and batteries. That way you will easily be able to strim a whole garden with no interruptions.
The verdict?
We would definitely recommend buying the Worx 20V MAX Cordless GT3 Grass Trimmer as it is versatile and allows you to do plenty of garden tidying jobs really quickly. The battery life is good and made better by the fact you can take up the Worx PowerShare system for more batteries and plenty of complementary tools.
Just be mindful of the noise over prolonged periods of use and be aware that you might need to turn to help online to make sense of parts of the instructions. Once you get going though, it is easy to use and does everything you need.
It is really comfortable to hold and carry and I can see it being well-suited to those with back or mobility problems. Finally, the handle is telescopic so combined with the tilting head you can make it take up little space in storage.
More garden maintenance buys: