The Worx 40V Cordless Lawn Mower is the upgraded, more powerful model from this well-known tool brand. Now with 40V of power and the choice to specify higher amp hour batteries, you can get at least 35 minutes of uninterrupted lawn mowing joy (as many as 55 minutes with 4.0Ah batteries) – because let's agree one of the worst things about mowing the lawn is the constant panic of cutting through the wire.
If you have been looking for a new mower, and have toyed with the idea of going cordless, then you will certainly want to pay attention. I was sent the Worx 40V cordless (also known as the Worx WG779E.2) to review earlier this summer and have tested it for a couple of months in my garden to see how it compares to the best lawn mowers around.
With a long and narrow garden to contend with, cordless is well suited to my plot, so I was keen to see if it could exceed expectations and be a good replacement for my corded model. Find out if we thought it made the cut.
Worx 40V Cordless Lawn Mower specifications
Power type: battery (uses two 20V rechargeable 2.0Ah or 4.0Ah Li-ion batteries)
Battery length: 30–35 mins for 2.0Ah/ 40–55 mins for 4.0Ah
Charge time: 120 mins for the 2.0Ah battery (up to 4 hours for the 4.0Ah batteries)
Cutting width: 34cm
Cutting height: 2–7cm (with cutting grades in 1cm increments)
Size: 72 x 42 x 33.5 cm
Weight: 11kg
Grass collection box: 30L
Lawn size: 280–350m2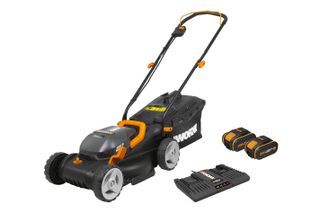 Who will the Worx 40V Cordless Lawn Mower suit?
While the mower positions itself as being for small to medium gardens, with an impressive battery length it could be a great replacement for larger plots where corded access is a nightmare. Where petrol may have reined supreme in these spaces, cordless models like the Worx WG779E mean you can get great results no matter how far you are from a powerpoint and we much prefer battery powered to smelly (and polluting) petrol.
It still has lots to offer for small gardens too, being compact to carry and store and most of all, it is incredibly affordable at half the price of many well known cordless lawn mowers.
Set up and first impressions
On opening the box you are presented with a stylish black and orange lawn mower that matches the rest of the Worx range (and their batteries). To set up, you simply have to put the batteries on charge in the supplied dual-battery charger (which takes roughly four hours for the 4.0Ah pair of batteries) and attach the handle to the mower. This is very easy to do, and requires no tools as the handle fixes with easy-turn bolts.
The instructions weren't really needed which was good as I would say these were the only drawback of the product. I get it – picture led instructions are the way most companies are going now, as they are more accessible and save printing several language variants. But I really could have benefitted from some annotations in places. There is a labelled diagram at the start however which helped me check all the parts and know what each was for.
With the batteries fully charged you are nearly ready to go. Just slot them in and attach the grass box to the back of the mower – easy. You then insert the safety key by the switch. This is a great feature that makes it a bit trickier for children to start the mower and means added protection from it starting while you are checking for blockages (although the instructions advise removing the batteries before ANY maintenance).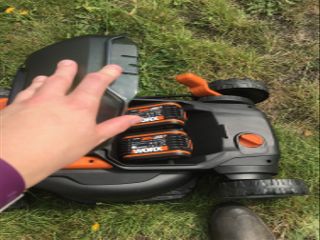 How easy is it to use the Worx 40V Cordless Lawn Mower?
The buttons to start the mower are clearly marked to show what order to press them in. First is the safety key, then the easy grip bar switch that is the length of the handle. The handle itself is soft to touch and can be adjusted to the height of the gardener.
Then, as expected, you push and walk to mow. A steady pace is best for even and neat mowing and there is a roller to leave those stripes we all love. My lawn is a bit bumpy so I didn't get the perfect lines you might on a level space, but there was evidence of them in places. The 34cm wide unit is a popular sizing for mowers as it is wide enough to cover a medium space quickly, but also narrow enough for smaller areas.
It is easy to manoeuvre with medium-sized wheels that offer a good point to turn on. And as the mower is not too heavy, most users will find it easy to push and transport from where it is stored. This is aided by a compact body and a sturdy handle on the middle of the unit for carrying.
Corded vs cordless mower
Until fairly recently, your best option for a cordless mower was petrol and these are still favoured by many people who want to be able to mow in places where a power point is not available. However, petrol is not the best for the environment and depends on you having a supply ready to go. Cordless electric models were very expensive when they first came out, but with loads of options in the sub £250 price bracket, the market is far more competitive, the tech better and the battery life longer. For the best experience look for models with batteries that can be used in multiple tools and a long enough battery to cover your plot.
You can easily change the cutting height from two centimetres up to seven centimetres, using a handle by the front wheels. My lawn was a little overgrown before the first use, so to avoid battling with long grass, I set the mower to it's highest length to trim it ahead of trying a lower grade. This was unnecessary based on use since – the mower makes light work of even dense couch grass and weeds that have been left to run wild.
One issue I did have on first use was grass collection. The 30 litre bag is ample for a medium plot and has a flap which remains down in use to show when the bag is full. This stayed down throughout my first mow and when I went to empty, it turned out the grass had not been going in. On closer inspection, there is a plastic safety insert behind the blade that is seemingly designed to neatly guide the grass into the bag and prevent you from putting your hand through to the cutting zone, but this seemed to be preventing collection. The troubleshooting notes in the instructions did mention this and that it could be removed, and since then I have had no problems. While the mower does not mention being suitable for mulching on the UK model I tested, it had neatly dispersed the grass it had not collected back onto the lawn. It was not noticeable enough to rake away, so I left it to mulch. The US version does come with a mulching plug for those who want to use one.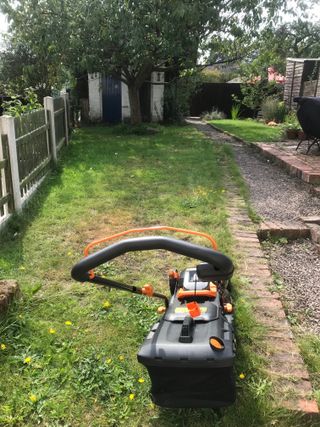 Cutting results
Having switched to this from a corded model, I am very impressed with the power. I tested the mower on both Turbo and Eco mode. Turbo does lead to a slightly easier cut, but the Eco mode is very capable of making a quick job of a messy lawn – and it extends the battery length too. My lawn is only about 40m2 but I have managed four mows using a combination of Turbo and Eco and there is still a third of a battery left (if the indicator is to be trusted). It also features Intellicut to optimise the cut and create even results when switching from long to short grass or denser patches.
The cut-to-edge function works well and guides the grass into the reach of the blade. My lawn goes right up to the edge of the fence which can be tricky to cut to and it did a good job, leaving just a few longer stragglers that I can get with the strimmer or a pair of shears.
If you like a really short crop, this mower might not be for you. The lowest it goes is two centimetres – which is pretty standard – but I felt like to get that low on less even ground, I had to be really sure I was pushing the front of the mower down as I walked. This probably says more about my uneven lawn than the mower, but I have achieved a slightly neater cut with other models. Either way, it still certainly does the job and with ease, too.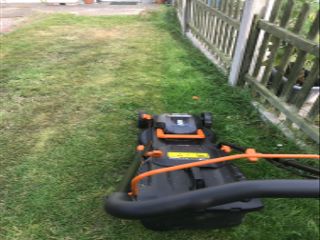 Battery power: using Worx PowerShare system
Worx have built up an impressive selection of tools that can be powered by their 20V batteries. Most tools take just one 20V battery – we are talking their strimmer, leaf blower, handheld vacuum, drills and even a pressure washer – but the mowers use two for optimum run time.
The Worx WG779E.2 comes with a dual charger and two 20V batteries. Depending on where you buy it, these batteries will be either 2.0Ah or 4.0Ah and we were supplied with the 4.0Ah battery pair. Both will result in the same power, but the 4.0Ah battery will mean you can work at high power for longer.
The 4.0Ah also weighs more than the smaller, 2.0Ah so this might affect your decision if you are looking to powershare the battery with other Worx tools. While a heavier battery is not that noticeable in a mower, you might want to use the lighter 2.0Ah in things like cordless drills. However, the 4.0Ah is comparable in size and weight to the large batteries I have used on cordless drills from multiple brands and well worth the extra expense if you want the benefit or longer cutting times (a must for larger gardens).
The chargers will also run diagnostics on the battery and this is handy if for some reason the mower stops working. You can put the battery in the charger and a green light means it is charging (flashing) or fully charged (steady). A red light indicates an issue such as the battery overheating or being defective. If defective, the charger will attempt to repair the battery and continue to charge. Failing that, the Worx tech team are happy to help troubleshoot by phone.
What features and settings does the Worx 40V Cordless Lawn Mower have?
As mentioned before, you can use Turbo or Eco modes to cut your lawn. I have used both and find the Eco mode is sufficient for regular summer cuts. I think I might need Turbo for the first cut after winter and would use it for cutting meadow-like lawns. Having not tested this mower on wet grass, I can't say how it performs, but based on the first mow (of a rather unruly lawn) I don't think it will struggle too much.
The range of heights are just right. I can't see me needing anything longer than the longest setting (7cm) and the lowest grade is what I tend to default to. Another nice feature is the grass bag indicator flap to tell you when the mower is full, although at 30 litre capacity, it has more than enough room for my small lawn. Finally, you can check the battery life whenever you like by pressing the charge indicators. As you can buy spare batteries, I would recommend investing in a couple of back-ups if you have a bigger garden, so that you never run out of juice. However, with an easy 40 minutes of cutting time from the 4.0Ah batteries, the average garden will definitely be covered, and bigger lawns won't be a stretch – especially in Eco mode.
How does the Worx 40V Cordless Lawn Mower rate online?
With glowing reviews from a number of retailers (including users on Amazon), it is no surprise that this mower has been well received – it was even been awarded a Gardener's World Best Buy.
Those who have tested it found no fault in its cutting and liked how easy it was to store. While the charge time is agreed to be quite long for the 4.0Ah batteries, the pay off is a very long battery life that is plenty for most gardens. Reviewers also agreed that it was light and represented great value for money.
Many reviews agree it should be awarded 4.5 or 5 stars.
How does it compare to other cordless mowers?
This is the first cordless mower I have used and I was warned that the tech involved often makes them quite heavy. That certainly wasn't an issue and I found it easy to move around and take out of my small, cluttered outbuilding.
It holds its own well against far pricier models including those from Kärcher, Gtech and Bosch who are well known for garden and power tools – some of which are particularly lauded for cordless tech, too. And, at the lower end of the market when it comes to price, the Worx WG779E.2 holds ratings that match far pricier competitors.
The verdict?
If you have a small to medium plot, little space to store a big swanky mower, and just want something that will do a quick and easy job every weekend, then go and buy the Worx 40V Cordless Lawnmower today. Sure, it might not leave your lawn looking like that of Wembley Stadium, but for the price it delivers a very neat cut and will keep your lawn in check all summer with little effort on your part. It is also fairly quiet so your neighbours will like it, too.
And, if you are a keen gardener or DIYer looking to extend the range of power tools in your arsenal, we highly recommend buying into the Worx PowerShare selection. They promise a good choice for all your project needs and as the prices are not prohibitive, your only limitation is space to keep them all – but as mentioned before, this model doesn't pose too many issues in the storage department either.
More garden maintenance essentials: