If you're in the market for a new BBQ but are searching for something small yet mighty, then the Weber Smokey Joe might be what you are after. We've been working hard to test a range of BBQs, from gas models to charcoal grills and even hybrid options, so how could we forget the undoubtedly handy portable BBQ? For those of us who have smaller gardens or yards, or for the people who only use their grill a handful of times a year, a portable model is a great alternative.
The Weber Smokey Joe is compact, as well as easy to use. We used it to test a huge range of food, from burgers to chicken wings and even an entire Tomahawk steak. And it's safe for us to say that everything we cooked on this BBQ tasted like perfection. It performs just as well as a regular-size BBQ, but with the convenience of taking up zero floor space. What's not to love?
I've been testing lots of portable BBQs, from practical options to design-savvy buys. Namely, I've tested Heston Blumenthal's The Cube, I'm currently testing another Weber BBQ and I have the popular BergHOFF portable BBQ on the go, too. I'll be comparing all of these BBQs once I've made my verdict, but so far the Smokey Joe is my favorite.
See our guide on the best BBQs for more reviews.
Weber Smokey Joe product specs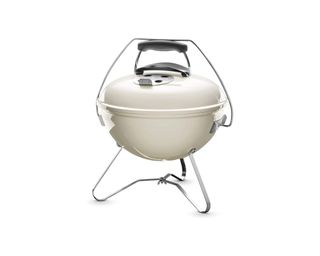 Fuel type: Charcoal
Dimensions: H43.2cm x W36.1cm x D42cm (lid on)
Cooking area dimensions: D37cm
Weight: 3.5kg
Unboxing the Weber Smokey Joe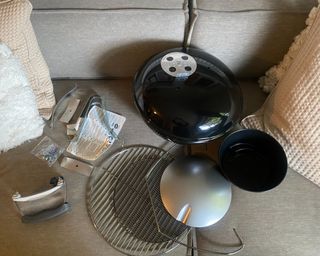 Whilst we admittedly forgot to take a photo of this BBQ in its box, it did arrive in a compact package that's easy enough for one person to carry. It's easy to put together and you only have to attach the legs and the handles. Just don't screw them on too tight or you might risk damaging it.
Parts of the grill came wrapped in plastic, but it wasn't a huge amount. The waste to dispose of wasn't a crazy amount, either. Especially in comparison to other BBQs we have tested.
Our first impressions of this BBQ were that it's quite simple to use, and also sturdy when in use. We weren't so keen on the tuck-n-carry lid at first as it didn't seem that secure. We didn't really know what to expect until we started cooking.
Ease of use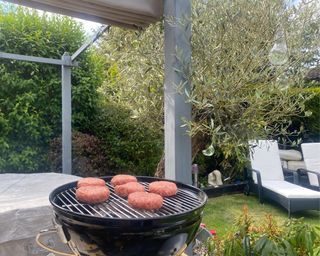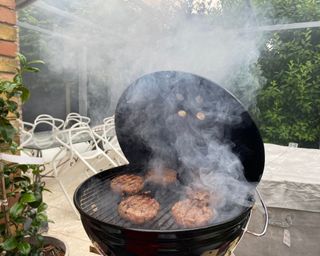 First of all: don't forget to open the side vents and the lid vents before you light your BBQ. This allows air to flow through the grill and ensures better cooking results. How long it took until it was ready to cook on changed each time we lit this BBQ, depending on the actual charcoal we used, but it was ready within roughly 15–20 minutes.
The first time you light the BBQ, it's recommended to keep it lit for at least 30 minutes before cooking anything. This is to burn off any residue from the manufacturing process.
How to know the quantity of charcoal to use? This BBQ comes with a handy charcoal cup to help you measure.
We tested this BBQ in a number of locations (as it is a portable BBQ after all), and in a number of situations. First of all, I tested it at home on my terrace, cooking for just me and my partner. We started off simple with some pork and corn on the cobs.
Then, I took this BBQ to my parents' house, as they were hosting a garden party and wanted to cook their guests burgers. We used this BBQ to cook burgers for around 20 people, in batches, and both the first and the last burger (and all burgers in between) were perfectly cooked, with compliments from guests. The third time we used this BBQ we tested it cooking a range of meats, from kebabs to lamb and also a Tomahawk steak.
Overall, our experience with this BBQ was nothing but positive. It's super convenient and fuss-free and it essentially does exactly what it says on the tin. It's the ultimate BBQ if you want something that can simply just cook your food, and well at that.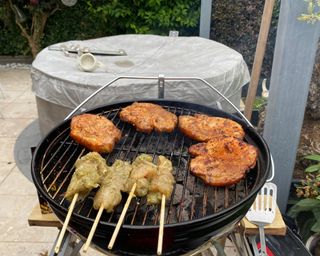 Cooking burgers and small cuts of meat
We tested this burger with several small cuts of meat, from pork to lamb, and also with chicken skewers and your average beef burger. We noticed it cooks quite fast with its lid on, as you'd expect, and its cooking area is plenty enough to fit quite a few items of food on there at one time. You could easily fit eight burgers on this grill at any time. It also has a hinged lid that you can make use of when there's a breeze, to prevent your BBQ from going out, or to keep the heat in on one side of it.
Burgers took around 15 minutes to cook, max. The lid also concealed the smoke to give these burgers a great smokey taste, and to help melt the cheese fast.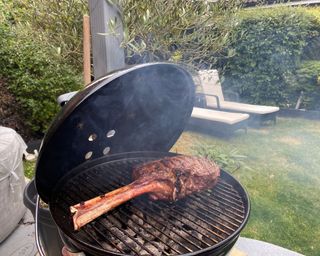 Cooking a larger joint of meat
We used this portable BBQ to cook a sizeable Tomahawk steak, to test its cooking abilities. When cooking the Tomahawk steak, we let it sit on the BBQ for around 12 minutes on either side. Then, we took it off and wrapped it in foil to allow it to cook a little more on standing. We were very impressed that a BBQ this size, and with such basic features, managed to cook this large joint so well. Not only was it cooked to perfection, but the outer layer of this joint had so much flavor. It really was impressive.
We should note that we cooked this joint after cooking smaller bits of meat, so the BBQ had slightly cooled down already. We probably wouldn't suggest putting it on the BBQ first as it might burn with the BBQ being too hot. Otherwise, you can indirectly cook a joint this size on this BBQ, by arranging the coals to sit on either side of the bbq, leaving the middle of the grill coal-less.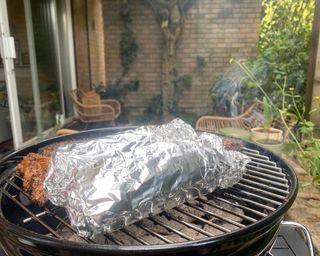 Cooking veggies and skewers
We managed to cook corn on the cobs on this BBQ whilst testing it, and also chicken skewers, too.
Both cooked well, with nothing much else to report other than they took as long as we'd imagine. We, of course, wrapped the corn on the cobs in foil. And with the skewers, we placed the sticks hanging off the side of the BBQ. You can fit quite a few skewers on this BBQ at one time, handily enough.
Cleaning the Weber Smokey Joe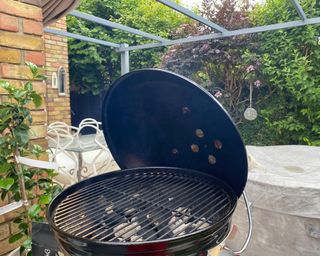 Once you've finished cooking on this BBQ, you can close all of the vents to distinguish it faster.
Since this grill is nice and portable, it's very easy to clean. It stays hot for quite a while, so you're best to leave it overnight and clean it the next day. Just remove and soak the grates, and then empty the ash and leftover charcoal. Give it a wipe-down all around, inside and out.
Since we tested the black version of this BBQ, we cannot comment on whether the other colors stain after use. But rest assured we didn't notice any cosmetic blemishes after cooking on the black version of this BBQ several times. Something to bear in mind!
Storage and maintenance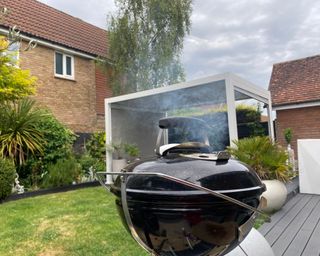 The Weber Smokey Joe is easy to store, inside or out, and since it's compact you can simply just carry it into your garage or tuck it underneath furniture outside, after cleaning.
A great feature of this BBQ is its tuck-n-carry lock lid. Essentially, the stand that you use to put the lid on a hinge whilst cooking can also be used to neatly pack this grill away. And to carry it from destination A to destination B. The only thing we will say about this feature is that as great as it is, it doesn't feel the most secure. If you've been out BBQing at the beach or at someone's house and your grill is full of ash, then you might want to put it in a bag to avoid possible spillage whilst driving. So, while it is portable, we wouldn't recommend putting it on the back of a bike or walking it somewhere as it's quite uncomfortable to hold for long amounts of time, and as previously mentioned, it's not the most secure.
If you are searching for a secure BBQ that's super portable, the Everdure Cube is brilliant but it doesn't come with a lid. Otherwise, the Weber Go Anywhere is portable, a little larger and it has a lid.
How does the Weber Smokey Joe rate online?
Simply enough (and unsurprisingly) this portable grill rates positively online. The only negative reviews claim that the enamel on their BBQs lid had cracked. This doesn't impact cooking but cosmetically, it obviously doesn't look great. We've not had this experience with our Smokey Joe. Other negative comments say it's not the most secure when the tuck-n-carry lock lid is put to use.
Reviewers on Amazon give this BBQ 4.3-stars out of 5. The majority of people love this BBQ and comment on how easy and convenient it is to use, as well as its compact size.
Customers from John Lewis & Partners rate the Weber Smokey Joe 4.6 stars out of 5. They say it's excellent quality and great value, with comments on its portability, how easy it is to clean, and its compact size.
Over at Walmart, this grill boasts a 4.7-star rating out of 5 with reviewers questioning how they ever lived without it. Lots of people commented on how it's an ideal camping BBQ.
How does it compare to similar models and its predecessors?
Weber sells two portable BBQs, this one and the Weber Go Anywhere. Luckily, we've tested both of these grills so can offer a comparison below.
The Weber Smokey Joe is your best bet if you're looking for something small, for use mostly at home and to feed around two to four people at one time. The Go Anywhere, however, neatly tucks away to travel anywhere with you (hence the name) and it offers a larger cooking space. It can be used to cook for more people with its rectangular cooking space.
These two BBQs are admittedly quite similar, but they differ in price with the Smokey Joe coming in at £99.99, and the Go Anywhere at £109.99. The Go Anywhere also comes in a gas version.
Should you buy the Weber Smokey Joe?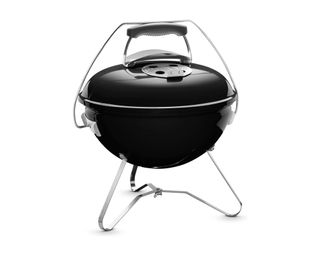 In one word: yes. We love this grill due to how versatile it is, and because it's so easy to use and store. If you're tempted to buy a BBQ but don't want something you have to wheel in and out of your garage, cover when not in use, or even if buying and storing a gas bottle for a gas BBQ is putting you off, then this is a great pick. It also takes up zero floor space, you can use it atop an outdoor table to cook your food. It's fuss-free and totally worth your money when it comes to quality.
For me, it is the perfect little BBQ. I have a small amount of outside space in my garden that's only protected by a short gate. So, this portable BBQ is ideal for bringing inside after use. We also rarely cook for more than four people, but to know that this BBQ can cope with that is great.
About this review, and the reviewer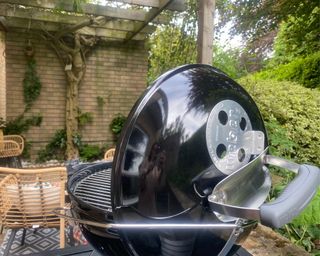 Our Deputy Ecommerce Editor, Annie Collyer, is testing a range of portable BBQs for us on her spacious South London terrace. Along with her partner, Annie has been putting these grills to the test, to cook everything from burgers to kebabs, pork, chicken, veggies, and even an entire Tomahawk.
Annie tested the Weber Smokey Joe over a few months, and she used it a total of 4 times. Once it was used just to cook for two people, but the other times it cooked for more than eight people at a time and it still managed to do a good job.
Annie has been able to keep this BBQ as a result of reviewing it, and will be using it throughout the summer to update this review again with more information.
Find out more about how we test products for reviews at Real Homes.