The Ring Spotlight Cam is a motion-detecting combination security camera and light. It's packed with features to allow you to detect, be alerted to and scare off potential intruders with a built-in siren and two-way voice functionality.
A 1080p camera offers a HD view of your driveway or garden and the accompanying app provides alerts with 30 second video clips of the incident. The sensitivity and range of motion detection, which also triggers a strong LED light, are totally customisable – making this, pound for pound, the most intuitive security camera and light on the market.
It's not cheap but given the number of less useable and less reliable cameras on the market, this level of investment in a top-range security device is money well spent.
Compare the Ring Spotlight Cam to more of the best home security systems in our specialist buying guide.
What is the Ring Spotlight Cam?
Why you can trust Real Homes Our expert reviewers spend hours testing and comparing products and services so you can choose the best for you. Find out more about how we test.
The Ring Spotlight Cam is a HD motion-detecting 140 degree wide angle camera with two-way voice, siren and light. It comes in two different colours, and two versions: wireless, which runs off a rechargeable (supplied) battery, and wired in, which can be plugged into an outdoor mains socket.
The Ring Spotlight Cam will record HD video (using IR technology for night-time recording) and alert you via the app if it detects motion. You will then have the option to view the live feed and, utilising Ring's signature two-way talk feature, confront intruders remotely (or from the safety of the panic room) or set off a 110db siren. The incident will be recorded by the camera and stored for viewing later by the app for up to 30 days.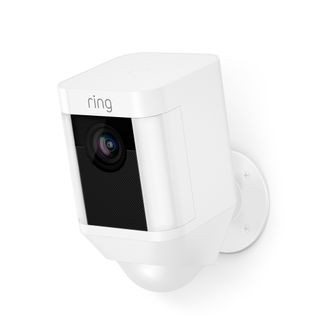 How easy is it to set up?
You'll need to put aside around 30 to 60 minutes to set up the Ring Spotlight Cam. The first step is to decide where the camera will serve you best – usually overlooking the driveway or a dark back garden. Don't forget – Ring also sell the cameras in value packs so it might be worth investing in complete garden coverage.
The wired cam actually doesn't need wiring in at all – it comes with a mains plug so can be plugged into an outdoor socket. This helps with ease of installation but we felt was a potential weakness (after all, what's stopping someone unplugging it?) so decided to get it hard wired by an electrician.
Installing the camera mount itself is straightforward. Ring even supplies its own screwdriver and bits for the purpose, and takes no more than 10 minutes to fix on an external brick wall. The camera itself then connects onto the mount. The cable connecting to the mains will need clipping to the wall.
The app itself is highly intuitive and takes around five minutes to set up – naming the camera, adjusting the motion zone, setting up notifications and so on.
How good is the Spotlight Cam App?
The Ring app gives you access to all your Ring devices through one dashboard. The best element is the main view for each camera, which not only gives one-tap access to a live feed but also enables you to scroll through the incident history for that camera – meaning you can check what happened during the day very easily.
One of the great strengths of the Ring app is the personalisation of the cameras. You can draw your own motion zone for the camera, meaning that it won't pick up cars driving by on the street outside; sensitivity takes a bit longer to experiment with but success means you won't be alerted every time your cat has its daily trip out.
Once motion is detected, you'll get an alert on your phone – we set it to an American voice saying 'Motion Detected!' with added wind chimes to up the irritation of colleagues in the office, but you can specify your own alert – which gives you one-tap access to the live feed. Depending on your coverage you're seeing the feed within a few seconds and then if you don't like what you see, you've got two options: speak to them through the camera, or set off a piercing siren.
Do I need a subscription to use the Ring App?
You'll get a free 30 day subscription to Ring Protect at the point of purchase. Ring Protect offers 30 day back up of your video history for £2.50/month for one device (which also allows videos to be shared and saved) while the upgrade 'Plus' package for £8/month allows 30 day back up of all your Ring devices.
It is possible to use the Spotlight Cam without a subscription. You'll get alerts and be able to see the live feed – and trigger the siren at passers-by – but you won't have any recorded videos.
Real Homes verdict
The Ring Spotlight Cam is two security systems in one – a motion sensitive security light and HD camera system. That in itself would be enough to make it rise to the top of a competitive smart home security field, but two things make it best in class. Firstly, the high definition camera and controllable detection zones make it as good as any security camera out there; secondly its app interface gives it a usefulness factor well above its competitors.
Ultimately the success of these devices depends on how much they are used - a huge number of security systems are installed, prove impossible to control and end up acting as little more than an impotent deterrent. If you're in the market for a new smart home security system, this isn't the cheapest but its range of features, high build quality and, above all, instant seamless fit with your busy life make it probably the best one you can buy.
Looking for more home security solutions?