Sodastream Terra Review: Quick Menu
The Sodastream Terra is the latest of the brand's sparkling water makers that quenches my thirst for fizzy stuff. Sure, there is a camp that thinks carbonated H2O tastes like TV static, but it can easily be transformed into cola, the occasional homemade tonic (for G&Ts), and other bubbly beverages.
You see, the biggest issue I have is that I'm not a massive soda fan, but I definitely find it easier to hit my hydration target, when I'm not drinking plain water. And, when I've got friends around, this gassy gadget means I don't need to carry several 70-ounce plastic bottles from the store and find ways to fit them into a teeny tiny kitchen cupboard. Nor do I have to go into my garage, which is a scary place in the winter.
The other issue this small kitchen appliance fixes is that of waste. It's generally cheaper to buy a big bottle of soda, but I find after a day or two, it goes flat. This "pop-ular" product means you only make as much as you need. Plus, the shelf-stable Kombucha flavors save me so much on my probiotic-rich sips. On the flip side, I'm thinking it might have the ability to refresh flat beer, and even make a Lambrusco-style drink out of sweeter red wines. With almost 7,000 4.6-star reviews on Amazon, see how I got on with the battery-powered beverage maker.
Sodastream Terra review
What I thought of the SodaStream Terra
The Sodastream Terra is the fourth iteration of the ever-popular seltzer maker. Aesthetically, it has a modern ribbed design and is available in smart colorways including black or white, as well as red and pastel blue to add a color pop to your kitchen. The large button is effective, however, admittedly I prefer the bartender-style lever that comes with the Sodastream Art. The biggest improvement, however, has to be the easy-fit gas canister. With older models, users were required to screw in the cylinder which was a tad fiddly.
Though you're only using one plastic bottle to make the gallons of your favorite thirst quencher, lessons can be learned from the Sodastream Duo which gives you the choice to use reusable plastic or glass bottles, making it a more eco-friendly option. Better still, if you want to go completely plastic-free, the Sodastream Aqua Fizz is the way to go.
Testing the Sodastream Terra
I (Christina) reviewed the SodaStream Terra at Future Plc's test kitchen in Reading, UK. I used it to create unflavored sparkling water, Pepsi, and Ginger ale. I invited editorial colleagues from our sister publication, Homes & Gardens to taste the results.
Sodastream Terra specifications
Colors: Black, white, red or blue
Size (in.): H17 x W5 x D7.9
Material: Plastic
Weight: 10.65 pounds
Bottle capacity: 1L and 0.5L, BPA free, reusable bottles

Using the SodaStream Terra
Unboxing the sparkling water maker
The Sodastream box is slim and lightweight, allowing you to comfortably place it on your worktop and unbox it. The box contains the Sodastream Terra body, a 1-liter carbonating bottle, and a Sodastream quick-connect CO2 cylinder.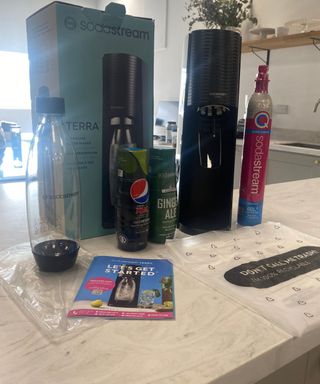 Inserting the quick-connect CO2 gas canister
To get started, you'll want to remove the plastic cover from your gas cylinder and pull off the cap. Then, pull open the back cover as demonstrated in our test kitchen..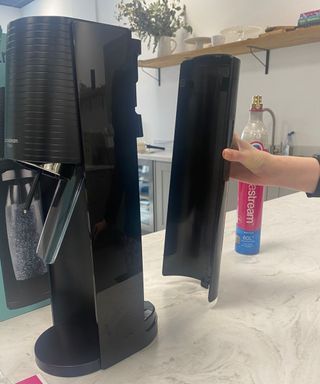 Next, you'll raise the handle, insert the cylinder (bottom first), lower the handle to lock the gas bottle in place and replace the back cover to conceal the canister.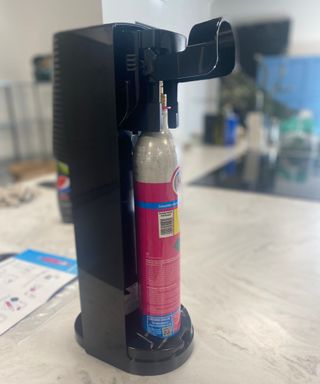 Carbonating water
To transform tap water into soda, fill the bottle with drinkable water from your faucet (or water filter). Better still, Sodastream says that cold water from your refrigerator creates the best results.
Ensure the bottle rest is tilted out, before inserting the bottle neck into the snap-lock. Essentially, you'll want to push it up and then back. Just so you know, the bottle is inserted correctly when there's a gap between the bottle and the base.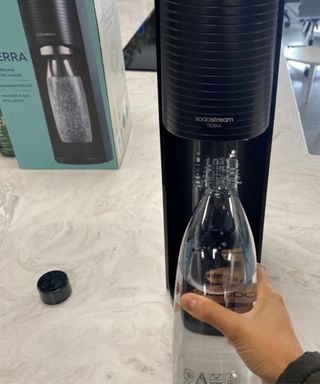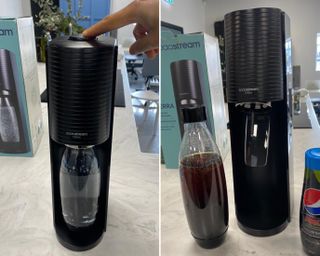 Now the fun part! Firmly push the carbonation button all the way down for at least 1-2 seconds and release. If you only want a light sparkle, I recommend three presses, otherwise go for five for a full-on bubbly experience. To release the bottle, tilt it towards you, and it should come away easily.
Lastly, add as much (or as little syrup) to your taste. By luck, I managed to pour just the right amount in so that it was palatable to our tasting panel. I received quite a few surprised/raised eyebrows, suggesting that I'd created an accurate dupe to the draft colas they'd drunk at McDonald's, which was nice to hear. However, when we tested out the ginger ale flavor, my colleagues said that it was nice, but didn't represent the spicy notes that some readymade ginger drinks had.
What I love about the Sodastream Terra
Bigger button than previous models: The larger carbonating control is more easier and comfortable to use.
It doesn't rely on electricity: My coffee maker, kettle, and air fryer have already shotgun the power outlets, so I'm glad this uses batteries.
Slim design: At 5 inches wide, this soda maker takes up minimal space on my worktop
Lots of flavors: My 'Good to know' section lists them out per your preference
Adjust the amount of fizz to your needs: However, this isn't exactly a USP, as the Sodastream Art (which one of our staff writers reviewed), uses a lever mechanism to increase the fizziness.
The bottle is dishwasher safe: Head of e-commerce, Annie Collyer reviewed the Sodasteam Spirit and mentioned that the bottle is not safe to pop in the dishwasher. This accessory on the other hand can be washed using the bottle brush (available on the Soda stream site) or in your dishwashing machine.
What I don't love about the SodaStream Terra
Plastic: Considering this appliance is near the $100 mark, it would be nice to have a more premium design that doesn't feel plasticky.
No instruction on syrup dosage: Yes, drink strength is subjective, but it would be nice if there was a measuring cap to pour the flavoring into the bottle.
Cleaning and maintaining the Sodastream Terra
Confession: when testing out the strong fizz setting, we managed to make quite a big mess, which resulted in sticky soda spilling onto the countertop and the drink-making device. Thankfully, we had some unfragranced dish soap and a damp microfiber cleaning cloth to hand and were able to wipe down and clean up this sticky situation. We hand-washed the plastic bottles in between tests, but in a residential setting, we would place these in our dishwasher.
Gas canisters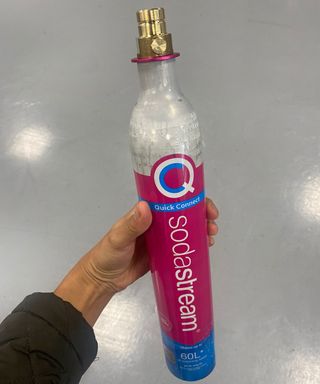 Rather than end up with a glut of metal containers, Sodastream will exchange your empties for full cylinders of carbon dioxide. The refill process is simple. All you have to do is order extra gas online, then use the cardboard box and pre-paid label provided to package up your return shipment within 30 days of receiving the postal materials. Either send it back via USPS or leave it in your mailbox to be collected. Note that if you don't return them in the timeframe, or at all, Sodastream will charge you an additional $15 (plus tax) for each unreturned cylinder. Alternatively, if you've got a local brick-and-mortar store nearby, you can turn in your spent cans and only pay for a refill.

Good to know
Warranty
Sodastream offer a 2-year warranty for your machine. To qualify, you'll need to register your machine by visiting the link via the QR code on your pamphlet. If you've lost it, we've got access to an online version.
Choice of flavors
As well as the cola and Ginger Ale flavors that Sodastream provided me with, the brand also sells over 40 different syrups including PepsiCo varieties (including Starry), classic own-brand interpretations on favorites (think root beer, orangeade, and a Dr. Pepper alternative), Diet, zero-sugar flavorings, and organic kombucha concentrates.
FYI, as well as the aforementioned sweeteners which have a cordial-style consistency, Sodastream also sells bubly drops™ for an economical alternative to buying fruit-flavored water. But, if you are buying these to try and get children to drink more water — you might want to avoid the caffeinated varieties.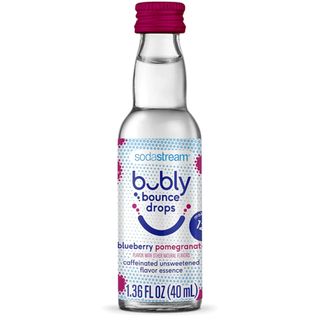 Contains caffeine
Blueberry Pomegranate bubly bounce™ drops
Price: $5.99
Turn plain tap water into a carbonated energy drink with these fruity drops. You only need to add three-quarters of a teaspoon to a liter of water to taste the difference!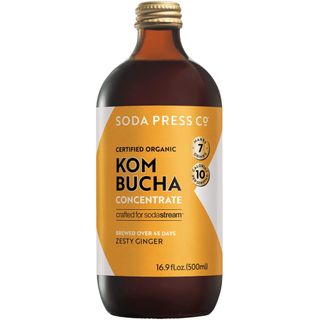 1 Bn Probiotics per serve
Organic Ginger Kombucha Concentrate
Price: $9.99
Made with organic green and black teas, and containing one of the lowest amounts of sugar on the market, this Kombucha concentrate will save you money in the long run. This bottle makes seven drinks, which means that each serving costs less than $1.50. Not a fan of ginger? It's also available in passion fruit and mandarin.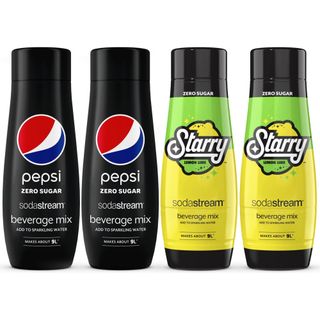 Zero Sugar Syrups
SodaStream 4pk - Pepsi® Zero Drink Mix Variety Set
Price: $24.99
Daily soda drinkers, rejoice! Because these mixes are the most economic ways to enjoy branded beverages at home. This variety pack can make up to 36 liters of the stuff for under $25. The same amount of pre-made pop would cost over $50!
Sodastream accessories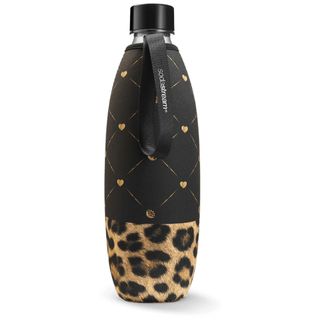 Dress up your bottle
Leopard Print Bottle Sleeve
Was $9.99 Now $4.99 (save $5) at Sodastream
Zhuzh up your plastic bottle and keep your water cold with this animal print accessory. According to one shopper, "the strap makes it easier to carry and it protects my bottle a bit from my fumble fingers when it inevitably ends up on the floor."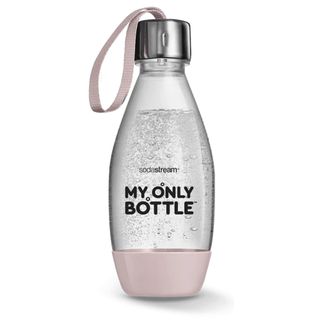 Travel friendly
0.5 Liter My Only Bottle - Pink
Price: $14.99
Save money on shop-bought soda by taking your DIY drinks on the go. Available in pink (as pictured), or blue, this dishwasher-safe bottle is BPA-free too, so you don't need to worry about toxic chemicals leeching into your liquid refreshment.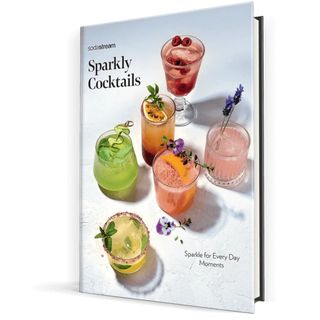 Create fancy drinks
Was $19.99 Now $9.99 (save $10) at Sodastream
With this hardback book, the Sodastream will be your new party trick when friends and family come over. P.S. If you don't want to buy the book we found two tasty recipes (quantities and all) buried in the Sodastream Terra Amazon listing. You're welcome.
Is the Sodastream Terra right for you?
If you're looking to save money on soda, but have been put off by the screw-in mechanism of older Sodastream models — the Terra sparkling water maker is something to consider. It's the second-lightest model in the range, and the quick-snap technology ensures you can click the bottle into place with ease. And, with over 40 flavors, water will never be boring again!
But if the Sodastream Terra isn't quite right for you, check out these alternatives...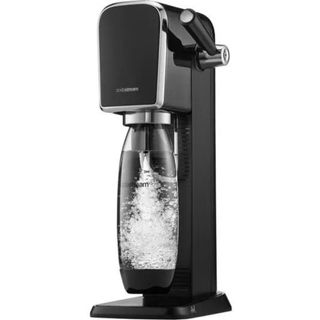 Bartender-style lever
Price: $149.99
Dimensions: H9.64 x W6.81 x D16.93
Capacity: 1L
This package comes with the gas, bottles, and syrups needed to make your favorite drinks including classic limeade and nostalgic cherryade. It's great for reducing your plastic consumption too.

Real Homes rating: 5 stars out of 5 in our Sodastream art review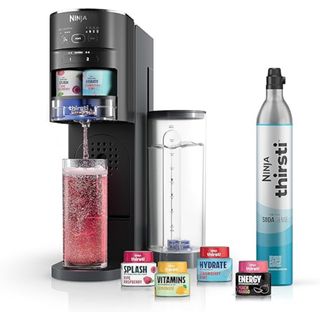 Sparkling or still
Ninja® Thirsti™ Drink System
Price: $179.99
Dimensions (in.): H16 x W8.76 x L13.9
Capacity: 1.4 L
Take yourself from a simple seltzer connoisseur to a craft seltzer artist. With the Thirsti, you'll have the power to create any combination of flavors you can dream of from the 20 flavors in the Ninja system, and determine your level of bubbles and boldness.
Real Homes rating: 4 stars out of 5 in our Ninja Thirsti review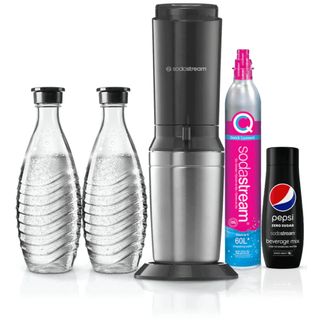 Dishwasher-safe glass carafes
Sodastream Aqua Fizz (Starter Pack)
Price: $159.99
Dimensions (in.): H8 x W11.2 x L17.8
Capacity: 0.8L glass carafe
If you've been put off by the plastic bottle element of a sparkling water maker, the Aqua Fizz is for you. Two glass carafes are included in this starter pack, and I think they look stylish enough to be displayed on your dining table.
Currently in review
Where to buy the Sodastream Terra
As well as buying direct from Sodastream, the Terra is also available at Amazon, Lowe's, Sur La Table, and all good retailers.
How we test sparkling water makers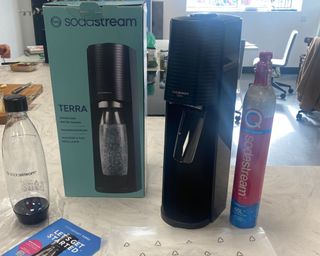 The Sodastream Terra was sent to me by the brand, and I tested it out for a few hours before writing this review, tasting different flavors and carbonation levels. My colleague took the appliance home to see how long it lasts, and to keep me updated with any important observations.
Here are a few things I like to look out for when testing sparkling water makers:
Packaging: How well are the machine and accessories protected in transit? Do the parts come wrapped in unnecessary amounts of plastic?
Weight: How easy is it to carry from my front door to the kitchen?
Setup: How easy is it to assemble the machine (if applicable) and make soda water? How long does this process take? Does it require instructions?
Flavor: Here, I make each drink and assess the strength and time it takes to make each drink.
Noise levels: Is this machine quiet enough to make a drink in the morning or evening, without disturbing co-habitants and neighbors?
Size: Can the machine be used in a small kitchen? How tall is the machine and is there adequate counter clearance for it to sit underneath cupboards?
Cleaning: How easy is it to maintain this machine? Are syrup stains wipeable? Which parts are hand-washable or dishwasher-safe?