We know what you are thinking: the Sodastream machine belongs back in the 1970s. Well... not anymore! This versatile machine (the Sodastream Spirit, that is) has the seal of approval by us – it's eco-friendly, cordless, easy to use and you can use it to make anything from sparkling water to margaritas and everything in between. Meanwhile, you are left with no plastic waste, only a small amount of kitchen worktop is taken up and here's the best part: you can control how just fizzy you like your drinks. Great for kids, adults, kidults...
Did you know that just one reusable Sodastream carbonating bottle can save up to 1,282 single-use plastic bottles from our planet over a four year period? If you are interested now, then keep scrolling down this page as we put the Sodastream Spirit (also known as the Sodastream Fizzi in the US) to the test to see just how handy it is in the kitchen. Keep reading for the verdict – getting busy with the fizzy has never been easier in 2021.
If you are looking for more handy kitchen buys then check out our guide on the best hot water taps – for instant hot water for tea, coffee, baby bottles and more...
Sodastream Spirit specifications: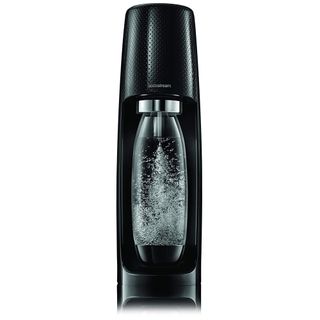 Colours: 4 – white, black, blue and red
Bottle size: 1 litre
Weight: 2.09 kg
Size: H43cm x W13cm X D20cm
Included: CO2 cylinder and BPA-free bottle.
Who is the Sodastream Spirit best suited for?
The Sodastream spirit is great for pretty much anyone since it's very simple to use. It's particularly handy for those with small homes (and a small amount of storage space) as it rids the need to store bottled fizzy water in the tens. It's also brilliant for families – kids can use it too, and you can buy syrups to make fizzy drinks. It would also be brilliant for those who are less able – because carrying and pouring a large bottle of fizzy water isn't easy for everyone. Or, if you hate lugging back bottles from the shops every week. Alternatively, this machine is obviously great for anyone who is eco-conscious as it's pretty much waste-free, with the exception of the CO2 cylinder you will use up every few months.
Sodastream Spirit: setup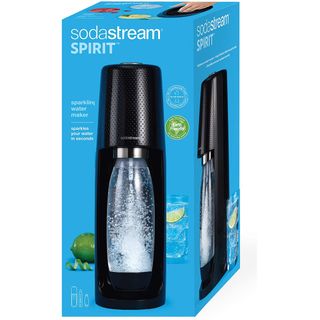 This machine is pretty simple to set up. First thing's first: you need to pop the CO2 cylinder inside. To do this, turn the machine around and apply pressure to the top of it, at the back, using one hand. At the same time use your other hand to take the back off the machine. From here you'll want to pop the CO2 cylinder inside the machine, placing the bottom in first. Spin the cylinder around so that the front of it is facing you. Pop the machine's back straight back on. From here you are pretty much all set.
To insert your bottle inside, you'll need to ensure that the machine's nozzle is pointing outwards. Place the bottle so that the nozzle is inside it, and push it towards the machine until you feel that it's securely in place.
Sodastream Spirit: how to use it
This machine is very simple to use. Once you have inserted your Sodastream bottle (with water in, to the fill line) as per the instructions above, then you'll just want to press the button on the top of the machine. Press and hold for two seconds each time – repeat three times for a light fizz or five times for a strong fizz. It's really that simple...
Sodastream spirit: what can you make with it?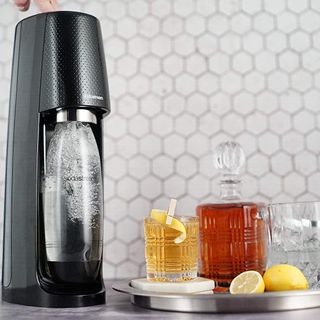 You can use this machine to make pretty much any fizzy drink out there. We use it for sparkling water mostly, though we did use it to make Sodastream's version of cream soda. The verdict? Lovely – just the same as the original. You could also use this machine to make mixers for cocktails or alcoholic drinks (Aperol Spritz, yes please). Here are a few of our favourite suggestions:
Sodastream Spirit: maintenance
The maintenance of this machine is minimal. You'll want to give your Sodastream machine a wipe down every now and then when cleaning your other kitchen appliances, but other than that it's pretty much a faff-free appliance. Of course, the CO2 cylinder will need changing when it is finished – or when you find that your water stops coming out oh-so bubbly.
Sodastream spirit: design and size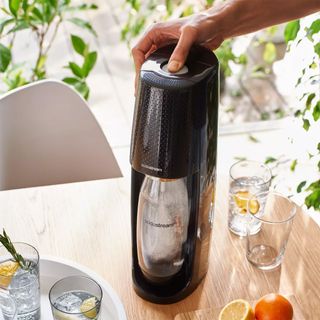 In terms of design, the Sodastream Spirit machine is nice and compact as well as basic so as not to take the limelight away from other kitchen appliances. Saying that, it does come in four colours (black, white, red or green) so that you can match it to your kettle and your toaster. It also features a textured design, and while it's sturdy, it does admittedly feel plasticky. However, when picking up this machine to move it around your home, or from one side of your kitchen to the other, we've had no issues and it doesn't feel as though it would break if dropped.
Sodastream Spirit: our verdict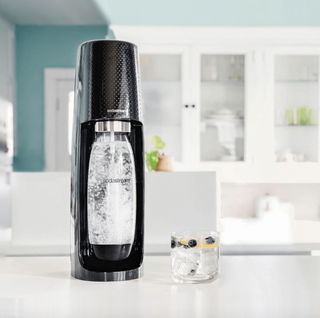 The Sodastream Spirit is an easy to use kitchen appliance that should be a staple in every household. An easy way to turn tap water into something fancy, all while using less plastic, taking up a small amount of kitchen space, and it comes in four colours to blend in seamlessly.
A few reasons why we love our Sodastream: it's very simple to use and pretty much silent; it doesn't take up a plug socket in our small kitchen; it matches our shiny black Smeg appliances; we can take it in the garden in the summer, and no more carrying heavy bottles to and from the supermarket.
Sodastream Spirit: where to buy one?
Sodastream syrups: where to buy them?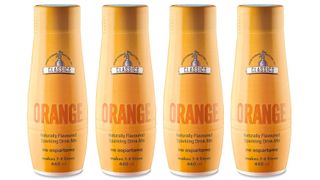 You'll need some Sodastream-compatible syrup to turn tap water into fizzy water, and then into something tasty. Sodastream sell their own versions of drinks from Dr Pete to Cola, Lemon and Lime and even some Kombucha. You can buy them in singles or in bulk, and they contain no aspartame.
About our review – and our reviewer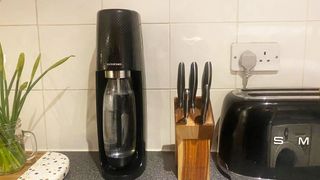 We've been testing the SodaStream Spirit in our kitchen for well over a month now. It has been used more than twice a day, every day, and we've used it mostly for sparkling water, but we also tried some Sodastream syrup for a bit of added flavour. It's worth us noting that we tested this machine in a small kitchen, with limited plug sockets and worktop space – even then it was still worth taking up room for. We're not sure we would ever go back to buying bottles of sparkling water (why would we?) and we are convincing our friends and family to follow suit.