Having been in ER for not drinking enough water, I jumped at the chance to try the ZeroWater filter jug. If anyone knows about hydration (or lack of it) — it's me.
I don't hate H2O, but tap doesn't exactly excite me unless it's mixed with cordial. It only takes an overrun meeting or writing that one more article, and before you know it, I've forgotten to get my two liters in. But having suffered from headaches and brain fog, I thought now was the time to make a conscious effort to drink up (especially as it was on offer at almost 50 per cent off this Black Friday).
Next year, I'll be tying the knot, and while I could spend hundreds of dollars on facials, skincare, and supplements, every beauty blog I read (plus everyone I know) bangs on about the importance of simply drinking enough water to give me that bridal glow.
TLDR: what we thought of ZeroWater filter jug
There are a lot of filters out there. But I found a lot of the ZeroWater jug's features really cool and they just piqued my interest. This filtration system is certified to reduce lead, perfluorooctanoic acids (PFOA), and perfluorooctane sulfonate (PFOS) (which all sound a bit scary IMO). Tap water contains some nasties I don't fancy drinking including arsenic, cyanide, mercury, and asbestos!
But, the real reason for giving this gadget a go, is to save money on plastic bottles of mineral water, and the planet of course.
Testing the ZeroWater water filter jug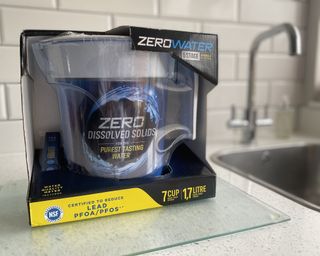 Reviewed by
Reviewed by
Christina Chrysostomou is our eCommerce editor at Real Homes. Her job is to test small kitchen appliances including coffee makers, blenders, juicers, and everyone's favorite countertop gadget right now: air fryers.
The techy stuff
Model: ZP007RP 7-cup ready-pour pitcher
Weight: 2.24lbs
Dimensions: H4.9" x W9.5"x L10.5"
Capacity: 1.7-liter ready-pour carafe
Unboxing the ZeroWater water filter jug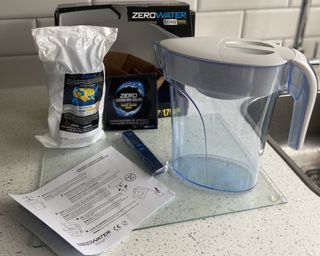 The cardboard box itself is easy to carry, and the jug and meter came wrapped in an acceptable amount of plastic. So far, so good for my eco-friendly item. Having unpacked the pitcher, I found that the instructions to assemble the filter and use the TDS meter reader were on the reverse of the paper lining. Far more economic on space than a pamphlet.
How to use the ZeroWater water filter jug
After washing the lid and vessel with warm soapy water, it's time to assemble! To put the Zerowater filter jug together, you need to remove the lid and water reservoir from the top of the pitcher and remove the filter from the packaging. At this point, it's worth giving the outside of the filter a rinse too.
Once you've done that, screw the filter into the bottom of the reservoir (you want to do this from the bottom-up — not the other way around). Then, fill the top of the pitcher. Note, you can't do it all in one go, but it took less than 10 minutes for the water to pass through. Yes — I did time it.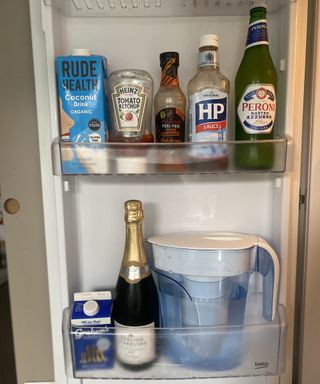 Quite handily, it fits in my refrigerator door so I can have chilled, filtered water at my perusal without spending money at the shops. Obviously, if the bottle of fizz wasn't there, there would be more room, but I'm writing this review counting down the days until Christmas!
Using the ZeroWater water quality meter
The ZeroWater filter works by using ion exchange technology. But if you didn't pay attention in chemistry class — let me explain. First, a layer of activated carbon and oxidation reduction alloy strips away the chlorine from your tap water. This removes that unpleasant disinfectant taste that I find a bit icky.
Then the filter gets rid of solid sediment and metal deposits from old pipes (including aluminum, lead, and chromium). This is why many people, including me, find that water tastes a bit metallic.
I've got to be honest — I felt like a bit of a scientist conducting my own experiment. Except, swap out that white lab coat for a fluffy dressing gown, of course.
Measuring the TDS levels in tap water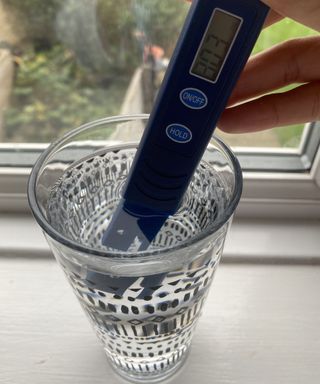 The first part of my test was to check the reading of my normal, untreated tap water. To do this, I uncapped the stick device, pressed the 'ON/OFF' button, and dipped it into a glass of water. This read 303 which according to some internet sources was acceptable. I learned that anything under 1,000 parts per million was suitable for human consumption. Still, I'd rather remove some of the heavy metals and add minerals on my own accord, thank-you-very-much.
All in all, it gets rid of 99.6 percent of the gunk that affects the flavor — more on that later.
Test 2: Tasting the filtered water
It must be said that the water where I live in the UK is fortified with certain minerals including fluoride. This is a public health decision the government took in 2022 to stop tooth decay. However, if you do prefer your water without any add-ins, the ZeroWater filter jug is something you should consider. You can always add healthy minerals back in simply by adding a pinch of pink Himalayan salt, which you can easily find on Amazon.
Having tried the filtered water sans salt — I really noticed a difference. It tasted less metallic and more like the stuff I buy in the store.
Given I usually buy a 2-liter bottle of water for $2 a day, this works out at $60 monthly and a huge $720 a year so just for the sake of cost, I'd make the switch. Of course, if you're used to drinking water from a bottle rather than a cup / glass, all you need to do is invest in a reusable bottle.
However, the taste of water is quite a subjective thing. Let's be honest, people have different preferences and that might be because bottled water and tap water from different states and cities vary in their chemical makeup. For example, though my aunt lives 14 kilometers from me, tea tastes so different!
So, for fairness in my 'experiment', I got my fiance to do a blind taste test. Same glasses, same amount of water, only I knew which was which. And though he gave me a whole suspenseful delay as if he were some sort of water connoisseur, he said that the filtered stuff tasted like Volvic (which I recently found out is available at Walmart).
Making hot drinks with filtered water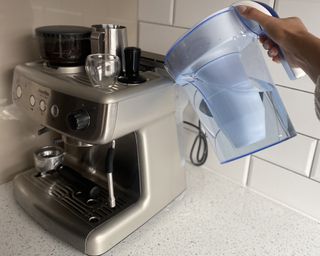 Hard water is kryptonite for even the best tea kettles, and while descaling this vessel can be done very quickly and easily, using filtered water slows down the time it takes for your kettle to build up with limescale. It's also worth using this water in your coffee maker too, as you won't have to clean off so many calcium deposits. Here you can see I've used mine to fill my Breville MAX Barista coffee machine.
Now, I can't actually tell whether it made a better-tasting drink, but I guess that's an excuse to do more vigorous testing when working from home.
Bottled vs. filtered water: cost
Though spring or mineral water has become extremely accessible, a liter from the supermarket, a bottle from a vending machine can cut into the funds over time. And given we're all tightening the purse strings, you may as well make the most of your municipal supply. A half-liter bottle of water is $2 compared to the 8 cent-price tag from your pipes.
Changing the filters — including cost
Though the jug (which has one filter) is a great deal — just be aware, you'll need to replace the filter when your water meter reading is above 6. These are available on Amazon and are roughly $15-20, depending on how many you buy, and when you buy them. You can also get these on an automated subscription too from ZeroWater if you'd prefer.
The million-dollar question might be: 'When do I change my water filter?' In short, this all depends on how 'dirty' the water is to start. Now I don't mean unsafe to drink, but a higher level of residue will mean you need to replace the component that cleans your drinking water. Helpfully, Zerowater has provided an infographic to show you how many gallons you'll get out of one filter. For me, I'll get between 8-15 gallons before I need to switch the old one out.
How does it compare to other water filter jugs?
Many water filter jugs on the market only have a 2-step filter which means that more than half of the dissolved solids still end up in your glass. These are generally less sophisticated and rely on simple granulated carbon filters.
Comparing the performance to a leading conventional filter, a 3rd party EPA-certified lab test revealed that the water from ZeroWater had a lower total dissolved solids (TDS) result when looking at the PPM (parts per million). In layman's terms, a ZeroWater jug will remove over 45 per cent more debris from your water.
Ergonomically, it's fine to hold (even at full capacity), but if I am being fussy it'd be great to have the more comfortable grip handle you get with the 10-cup model.
Is the ZeroWater water filter jug right for you?
One thing I learned back at university, is that a lot of bottled water on the shelves is actually filtered tap water. Yup, Aquafina, Dasani, Nestle Pure Life, and even the Kirkland water I buy from Costco. So why am I paying a premium when I could just turn on the tap?
I consider myself a bit of water snob... And it seems I'm not the only one. According to research by ZeroWater, the UK buys 7.7 billion single-use bottles a year — that's a lot of recycling on bin day (assuming the great British public do sort their trash). But if it's a matter of taste, then surely stripping out the chlorine and solids from our public water system makes more sense?
At around $20, it's a great purchase if you want to try and improve your water-drinking habits. Just seeing the dissolved solids that are extracted is enough for you to make the change for yourself and your family... And that includes upgrading the stuff that's in your furry friend's water bowl too.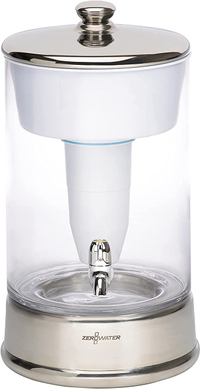 ZeroWater ZBD-040-1, 40 Cup Ready-Pour Glass 5-stage Water Filter | $74.99 $70.99 (save $4 from Amazon)
If you want something fancier that you're proud to display, invest in this glass dispenser! It looks super cute on your countertop or when you're dining alfresco. No one will know you've served them the same water that came out of the faucet.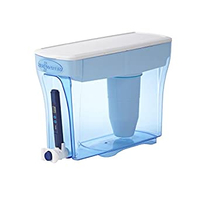 ZeroWater ZD-018 ZD018, 23 Cup Water Filter Pitcher with Water Quality Meter | $39.99 at Amazon
If you've got a big family who needs to stay hydrated (especially after that soccer or swim class), upgrade to this 5.4 liter model.
About this review and the reviewer
Christina Chrysostomou is an eCommerce editor for Real Homes where she reviews household products to make your life easier at home, primarily focusing on cleaning and small kitchen appliances.
We are not given any compensation for our reviews, but we may be gifted the product. In this case, the lovely people at Media PR sent us the sample. This means that we can test it over a greater length of time and update our reviews if required.