Hands up: who has nipped into a chocolate store to *cough* sample the goods? Guilty as charged. Because life is like a box of chocolates right now (you never know what you're going to get), it's important to make sure you have little things that make you happy. Like good coffee with a conscience. Enter the Hotel Chocolat Podster.
I once overlooked the cost of shop-bought coffee, but I've noticed recently that I'm hurting my bank balance and the planet with all those single-use plastic lids. Yes, sometimes I'm good and bring my reusable cup, but I'm a busy gal and sometimes forget to have it washed and ready for my barista. Hence why I was excited to try the British Chocolatier's take on a pod coffee machine.
In this guide, I assess the Podster's ability to make different coffee types and also look at other important considerations such as convenience, ease of maintenance, capacity, cost, and, environmental impact. Plus, I let you into a (poorly-kept) secret on how you can nab a Podster and Velvetiser for £99.95.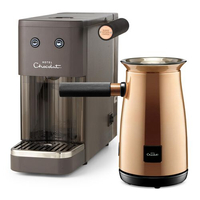 Hotel Chocolat Podster and Velvetiser deal | Was £249.94 (if bought separately at RRP price) Now £99.95 (save £149.99) Sign up for free to Hotel Chocolat's VIP club and get £149.99 off this beverage bundle. This pod machine and milk frother duo is a stylish and compact combo that will look classy on your kitchen countertop.


TLDR: What we thought of the Hotel Chocolat Podster
You might be more familiar with Hotel Chocolat's boxed chocolates, or if we're strictly talking beverage makers, its infamous Velvetiser. But it has recently released a coffee machine that comes with eco-credentials that align with its environmentally-conscious ethos.
Looks: Aesthetically, there are stylish-yet-subtle nods to the company's chocolate plantation, including a gorgeous, metal-engraved copper-coloured pod hatch and soft-close arm with a textured, laser-etched metal handle.
Convenience: This coffee machine can whip up an espresso with a decent crema in around 13–28 seconds, depending on whether you opt for a single or double shot. We stopped the stopwatch for a latte at around the 2.5-minute mark.
Coffee flavours: The cacao roasters have added coffee to their repertoire, developing five different pod strengths to suit different palettes.
How to use the Hotel Chocolat Podster coffee machine
Putting together the Hotel Chocolat Podster is a piece of (chocolate) cake. Everything seems to lock in place pretty quickly, and, if you are in doubt, there is a six-step guide in the manual that takes you through everything from inserting the pod basket into the drip tray to filling the tank with the correct amount of water using the MIN and MAX levels as a guide.
As with an electric coffee maker, there is a power switch. This is located on the side of the machine. You'll know once the machine is adequately warmed up as the two buttons — short shot and long shot — will stop flashing. You are advised to clean the machine by pressing the short shot button, which will rinse the internals. You'll need to repeat this step five times to ensure everything is clean and ready to use.
You can then either use Nespresso-compatible coffee pods or one of the five flavours from the Rabot Estate. These include (from mellow to strong): Cashmere, Oh Hello, The One, The One Decaf, and Rocket.
Become an ethical coffee drinker with these environmentally-friendly pods. They're good for the planet, and good for the people who grow it. So you'll get a warm feeling, well past drinking a hot cup of joe. This stuff is grown sustainably, without any nasty pesticides and chemicals so you can enjoy coffee from some of the world's most biodiverse locations, without a bad conscience.
These Cashmere coffee capsules have crème caramel and freshly baked brioche notes — yum!
The techy stuff
Dimensions: L35.1cm x W15.9cm x H23.6cm (13.8" x 6.3" x 9.3")
Temperature: 70°C (optimised temperature for best-tasting results)
Power: 1140 W–1365 W
RRP: £149.95
Colour(s): Charcoal and copper/rose gold
Reviewer
Reviewer
Whether it's Easter, Christmas, a birthday, or just to say thank you — I love popping into Hotel Chocolat to treat a loved one. So, I was super stoked to find out the brand made a pod coffee machine.
I'd like to think I've put this machine through its paces, making hot and chilled coffee, as well as alcoholic, coffee-based cocktails (and experiencing some caffeine jitters in the process). For £49.95, I'd be happy to gift friends and family this coffee maker as it produces a consistent cup of joe with no barista skills needed. Plus, I'll take any excuse to grab some pods in the Hotel Chocolat stores and treat myself to a box of chocs in the process.
Unboxing the Hotel Chocolat Podster coffee machine
Unwrapping the Hotel Chocolat Dualit Coffee machine, I was pleased to see that the brand stuck to its (eco-conscious) guns on limiting plastic and paper packaging. Instead, you have a moulded pulp fibre casing to protect the machine in transit and a 20-page instruction manual for the Podster coffee system and the Podcycler.
First impressions of the Hotel Chocolat Podster
The chocolate brand also encourages you to use the Velvetiser (its milk frother engineered by Dualit) to create milk-based drinks with an aerated and, well, velvety-smooth texture.
Of course, if you don't want to fork out on another countertop kitchen appliance, you can buy a handheld milk frother that fits in your cutlery drawer, or froth milk using alternative methods.
Though the Podster complements the grey Velvetiser, it would be good if they were to make the coffee machine in copper, white, and matt black to suit the other hues available on the market. For the sake of example, I'm using the limited edition black milk frother.
Test 1: Making espresso
With the Hotel Chocolat Podster, you're able to make a single or double espresso. This is, of course, coffee in its purist form, so naturally, was the first test we undertook. It takes about 15 seconds from the push of the button to a strong, but short drink... Fast enough for us! However, two teeny niggles I did have was the slight rickety sound when my cup was placed on the machine, and the fact that the nozzle did continue to drip with coffee a small while after my drink had been dispensed.
Good to know: The Hotel Chocolat Podster also has a programmable dosing memory so you can adjust the coffee strength and length outside of the 35 ml/70 ml shots to approximately 100 ml.
Test 2: Creating an Americano
Creating an Americano involves the aforementioned step and lengthening your drink with hot water from your kettle or boiling water tap.
Test 3: Crafting a flat white
Little fun fact from the people at HC HQ: This beverage came out of the Australia-New Zealand modern coffee scene as a shorter milky coffee. To make it, we poured 140 ml of cow's milk into the Velvetiser and pressed start.
Of course, like pros, pre-warmed our cups, using water from the boiling water tap in our test kitchen (though you can do this with freshly-drawn water from the kettle). Two shots' worth of coffee is the recommended dose to create this creamy drink, so we did as we were told, pressing the button twice for a double dose.
Once our milk reached the right consistency, we infused it with the strong stuff to create a well-balanced wake-up juice.
Test 4: Latte
If you're looking for a gentle breakfast drink — it's got to be the latte. This bevvie is basically made up of lots of milk with a subtle coffee flavour for that signature sip.
Despite its rich mouthfeel, it only took four steps: heating 200 ml of milk in the Velvetiser, pre-warming our cups, extracting one pod's worth of coffee (pressing the long button), and pouring this over the warm and frothy milk. In just 2.5 minutes, you can have the barista's job done.
Test 5: Making a mocha
If you can't choose between hot chocolate or coffee — why not have both? This drink is best made by crafting a cup of cocoa in your Velvetiser and then dropping a shot of espresso into the mix. I personally loved trailing this with Hotel Chocolat's Vanilla White flakes. The sachet is made from 36% cocoa-butter white chocolate and peppered with real Madagascan vanilla for the most luxurious, satin-smooth white chocolate mocha I've ever had. The addition of coffee stops it from being cloyingly sweet. Instead, it's a feathery-light, caffeine-laden sip.
Test 6: Iced coffee time
Although we're reviewing this in the winter, consider us doing god's work well in advance for you. In 2022, the UK saw one of the hottest summers on record and we could have done with one of these cold coffees back then.
All you need is that ice ice baby, and a shot or two of coffee from the Podster to make a simple iced black Americano.
Of course, you can mix things up a bit with of unflavored dairy or plant-based milk or of course, pre-infuse your base with chocolate flakes (you will have to warm it in the Velvetiser first, which does sound counterintuitive, but trust me, it's the best method to impart all of that chocolatey goodness). You can then bring it and yourself down to a nice chilled temperature with some ice. For the ultimate Insta aesthetic, I love these ice moulds on Amazon, as you get one cubed product and another that makes chic spherical shapes.
Test 7: Making Hotel Chocolat's Mocha Shooter
I spotted this cocktail recipe on the back of the box and couldn't wait to try it. Espresso, Caribbean dark rum, and Velvetised chocolate cream liqueur in a glass — what more could a girl ask for?
The Velvetised chocolate cream liqueur is actually a pre-mixed drink by Hotel Chocolat consisting of vodka, chocolate, and cream. It is stable when unopened at room temperature, but once opened needs to go in the fridge — if it lasts that long.
I feel like this is a younger take on Bailey's (Irish cream) at Christmas. As you'll see, I wet the glasses before coating them in cocoa powder, but you can totally add your own festive touch with a spiced sugar mix or crushed candy canes.
Another alcoholic cocktail you could make is an espresso martini. While I usually make this in my bean-to-cup machine, the capsules mean there's no need to clean my coffee machine's grouphead.
Test 8: An Affogato for afters
If you don't know already, an affogato is essentially a shot of espresso with a scoop of ice cream or gelato on top. It's the perfect after-dinner treat to appease anyone with a penchant for sweets. And you needn't have any baking skills — win-win. I think this pudding looks great in stemless martini glasses (like these from Amazon), but any decorative glassware will do. Try this for a fast, but grown-up pud to end the night.
Using the Podcycler
The Podcycler is a clever contraption that removes the coffee from the aluminium pods to make them recyclable. As you know, we're all about using coffee grounds in cleaning and finding a use for coffee dregs in the garden too.
Sure, this isn't as eco-friendly as a bean-to-cup machine, but I appreciate that it is a step in the right direction and an improvement from plastic capsules.
How to use the Hotel Chocolat Podcycler
Place a used pod (widest end down) over the hole on the base
Place the pusher over the top and press downwards firmly and evenly
Lift the pusher and remove the compostable gasket (applicable for Rabot Estate Coffee Pods). The pod is empty and ready to squash together with other empty pods after a light rinse.
To give the pods the best chance of being recycled, stack and squash 10 or more empty pods together
Recycle the aluminium, the compostable gasket, and the used coffee grounds. Up to 10 capsules can be pressed before you need to empty the base by pulling off the emptier.
Cleaning and descaling the Hotel Chocolat Podster
Cleaning
Cleaning your coffee machine is as easy as running a short-shot program sans pod. Once the hot water is dispensed, you'll want to switch off the machine, unplug it, and allow it to cool. As soon as the water in the drip tray has cooled, you can then pull out the drip tray and pod basket components and give these a rinse to get rid of any coffee debris. On the opposite side of the machine, you'll want to give the water tank a rinse, refilling it with fresh water as and when you make a fresh beverage. If your machine is stained with spilt coffee, you can use a good washing-up liquid and non-abrasive sponge to hand wash any brown stains.
Descaling
As well as cleaning the coffee machine on first use and each subsequent session thereafter, you'll also need to descale your coffee maker regularly to prevent limescale build-up. Whether you've owned several coffee machines in your lifetime, or this is your first time using a coffee maker, the Podster will cleverly remind you to give it an MOT. This is indicated by flashing lights on the short and long shot buttons.
Though we advocate cleaning your coffee maker with vinegar, interestingly, Dualit (the maker of the Podster) advises that you use the Kilrock Espresso & Coffee Machine Descaler to maintain your machine. The six-step guide in the manual is simple to follow and comes with easy-to-understand copy and imagery.
How does it compare to other pod coffee machines?
I use the Breville Barista MAX at home, so I'm always going to be a little critical of pre-packaged ground coffee over the best coffee beans if I'm honest. Saying that, the Hotel Chocolat Podster is a pleasant surprise.
Though I preferred the taste of the coffee dispensed out of the Nespresso Pop (full review pending), from a style perspective, I'd rather have the Hotel Chocolat on my countertop out of the two.
And, if we're going on price, the Lavazza Desea A Modo Mio Pod Coffee Machine is around the same RRP, but I'd take the Hotel Chocolat, as it looks far more trendy when my friends and family come 'round.
Should you buy the Hotel Chocolat Podster machine?
Personally, I wasn't a fan of the "Rocket" and "The One" Rabot Estate coffee capsule flavours, but this shouldn't put you off buying the machine, as it is Nespresso-pod compatible.
Randomly, the ribbed finish reminded me of the Beast Health Blender + Hydration System drink set, but the coffee maker was constructed from plastic, not borosilicate glass. Still, for the promotional price of £49.95 right now — you can't go wrong.
At the RRP of £149.95, it's a little on the pricey side for what it does, so I suggest buying it on offer and keeping an eye out for when the Velvetiser is on sale, too, for the most bang for your buck. For example, if you were to buy the Velvetiser for £59 (as once spotted in Morrisons) plus the coffee maker with £100 off, you'd save £140.95.
"I really enjoyed the Rabot Estate coffee that I made with the Podster. For a start, there was a good range of well-balanced blends to choose from. The one I enjoyed the most was the classic 'The One' brew, which I found was best suited to both lungo and espresso shots. A few of the other pods I tried seemed to be a bit too weak when used to make a lungo shot,"
"Although I've tried other types of pod machines that have recyclable pods, this is the only one that could go in my household recycling and didn't need to be collected for industrial recycling. This is done using the Podcycler. It's easy to get used to and actually quite fun when you get in the habit of it. After ejecting the grounds from your pod, you need to rinse the inside out to make sure it's clean enough for recycling."
"My major gripe about the Podster was that its lightweight design felt a little flimsy at times. The nicest-feeling part of the machine was the handle that's used to lock pods into place. This feels very sturdy, but when raised fully it didn't fit underneath my kitchen cabinets."
Where else to buy the Hotel Chocolat Podster
Places to buy the Hotel Chocolat Velvetiser
About this review and the reviewer
Christina Chrysostomou is an ecommerce editor for Real Homes where she reviews household products to make your life easier at home, primarily focusing on cleaning and small kitchen appliances. She was sent this product to review at home to test its coffee-making performance.
We are not given any compensation for our reviews, but we may be gifted the product. In this case, Hotel Chocolat sent us the sample. This means that we can test it over a greater length of time and update our reviews if required. We also receive affiliate commission for some products brought through our site.